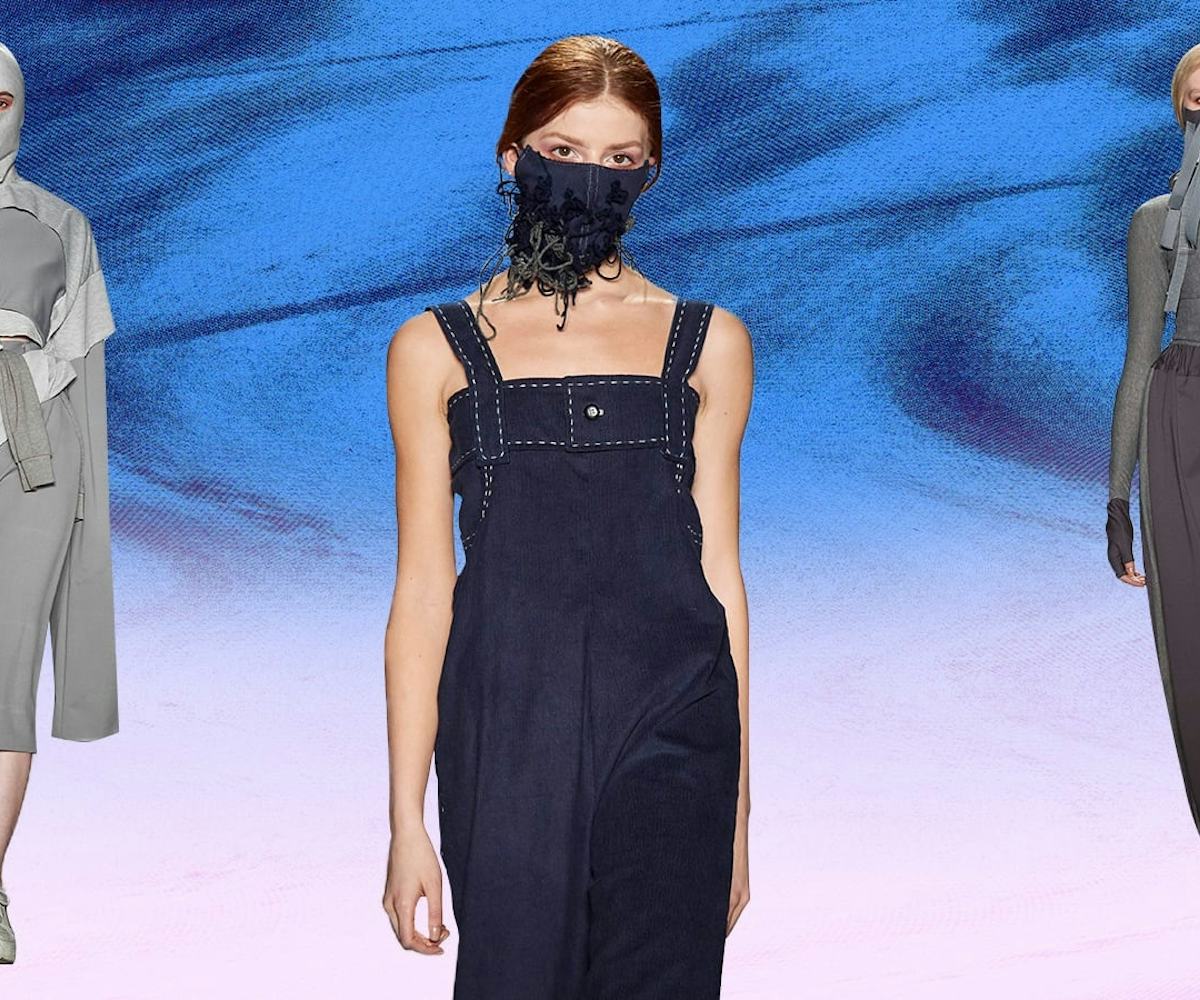 This Designer's Clothes Incorporate The Words Of Sexual Assault Survivors
We spoke with Imogen Evans of imi about her new collection
Just one season after sending her designs down the runway at her first fashion week ever in Vancouver, BC, Imogen Evans made her New York Fashion Week debut. It's quite the impressive task to have accomplished at only 19 years old (or any age, really), but this U.K.-born designer is all the more notable for her thought-provoking collections which, this season, stemmed from harrowing testimonies of sexual assault.
The collection came together in just over a month; not that Evans wouldn't have loved a few extra days to pour into her work. But, even though Evans had received her offer to show in NYFW previously, it took a while before word came through that she had received the proper funding. "Obviously [NYFW is] super-expensive, so I had to apply for sponsorship," she explained. "I didn't really think I'd get it, so I put it in the back of my mind, and then on Christmas Eve, they sent me an email like, 'Oh you've got it! Do you want to do it?'" It's lucky for us that Evans works incredibly well under pressure because her latest work is as beautiful as it is powerful.
Evans has been making clothing since she was 11 years old, but she says that, back then, "I had no idea how to make clothes," referring to those early designs as "super-wonky." She headed to Milan at 17 for a one-year intensive course, "which is where I learned everything about construction." Paired with her earlier studies of textiles and embroidery in school, her designs are no longer wonky, but maintain a surrealist touch, playing with deconstructed silhouettes and an abundance of fabric.
"I'm usually inspired by things that make me angry," Evans tells me. Sexual assault and the treatment of survivors' stories provide ample opportunity for that. The decision to incorporate it in such a visual, yet respectful way, into her NYFW collection was easy for Evans. "I'd rather have somebody hate my show and be left thinking about it for the next week than just like have no reaction to it."
The collection, titled "Places I've Been Touched," crowd-sourced testimonies about sexual assault from Evans' followers on social media to create a text-based print. It is aesthetically pleasing far away, but up close it's unsettling as the words begin to overlap, their similarities and quantity a reminder of the ubiquity of sexual violence. "I've basically taken a story and, for example, if somebody said, 'He grabbed my arm,' I took that quote and hand-printed it onto the sleeve so it kind of coordinates with their story."
"I've used something from every story I've been given," she added, "and some of the speech that I've printed onto the fabric is pretty provocative. But I wanted to include that. I didn't want to be like, Oh I'm gonna make this really PC. The whole concept is meant to be… I just wanted to make it really real and honest."
The stories ended up offering more to the collection than simply theme and print, Evans explained. "A lot of people felt inclined to tell me what they were wearing when they were assaulted, and obviously there's no correlation between clothing and consent, so I was like, Oh that's so interesting that they feel like they almost have to justify that." As survivors shared the outfits they wore—jeans and a hoodie, baggy trousers, et cetera—Evans incorporated them into the silhouettes and fabric choices.
"So a lot of the fabrics I use in this collection, they're kind of associated with loungewear, this gray-stretch material," she tells me, "And I've done super-super-exaggerated oversized hoodies and trousers and things like that. Just to sort of symbolize that you could be wearing the baggiest thing in the world and you're still not safe from sexual assault or rape, no one is. It can happen to anyone."
With these testimonies—shared in confidence and created into something beautiful and wearable—Evans has created an opportunity to wear our vulnerabilities as a second skin. A wound has turned into a shield, and into a work of art. It's an opportunity to reclaim power in the narrative.
She brings up a statistic from a U.S. Department of Justice report from 2014 that estimates "only 35 percent of sexual assault cases are actually reported to the authorities." RAINN estimates that number is closer to 23 percent. "A single fashion show cannot eradicate the stigma surrounding this issue, nor can it reduce the trauma these sexual assault survivors have endured," Evans wrote on her blog on the eve of her NYFW show. "However, I hope that the show and its context will stimulate discussion."
As she wraps up her time in New York City, Evans isn't sure of what's next for her. For the first time, some of her pieces will be produced and available for purchase to the public "by the end of March," she hopes. She's well aware of the hesitance that might come with wearing these clothes on the street during the average day-to-day routine, as opposed to the runway. "But this is happening," she explained. "Let's not hide from it."