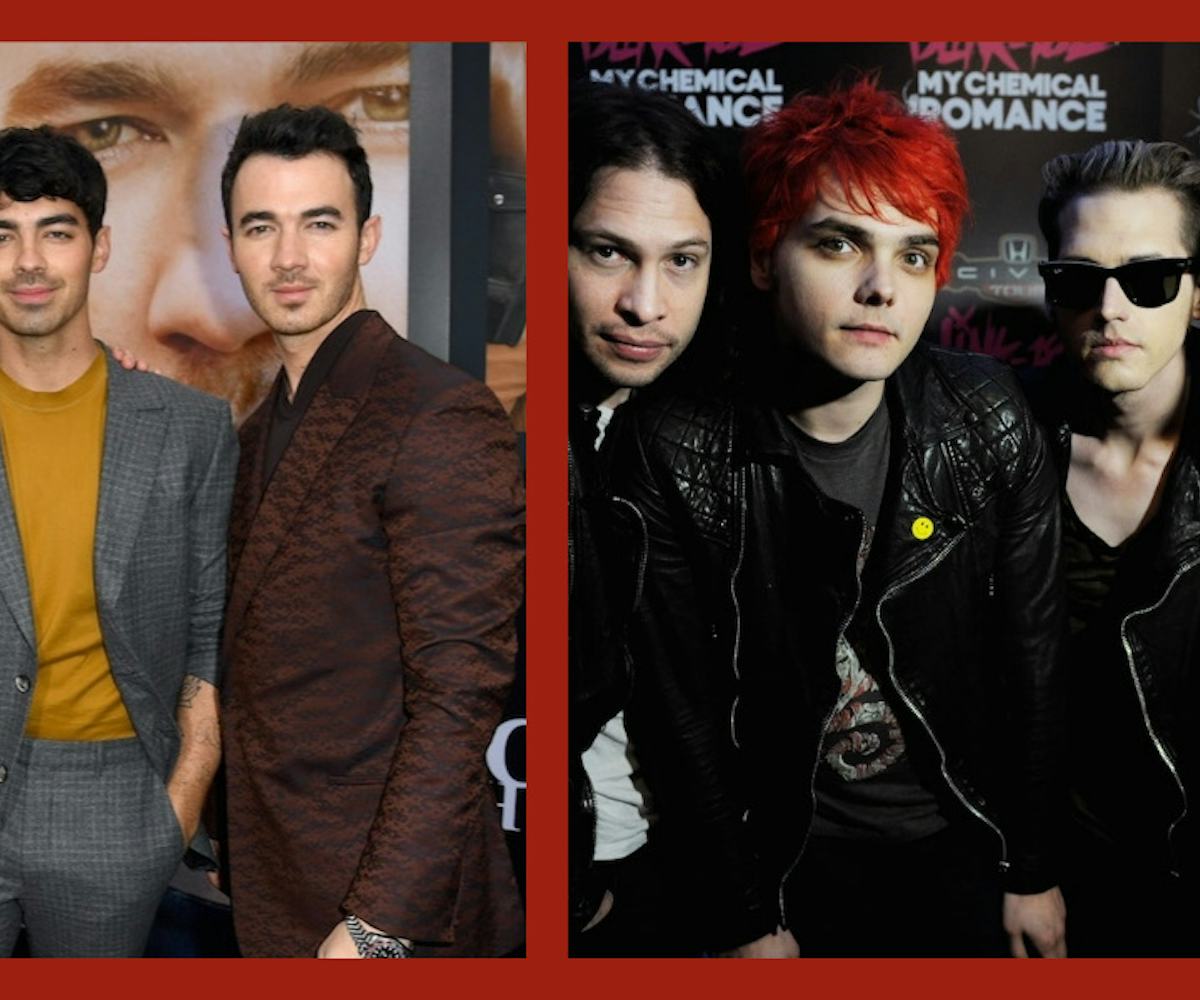 Photos by Kevin Winter/Getty Images
Is My Chemical Romance Reuniting?
Joe Jonas thinks so, and now I'm hyperventilating
Joe Jonas may have just spoiled the surprise of a My Chemical Romance reunion. During a recent interview, Joe alleges that the Jonas Brothers and the long-broken-up emo legends were rehearsing in adjacent studio spaces recently in New York City, but many fans still aren't getting their hopes up.
"I've got some dirt," Joe said excitedly at the mention of MCR during a KISS FM interview. "My Chemical Romance were apparently rehearsing next to us in New York recently, which, I thought they broke up, so… that's the gossip," he added.
MCR fans on Twitter shared reasons why Joe could be totally wrong, most likely in an attempt not to get their hopes up after all these years. One fan pointed out that bassist Mikey Way just welcomed a new baby into his family, so that kind of travel for rehearsals is pretty unlikely. And another person tweeted: "75 percent of MCR live in LA, where there are a bazillion perfectly fine rehearsal spaces." Another possibility is that Frank Iero and the Future Violents, led by the former MCR guitarist, could have been rehearsing in NYC too... maybe Iero used an old song to sound check with? Or, maybe Gerard Way was working on a bit more solo music?
Making it even less likely is the fact that Gerard Way's acclaimed Netflix series The Umbrella Academy has already started filming a second season up in Toronto, Canada. So, when would this reunion take place, even if they had rehearsed?
For what it's worth, the timing would be perfect if we consider is MCR's musical catalogue. Three Cheers for Sweet Revengejust turned 15, so the announcement of a reunion show based around the anniversary (in which, perhaps, they play the album front to back? I'd like to see it) would make so much sense, in an ideal world.
But, back in February of this year, frontman Way dispelled most hopes that the band would be getting back together any time soon. "I miss playing with the guys, but I don't think so," he told The Guardian. And yet, I'm going to hope he was just trying to throw us all off the scent of an already-planned reunion. As if I wasn't already binging their catalogue over and over again on a regular basis.