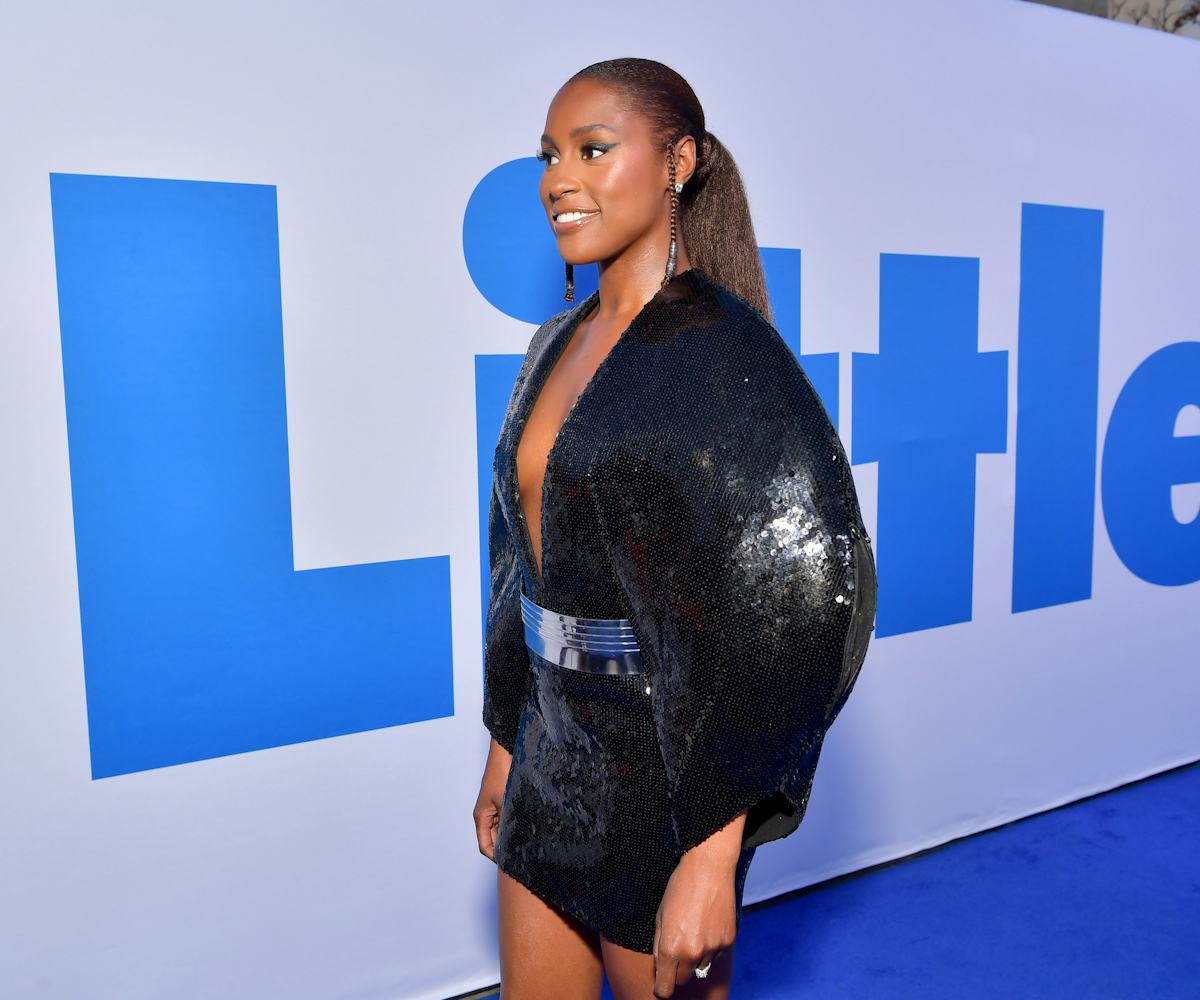 Photo by Emma McIntyre / Getty Images
Issa Rae Tells Us Her Secrets For Getting Everything Done
The 'Little' star is really leveling up
Issa Rae didn't even realize how significant her role in Little would be until she saw the teaser. At least that's what she told me when I asked her if she considered herself to be a lead in the film. With a laugh, she quickly quipped, "I didn't think so at the time—until I saw the trailer." She immediately followed up with the acknowledgment that leading role honors belong entirely to her 14-year-old co-star Marsai Martin who, in all of her Black girl genius, came up with the concept for Little when she was only 10 years old. In the film, Rae plays Martin's employee—only it's a grown-up version of Martin (played by Regina Hall) who's the boss. Or it was a grown-up until a curse transforms Hall into Martin, which leads Rae's character to step up to help run the company until the crisis is averted. (It's a lot to explain, but, trust us, it makes perfect sense in the film.)
In case you haven't noticed, Rae is leveling up in more ways than just on-screen. HBO may as well give her keys to the building since they've given a green-light to so many of her shows, not least her hit Insecure. And not only do Rae's edges remain laid and her skin always clear, now she's casually sliding into movie star territory. Before Little, she appeared in the movie adaptation of Angie Thomas' young adult novel, The Hate U Give. She'll also soon be appearing in a romantic drama alongside Lakeith Stanfield, and, next year, she'll be one-half of a romcom couple with Kumail Nanjiani in The Lovebirds. It was on the New Orleans set of that film that I got to catch up with Rae. I had to ask her: How the hell does she get everything done? This is the workload of an earth sign.
That's the theory I presented to her anyway, and Rae—a consummate Capricorn—didn't disagree. But I was curious about Rae's creative process beyond what may or may not be astrologically predestined. When does she have time to write and come up with original ideas when she's filming a gaggle of shows and movies, in addition to keeping her hair immaculate? "I love organization. I will write the to-do list and just be happy to know it's there organized," she told me. (There's that Capricorn coming out again.)
But being organized is only half of the battle. Actually checking things off the list requires isolation and self-care. "[Getting alone time is] something that I've had to do," she explained. "Obviously I can't do that while working on a set. When I'm back in regular life... Monday, Wednesday, and Fridays are creative days. I'm not taking any meetings. I'm not taking any calls. It really is for me to write or create or to just be creative in general. That's really helped to not blend the two together."
And then also, Rae is not shy about outsourcing. "I became an accidental business person," she reminded me, referencing her Awkward Black Girl web series days. "Creating web content, you're marketing, you're promoting, you're doing all these things. You're managing a team and things like that," Rae explained, following up by saying, "That's not necessarily what I signed up for. So hiring capable people has made it so that I am able to take that time to just be creative."
Will following these rules help you become the next Issa Rae? Well, no. There's only one of her. But they might just help you become the best version of yourself, Capricorn or not.
Little hits theaters on Friday.