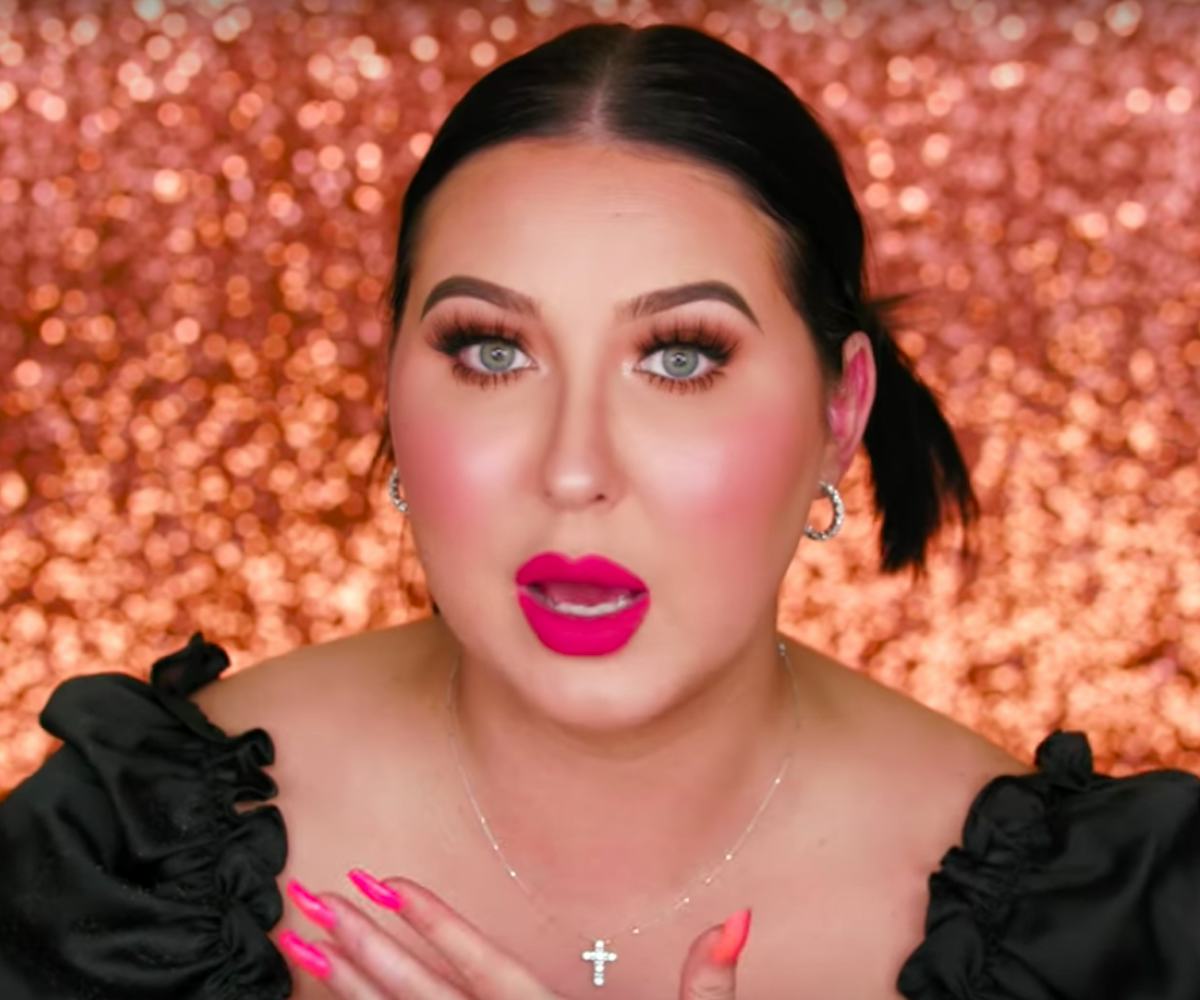 Screenshot via Jaclyn Hill YouTube
Jaclyn Hill Opens Up About Depression, Alcohol Misuse In New Video
"I need to change my life. I need to change my world"
Popular beauty YouTuber and founder of Jaclyn Cosmetics, Jaclyn Hill addressed a recent absence from her YouTube and social media platforms. Following the release of a holiday highlighter collection, the makeup artist had stopped posting as frequently, and in a new video, she attributed the absence to ongoing health issues, including a period of depression and anxiety that led to substance abuse.
Hill returned to YouTube on Feb. 3, posting a new tutorial that also doubled as a video explanation for her recent time away from the social media spotlight. "I am finally ready to open up and have a discussion," she says. "I was genuinely so depressed and anxious, I was in a really bad place."
She then goes on to speak about last year, referencing the launch of Jaclyn Cosmetics lipsticks. As previously reported by NYLON, Hill's debut makeup launch wasn't without issue. Customers had reportedly found hairs, fibers, and grainy textures in lipsticks released by her brand, and Hill later apologized, offering refunds.
According to Hill, her launch was a "total flop and a total failure," and she admitted that she felt like "a total idiot" for what happened and how she handled the situation. "It was just such a messy year, and at the end of the day, to cope with my anxiety and depression, I turned to alcohol," Hill says. "I started drinking to fix what I was feeling mentally."
Due to the drinking, Hill says she began to gain weight, and because of her social media presence, she encountered frequent body-shaming. The YouTuber said that she's since visited a doctor, and she's now attending different types of therapy. "I need to change my life. I need to change my world," she says.
She closed the video by sharing her hopes for a better future and confesses that she is still struggling. "Give me a little time just to fix myself. I have a full on mapped out plan with my therapist and my doctor," she says.
The video has earned the support of many on social media, with fans coming forward to share their well wishes for Hill. "I've been following you since 2014 and I never been more proud of you. 2020 you go and get It," a Twitter follower wrote. Another person shared their appreciation for the video, writing, "I'm rooting for you. Thank you for your vulnerability and honesty. You're glowing, even though I'm sure your anxiety was sky high." Hill later returned to Twitter to thank fans for their support, tweeting, "I'm seriously so emotional over the response from my video. I can't believe how much people are opening up & telling their stories of overcoming anxiety, depression & dependency. I'm so inspired by you guys! You've got me in tears with your kindness!"
Below, watch Hill's return to YouTube and explanation for her temporary absence.
If you or someone you know is seeking help for mental health concerns, visit the National Alliance on Mental Illness (NAMI) website, or call 1-800-950-NAMI(6264). For confidential treatment referrals, visit the Substance Abuse and Mental Health Services Administration (SAMHSA) website, or call the National Helpline at 1-800-662-HELP(4357). In an emergency, contact the National Suicide Prevention Lifeline at 1-800-273-TALK(8255) or call 911.
If you or someone you know is seeking help for substance use, call the SAMHSA National Helpline at 1-800-662-HELP(4357).