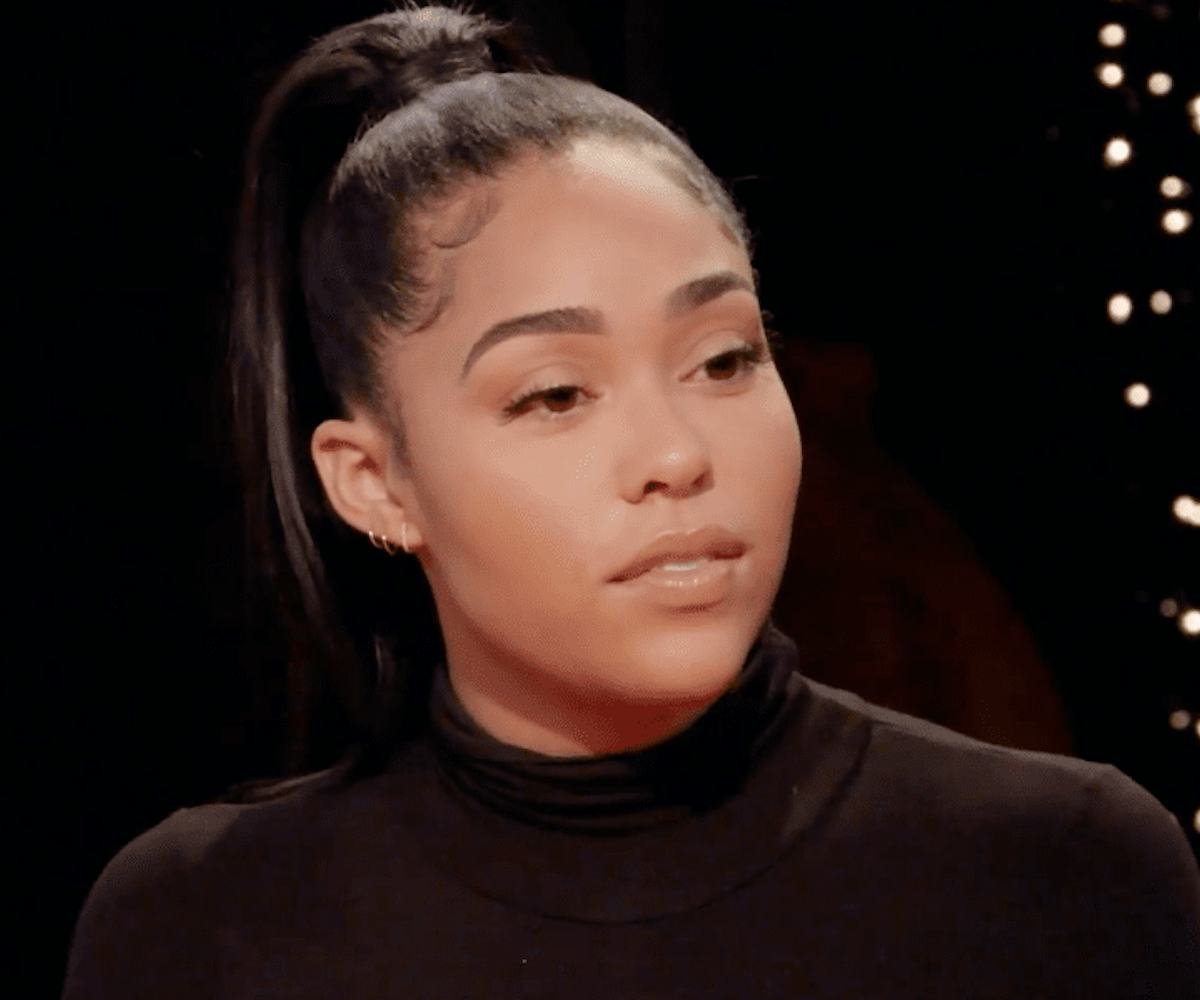 Jordyn Woods Is "Here To Take Responsibility" For What Happened With Tristan Thompson
Kylie Jenner's best friend broke silence following rumors that she hooked up with the father of Khloé Kardashian's child
Jordyn Woods, Kylie Jenner's best friend, has appeared on Jada Pinkett-Smith's Facebook Red Table Talk series following rumors that she hooked up with Tristan Thompson, the father of Khloé Kardashian's child.
"I've been asked several times, what's been the hardest Red Table that you've ever done?" Smith opens the episode. "And I haven't had one until today." She explains that Jordyn's father, John Woods, who passed away in 2017 from cancer, was a sound engineer on The Fresh Prince of Bel-Air and the two families have been close ever since. For that reason, and the fact that Smith knows that the world often targets Black women, she wanted to give Woods a chance to tell her truth.
As Woods tells it, she went out with some friends on a Sunday night and, following the club, the group headed to Thompson's house for an after-party. She explains that she wasn't personally invited and that no phones were taken away, despite what reports have previously stated. She says that she was there "minding my business, dancing, drinking," and that, at no point, did she give Thompson a lap dance, make out with him, sleep with him, or leave the public area with him. She does say that, during one point in the night, she sat on the arm of his chair with her legs dangling over his, but that it wasn't intimate. "I'm not thinking, I shouldn't be here," she explains. But even though everything during the party was kosher, she says, looking back, she should've gone home after the club: "That's my first step where I went wrong… how I would feel if someone close to me is hanging at my exes house or the father of my child."
Woods goes on to explain that she left the party as the sun was coming up and, right when she was about to leave, Thompson kissed her. "I got in the car and was like, 'No, that didn't happen,'" she recalls. "I was in shock." She also explains that she was drunk, but not blackout drunk and not beyond the point of recollection. "I can't point fingers, and I can't say, 'You did this' because I allowed myself to be in that position," she says. "When alcohol's involved, people make dumb moves."
The next morning, she says she talked to Kylie and Khloé about the night and mentioned that she was at a party with Thompson but, partially because she was still in denial but also out of fear, didn't tell them about the kiss. "I was honest about being there, but I wasn't honest about the actions that had taken place," she says. When Smith asks if she did that as a way to protect Khloé's relationship, she explains: "I just knew how much turmoil was going on, that I was like, 'Let me not throw more fuel on the fire.' The last thing I wanted to do was be that person. I'm no home-wrecker, I would never try to hurt someone's home, especially someone that I love."
Following the news breaking, Woods says that she couldn't eat for days or look at her phone. "Every day was a new headline, every time you refresh the page, it's another person bullying me or wishing death upon me or telling me something like, 'Your father deserved to die,'" she says. "I may have done something wrong, but whatever I did, I don't think I deserve this. It's just not fair. If I was a weak person, I would've hurt myself." She also shares that she and her family can't leave the house. "I'm not here to play the victim, I'm here to take responsibility."
And despite what Khloé tweeted today, Jordyn says that she did apologize to her several times. "I did as much apologizing as I could do—over the phone, over text," she says. "And until I get the opportunity to talk face-to-face so she can really feel what I'm saying. But I reached out, and the opportunity's there. I offered as much as I could." She also says Kylie knew that she was coming on the show, that the scandal wasn't a publicity stunt, and that the situation has allowed herself to see the true colors of a lot of people who she thought were her friends.
She concludes the talk, holding hands with Jada, stating: "I'm happy because, now, I feel like I'm free."
Watch the full discussion below.