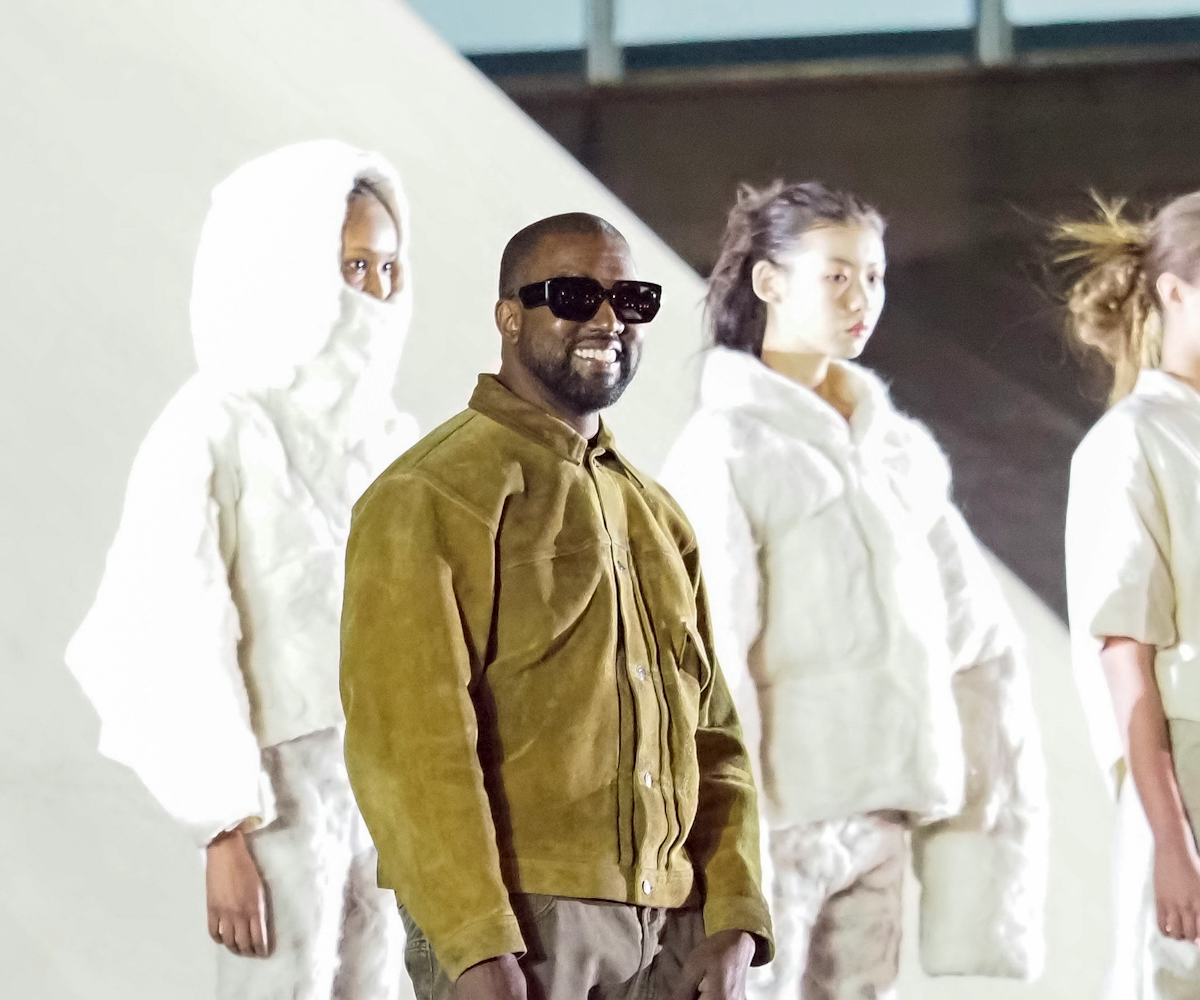 Photo by Arnold Jerocki/GC Images
Can Fashion Ever Really "Cancel" A Brand And Its Designer?
Despite Kanye West's public support for Donald Trump, his last-minute Yeezy Season 8 show in Paris was met with hype and plenty of praise
Eight years after his infamous fashion week debut and three years following his Adidas-backed brand's last New York presentation, Kanye West and Yeezy officially returned to Paris.
This time around, the rapper hosted a Sunday Service in the Bouffes du Nord theater in advance of his Yeezy Season 8 runway show on Monday night during Paris Fashion Week, which was held in the sage-scented plein air of the illuminated dome in front of the Oscar Niemeyer-designed French Communist Party Headquarters. The 18-look collection was a return to form for West and Yeezy's minimalist take on apocalyptic streetwear in the usual putty-hued palette, but updated with rougher textures, like tufted cotton and asymmetrical, padded silhouettes. Aside from the Star Wars-meets-Wyoming aesthetic, West also parked roughly 30 rental cars around the building to kick off the show with a cacophony of horns followed by a rap performance from his 6-year-old daughter North West.
The designer described his collection in a press preview before the show as "wabi-sabi and zen," "focusing on making new shapes, new adventures... They're all new interventions, new approaches to apparel," but intended to "dress the service industry — the nannies and housekeepers and chefs." In a statement that was perhaps too on the nose, given the current coronavirus outbreak, he added that this season's rubberized pieces were inspired by his, "obsess[ion] with hazmat and that whole kind of vibe."
The fashion industry seems to be equally obsessed with West's vibe, as reviews for the new collection are far more laudatory than anything Yeezy has received in the past. WWD called the show, "brilliant in its last-minute buzz factor. Brilliant in its two-part punch, a religious event that prepared the way for the second coming, a quasi-religious fashion event. Brilliant in playing the kid card... Brilliant in West's iron-cast, I'm-a-star knowledge that — no matter the time or prior negative Yeezy experiences — if he built it, we would come." Even famously tough critic Cathy Horyn had to admit the collection was "sharply focused" and "interesting."
But the reviews weren't all raves. Transgender singer and artist Anohni wrote a since-deleted "Message to the Fashion Industry" on Instagram that read:
Just in case you forgot, Kanye West advocates for Donald Trump's administration, and the gay-hating, poor person-hating, immigrant-hating, woman-hating, trans-hating, animal and nature-hating, abortion-banning sociopathic genocidal agenda is the goody in each of your "Sunday Service" gift bags. Lending your talents to West's product campaigns and your caches to the normalization of his heinous message endangers the lives of gay people, women, poor, middle and working classes, and the environment itself. You are producing right-wing propaganda with every tweet of elation, record cover, choreography or peal of "Christian" joy that you contribute to West's dangerous campaign.
Fashion blogger Bryanboy then shared a screenshot of the Instagram in a tweetliked by Gigi Hadid with the caption, "Reality check to all the fashion writers out there in Paris."
But while West may be fashion's most recent cultural flashpoint, he's hardly the first (or even the most controversial) figure whom the industry just can't seem to cancel. In February, Business of Fashion investigated how Dolce & Gabbana managed to overcome its shockingly long history of racist, sexist, fatphobic, and homophobic behavior to be worn again in 2020 by celebrities like Gwen Stefani, Lupita Nyong'o, and even the Duchess of Cambridge. In December, the New York Times seemed equally baffled by the "quiet return" of fashion photographers Bruce Weber and Mario Testino, both of whom have been accused of sexual misconduct by over a dozen male models each. When Karl Lagerfeld died last February, the industry grappled with a conundrum similar to the one it currently faces with West: How do you eulogize a man who, while legendary in terms of impact and achievement, could also be unapologetically cruel to people who didn't meet his exacting standards of beauty, taste, and behavior?
If one thing's become clear, it's that whether during their lifetime, after their death, or going on a century later, there's never a right time to discuss a fashion luminary's misconduct — and even if it's discussed, there's no guarantee the conversation will instigate change. After all, there's never really been any lasting repercussions for these creatives' bad behavior aside from the odd short-lived celebrity boycott, merchandise bonfire, or John Galliano's four-year exile before ultimately being placed at the helm of Maison Margiela, one of Paris's most prestigious avant-garde houses. To this day, we heap praise on designers like Coco Chanel and Hugo Boss without so much as a passing mention that both also happen to have been avowed Nazis — a piece of information both admirers and consumers of those designers' works might find pertinent.
Of course, none of these people can be "canceled" without customers putting their money where their mouth is. But part of the problem with that is most shoppers are not as informed about the many problematic personalities behind their luxury products as fashion's gatekeepers. For the average person, being able to purchase an item from a highly coveted brand like Yeezy is simply a hypebeast's status symbol for clout, not of the toxic Trump ideologies it comes packaged with. These negative stories are mere blips on the buyer's radar; some outraged posts that rip across social media before disappearing down the timeline rabbit hole.
This is why it's the fashion industry's job not to let people forget, to not allow us to divorce the art from the artist ad infinitum, but to keep reinserting the brand and its designer within their appropriate cultural contexts and, in turn, force the consumer to reckon with their own moral values.
This failure of institutional accountability calls to mind a 2018 piece by the Guerrilla Girls, "3 Ways To Write A Museum Wall Label When The Artist Is A Sexual Predator." In this work, the feminist collective offers to help museums figure out how to credit their collections in light of the #MeToo movement. According to the artists, there can be only one solution: to make sure the allegations are as prominent as the accolades.
Perhaps fashion would do well to take a note from the Girls.