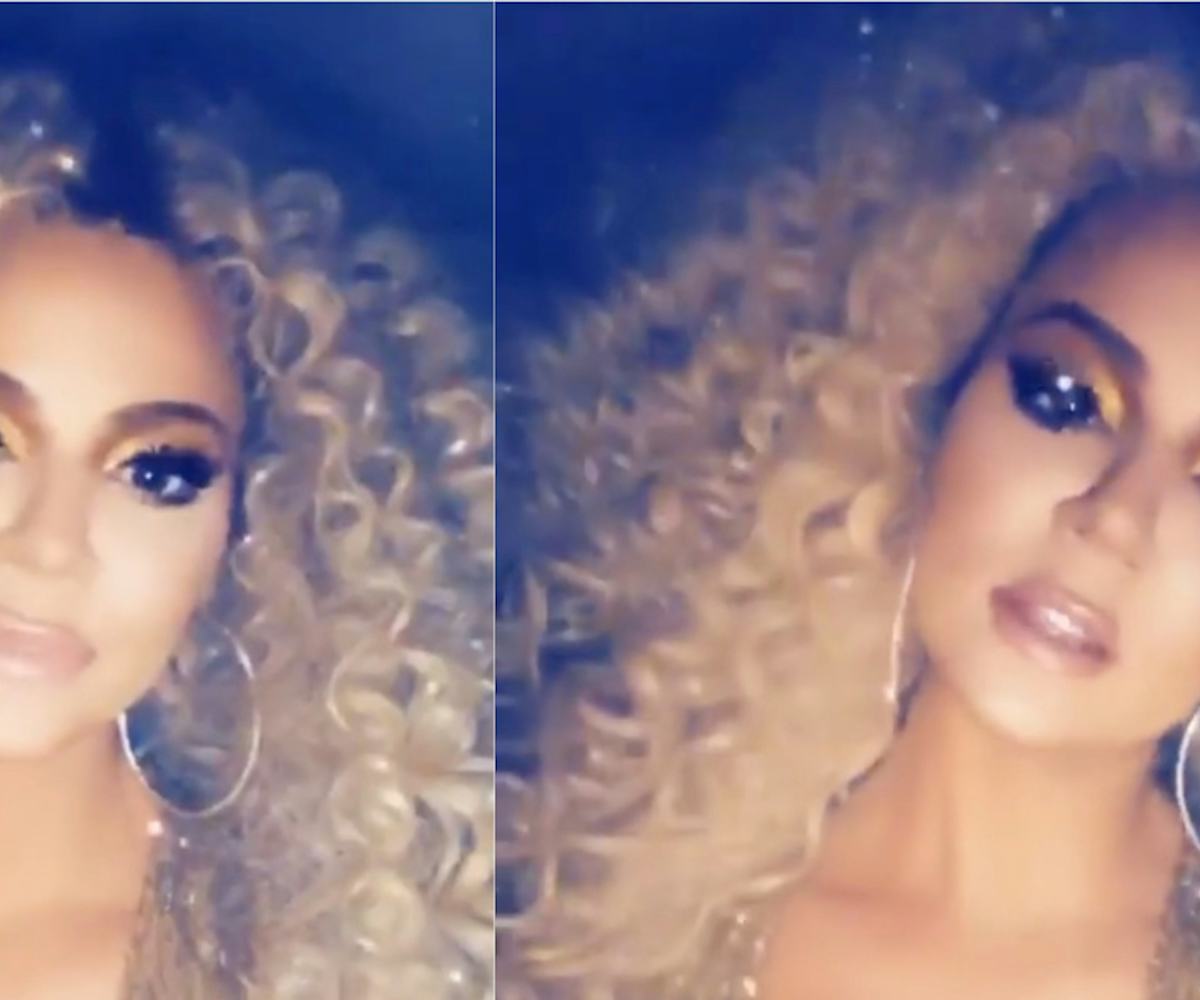 Screenshot via @KhloeKardashian on Instagram
Khloé Kardashian's "Disco Fever" Look Is Very Rachel Dolezal
Khloe really went there for Diana Ross' birthday party
Khloé Kardashian really committed to the "disco fever" look for Diana Ross' 75th birthday party, and not everyone is so thrilled with it. In a series of selfie videos and candids posted to Kardashian's Instagram story, her blonde curly wig is on full display, filled with glitter, and it had plenty of people in The Shade Room's comment section calling it appropriation.
Though some have claimed this was a theme party (I'm not convinced by the many crowd shots that followed on Kardashian's own story), which could have explained her commitment to Ross' aesthetic, most had no kind words. Cosmopolitanpointed out that one commenter directly compared Kardashian to Rachel Dolezal, while others likened her to the lion from The Wiz and called out her "midwhite crisis."
How did the Kardashians end up on Ms. Ross' radar, and wind up at her star-studded birthday (and later, on stage with the queen herself)? My personal theory is Kardashians' IG Story shoutout to party planner Mindy Weiss was secretly a thank you for getting them in, but maybe I'm just being petty! The Shade Room provided yet again, posting a video of the Kardashian clan's center stage moment to start collecting the public opinion on this charade, and the consensus seems to be that we're all confused. But, if Ms. Ross wants it, Ms. Ross will get it, and we will just have to sit through the weird.
Whether or not you believe Kardashian crossed a line into Rachel Dolezal territory, @nikkiluxe_ really spoke to me with her take on the whole debacle in The Shade Room's comment section: "It's too early for me to have (another) Kardashian Appropriation Headache." There's never a good time for that.