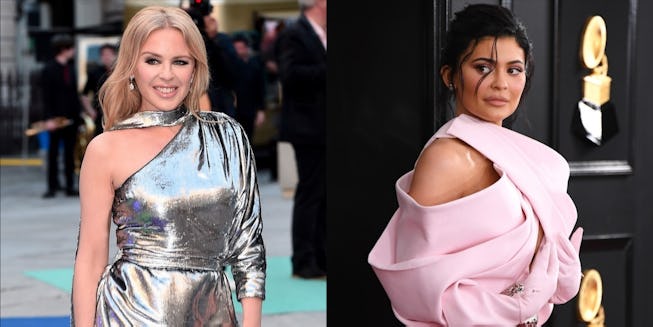 Photos by Eamonn M. McCormack, Jon Kopaloff/Getty Images
Following Legal Battle With Kylie Jenner, Kylie Minogue Launches KYLIE Makeup Line
KYLIE meet Kylie Cosmetics
The release of Kylie Minogue's namesake beauty line, KYLIE, may reignite some old beef with Kylie Jenner. Back in 2016, the Australian-British pop star blocked the reality television star from trademarking their shared first name for "advertising and endorsement services," as Minogue had long sold products, like fragrance and apparel, under her own name. While the dust seemed to settle and Jenner unrolled Kylie Cosmetics, Minogue has tossed her hat back in the ring and dropped a series of KYLIE makeup products on her website.
Amidst promoting the forthcoming drop of her new album, Step Back In Time: The Definitive Collection, Minogue directed fans to her trio of eyeshadows now available online.
"What the hell is Kylie Jenner going to do now that Kylie MINOGUE has taken her job," one Minogue fan asked on Twitter.
Another fan wrote, "Kylie Minogue launched makeup and I just know it's to spite the second rate Kylie. What a queen." While Minogue isn't advertising the reasoning behind launching makeup, and likely has been thinking about the line for a while, we can't help but remember when her representatives referred to Jenner as a "secondary reality television personality" when filing an opposition to Jenner's initial 2015 trademark application.
In total, there are five makeup products—a clear lip oil, glittery lip gloss, cheek and eye glitter, lip color (that doubles as blush), and eye shadow—and all retail for under $20. Check out the entire collection here.