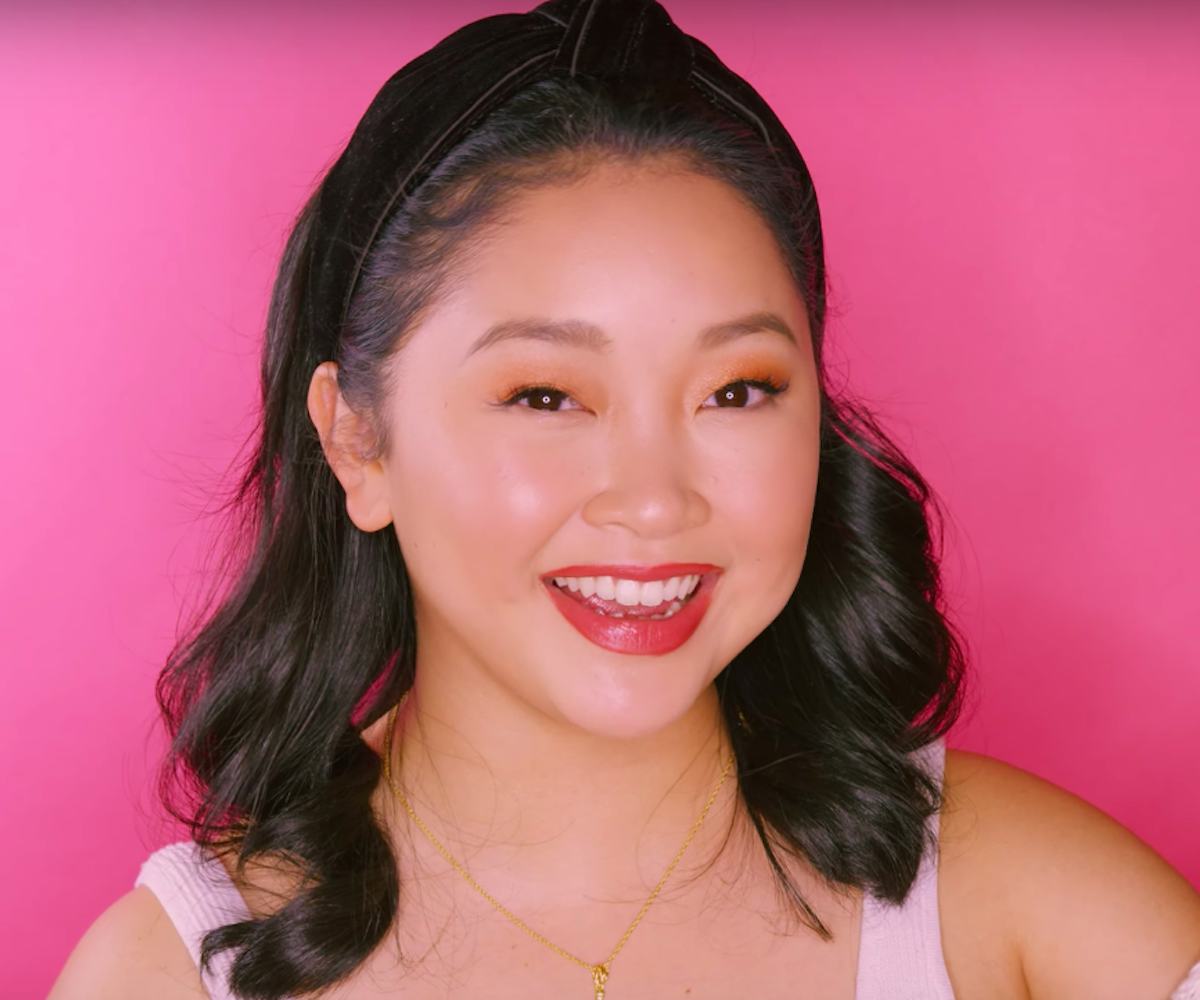 Screenshot via Lana Condor YouTube
Lana Condor Talks Mastering Eyeshadow With Monolids In First YouTube Video
This will hold you over until 'To All The Boys 2' comes out
For anyone finding it hard to wait until the Feb.12 release of To All the Boys: P.S. I Still Love You, you've luckily got something new to hold you over. On Feb. 5, the To All the Boys I've Loved Before break-out star Lana Condor made her YouTube debut, and for her very first video, she walked viewers through her daily beauty routine. If the actress has previously turned you on to polka dot-filled outfits or daily scrunchies, prepare to be influenced again.
The 15-minute makeup process is entirely adorable and relatable, with Condor professing her love for shimmer-packed eyeshadows and the process of blending. Confirming that her routine takes just minutes to complete, she begins with foundation, applying the product and admitting, "I love blending, but I don't know if I'm good at it." Same.
After ensuring that her foundation has been properly applied, Condor moves onto her eyes. Choosing autumn-inspired eyeshadow because she wants her eyes to "look like a damn sunset," the TATB star suggests that those with small eyes apply the product in circular or windshield wiper-like motions. She tops the look off with a touch of shimmer shadow, declaring, "I don't care if it's a relaxed chill day and I'm just going to buy groceries. I'm gonna have shimmer."
Like so many, Condor admits that she too struggles with creating the perfect wing. Calling it a process of trial and error, she's later surprised when she nails the look in one swipe. That joy is short-lived though, as she quickly moves to her least favorite part of her beauty routine — the eyebrows.
Sharing her secret method of eyebrow application — "Pretending like I'm afraid to touch the eyebrows, because I am" — Condor uses small, short strokes to fill in her brows.
Rounding out the routine, she applies concealer under her eyes, bronzer "until the cows come home," and blush, along with highlighter. As for her lips, she does address reports that she uses fillers, saying that her lips are natural and she only uses liner and product, because as she says, her mom would kill her if she did anything to her lips.
Before putting away her brushes, Condor shares one important final piece of advice for fans. "Do what works for you," she says of selecting a beauty routine. "There is no right answer. Makeup is supposed to be awesome and fun. There's trial and error to everything that you do."
Watch the full video, below.