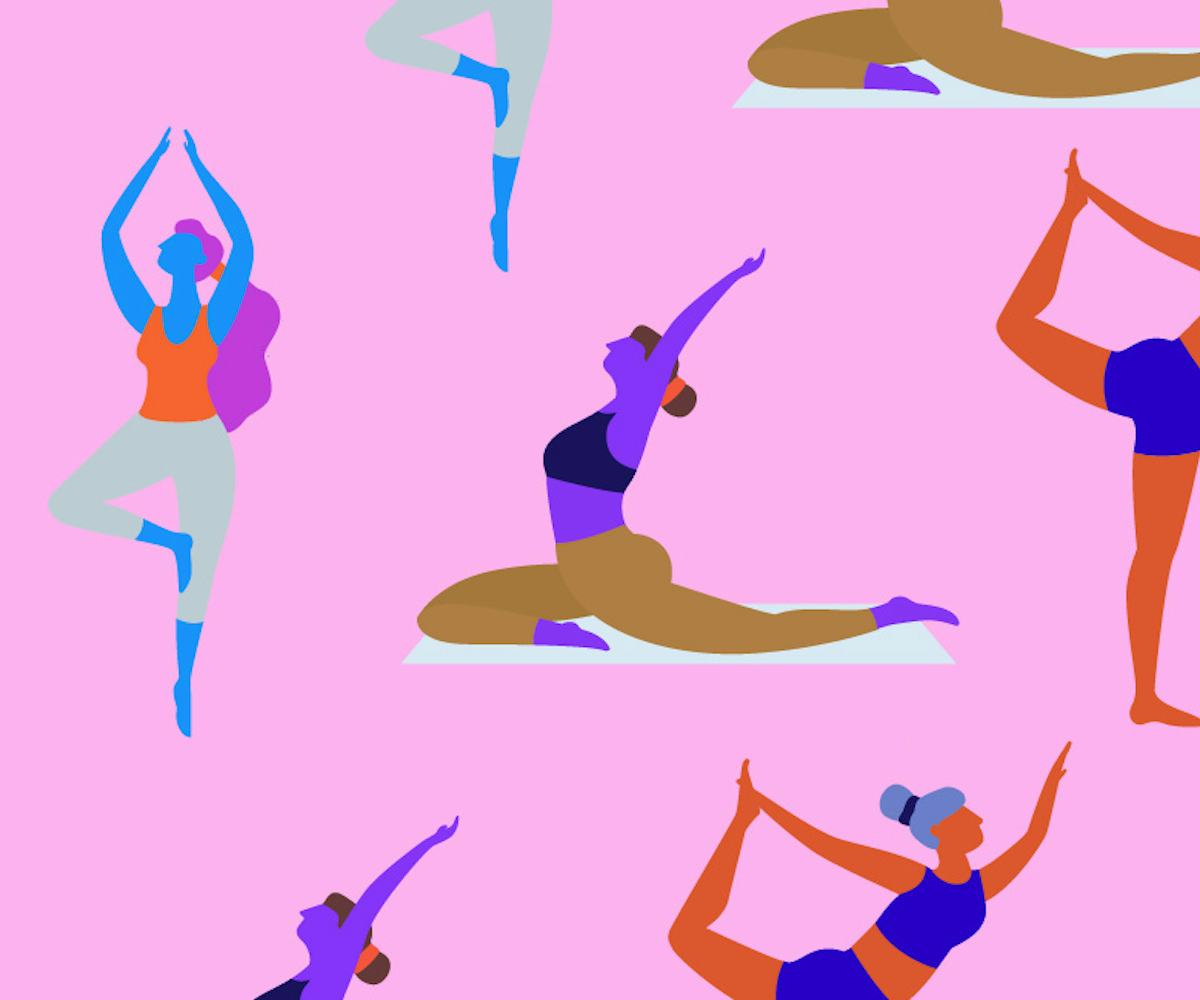 Illustration by Sarah Lutkenhaus
On The Pleasure Of Finding A Queer Space That Isn't A Bar
Laughing Lotus' Queens + Queers class is an LGBTQ haven
Probably the biggest change I made when I stopped pretending to be straight (other than, you know, pretending to be straight) was that I stopped pretending to like the bars I'd been going to for years, and started frequenting gay and lesbian bars instead. But, with time, I realized that I wasn't all that much of a fan of bars in general—I'm not a huge drinker, and would prefer not to have every activity I do to be infused with alcohol. I was at a loss, though, when it came to finding queer spaces that didn't involve drinks.
Which is why I was so thrilled to find out that yoga studio Laughing Lotus debuted a new class, called the Queens + Queers Fluid Flow, and that it was created for queer people, by queer people. Meant to be a space for queer yogis to get together, the class offered something I had been searching for: a distinctly queer space that wasn't a bar.
Laughing Lotus' founder Dana Flynn, a queer woman herself, used to own a club before quitting that scene to focus on yoga. She's a recovering alcoholic, telling me that "the party scene worked for a while, but then I wanted something deeper." This meant less alcohol, and more spiritual wellness, which is what she's bringing to her community with this class.
Gay bars have historically been a site of queer expression, and were sometimes the only spaces where queer people could be themselves without fearing repercussions. And that should be celebrated. But, in part, because they were the only places where queer people could meet up without being afraid of persecution, our community suffers from an increased rate of alcoholism. While 5 to 10 percent of the general public has moderate alcohol dependency, the LGBTQ community reports upwards of 25 percent with the same issue.
"Many have experienced trauma in the queer community, so having a safe space is really, really important," Flynn says. "And also having fun." She notes that's "why 'laughing' is in the title" of the studio—to get people in an upbeat mood. When you visit Laughing Lotus, you'll feel this laughter in the air, too. Glitter is on the floor, changing rooms aren't labeled by sex but rather by gender identification, and there are rainbows. Everywhere.
The space that Flynn has created is one that champions individual growth through yoga in terms of expressing your identity. "Yoga seems to look pretty homogenous or codified, and [there's a notion that] there's a certain person who does it," she says, but her studio is much different. "We've always celebrated everyone's uniqueness and also what brings us together." And for the Queens + Queers class specifically, it's a space to "get to know other queer people and people that aren't relating with the usual yoga audience, and [think] the yoga community looks a certain way and that yoga isn't for them because they express themselves differently."
In teacher training programs, she advocates for future leaders to use their identities to make the classes feel more authentic. At the first Queens + Queers flow, Flynn instructed the class while wearing rainbow-striped leggings (which were actually inspired by her) and pink glittery platform heels. She was assisted by another teacher, who infused ballroom dancing moves into the flow. It was definitely not your stereotypical chill yoga class, but instead was a celebration of the queerness of everyone in the room. Of course, there were more traditional yoga moves mixed in, but it was most important that everyone felt supported and able to express their identity however they felt right while in the room.
Students were encouraged to work together on moves requiring assistance, and we had all introduced ourselves at the beginning of class, which made us all feel more comfortable with each other. We weren't judging each other for our poses, or our identities, but were instead appreciating how we could help each other. After class, a girl who I had helped do a headstand told me that she appreciated that I had attended, and congratulated me on my own effort (I am far from an expert yogi). The whole experience made me feel better about myself, and closer to the others in the room—something I can't really say about being in a crowded bar.
Sure, there are a few other distinctly queer spaces for people to mingle. There are gay cafés now, as well as bookstores. But the fact that Flynn is creating a space focusing on wellness, self-care, and community building is something new and definitely worth celebrating. Bars and yoga studios are not analogous, but that's not the point. In fact, the reason the Queens + Queers class is worth celebrating is because of their difference. It's a new way of creating social bonds between fellow queer people, instead of having to rely on just one type of space.
As well-needed as this class is, Flynn ultimately hopes it won't be necessary in the future. "I feel like we'll move into the direction where we don't have to have a separate class for the queer community," she says. For now, though, it's a step in the right direction, and a needed space for queer people to come together and feel good about themselves.