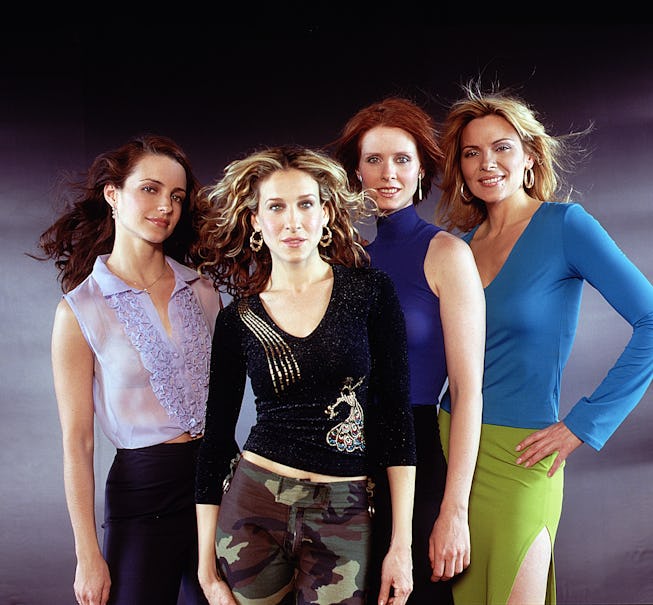 Getty Images/Hulton Archive/Getty Images
And Just Like That, Sex And The City Celebrates 25 Years With IRL Exhibition
Celebrate the groundbreaking show with an IRL experience in New York City, where you can reminisce on the iconic fashion and Berger breakups of the series.
And just like that, Sex and the City is turning 25 years old.
As we salivate (in ways good and bad) over the return of And Just Like That Season 2, it's a good time to reflect on the groundbreaking and timeless appeal of the series — and what better way than putting yourself where it all happened — or at least a recreation of it? In order to celebrate 25 years of Carrie, Samantha, Miranda, and Charlotte, Max is offering fans an immersive, in-person New York City experience that lets you bathe in the nostalgia of all things SATC.
The experience includes a recreation of Carrie's famed stoop and apartment, including a photo op in front of her Apple laptop to stage your own "I couldn't help but wonder..." moment. Most crucially, you'll be able to walk into Carrie's "closet experience" highlighting the legendary work of costume designer Patricia Field in Sex and the City, as well as the fashion from And Just Like That...(@everyoutfitonsatc, where are you?)
There will be also be a custom shoe, accessory, and outfit display curated by costume designer Molly Rogers and Danny Santiago, a gift shop with an exclusive line of SATC25 merchandise, and even a Ketel One Cosmopolitan Bar. What we're looking forward to the most? An interactive Post-It wall, a hat-tip to Carrie's infamous Berger breakup.
"We are thrilled to welcome fans into the vibrant and iconic world of Carrie, Miranda, Charlotte, and Samantha, to celebrate 25 years of love and friendship with the ultimate Sex and the City fan experience in New York City and across the world," said Pia Barlow, Executive Vice President, Originals Marketing at Max. "This experience will offer an unforgettable journey through the show's most memorable moments, as well as exclusive glimpses into the exciting future of the franchise. We can't wait to share this special occasion with our passionate and devoted audience."
If you don't happen to live in Carrie's neighborhood, you can also celebrate the milestone, with in-app content from Max and pop-up events in several countries including the UK, the Philippines, Mexico, Brazil, Colombia, Argentina, and Australia to celebrate the beloved show.
"And Just Like That…It's Been 25 Years, A Sex and the City Experience" runs in New York City at 477 Broadway from June 8-11. You can reserve your spot now at satc25experience.com. And Just Like That returns for Season 2 on June 22 — plenty of time to prepare yourself for the return of the Che Diaz comedy concert.