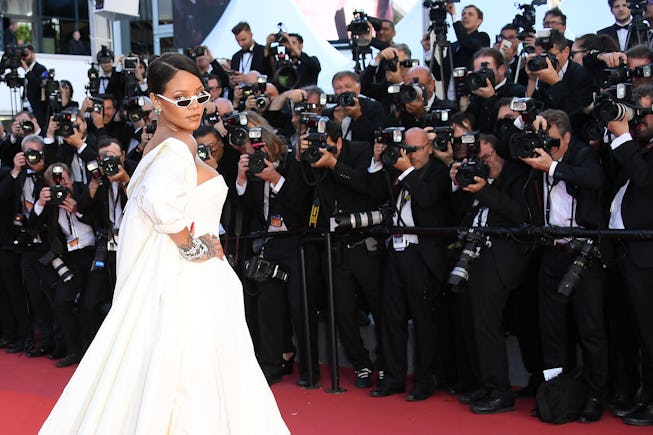 Daniele Venturelli/WireImage/Getty Images
NYLON Editors Share Their Favorite Cannes Red Carpet Moments
Stunning, unforgettable moments from the Cannes Film Festival's many red carpets.
The Cannes Film Festival is at its core a place for auteurs and cinephiles to delve into the avant-garde and transgressive corners of movie-making. With that comes actors and red carpets, a peacocking of the sartorial, which has arguably become as compelling as the films that are screened. And while only one film walks away with the prestigious Palme d'Or award, each year brings multiple winners on the red carpet.
Since the festival's founding in 1946, each year brings a new crop of elite style moments that are cherished for years to come; from sultry offerings from Pamela Anderson and Bella Hadid to the aloof glamour of Isabelle Huppert, you never know what you'll get on the Cannes red carpet.
Ahead of this year's edition of the Cannes Film Festival — which this year runs May 16-27 — NYLON's editors take you through our favorite red carpet picks from over the years.
Pamela Anderson, Cannes 1995:
I will never get over Pamela Anderson's 1995 head-to-toe leather outfit when she attended Cannes to promote Barb Wire — she chucks all sartorial rules for what a coastal European film festival should be and stands in her full power in a sweetheart-neck corset catsuit, which she dresses up with a pair of elbow-length black gloves and tall boots. — Sophia June, culture writer
Paris Hilton, Cannes 2001
Paris Hilton always brings a certain je ne sais quoi to the red carpet, but her Randolph Duke dress for the 2001 festival is truly a standout look. Also, Paris in a beret? J'adore. — Kelly Reed, senior social strategist
Bella Hadid, Cannes 2016:
The red silk Alexandre Vauthier dress that Bella Hadid wore to the Cannes premiere of The Unknown Girl in 2016 defies all laws of gravity. I do not think I'll ever be able to forget seeing her hit the carpet in this as long as I live. — Alyssa Vingan, editor-in-chief
Kristen Stewart, Cannes 2016
Apparently 2016 was a good year for Cannes fashion! A crisp white T-shirt and a formal skirt is perhaps my favorite outfit formula of all time, and Cannes mainstay Kristen Stewart really got it right when she hit the carpet in a cropped pocket tee and a classic tweed Chanel midi skirt. I've been trying to copy this look (with varying results) ever since. — Alyssa Vingan, editor-in-chief
Rihanna, Cannes 2017
I still think about the sunglasses to this day. — Steffanee Wang, music editor
Isabelle Huppert, Cannes 2021
I don't think anyone else wore Balenciaga's slinky gowns to the same effect as Isabelle Huppert. Accessorizing the inky number with diamond hoops and sleek don't-look-at-me shades is a genius lesson looking effortlessly cool, something Huppert has perfected for decades. — Layla Halabian, culture editor
Naomi Campbell, Cannes 2022
The regality of Naomi Campbell's Valentino gown is exactly what I want to see on the Cannes red carpet. The dramatic flair of the gown's delicate feather detailing paired with her exquisite diamond and sapphire jewelry makes it a stand out on the 2022 red carpet, and further cements Campbell as one of culture's incomparable sartorial legends. — Layla Halabian, culture editor