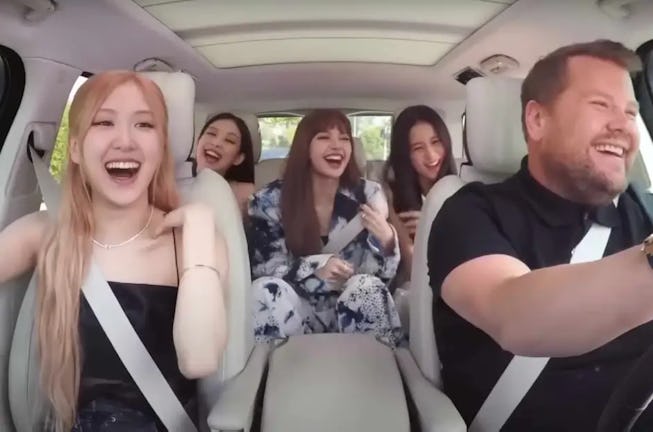 YouTube
Blackpink's Carpool Karaoke Segment Is One Of The Best Yet
Blackpink covering Spice Girls and TLC? Good work, James Corden.
Blackpink continues their world domination. After becoming the first K-pop group to headline Coachella this past weekend, Blackpink engaged in another one of America's most time-honored traditions and biggest indicators of mainstream success: Carpool Karaoke on The Late, Late Show with James Corden.
In the latest episode of the series, which has seen everyone from Adele to Ariana Grande to Nicki Minaj sing along to their own music and other hits, the magic of the women of Blackpink's vocal blend was stripped down and on full display in one of the series' cutest and most entertaining segments yet.
Jisoo, Rosé, Lisa, and Jennie talked about their history group, which included the grueling five years they spent training in dance (popping and krumping, to be specific), singing, and language. They also talked about the insane number of records they've broken (which include being the most subscribed-to act on YouTube, most subscribed to female group on Spotify, and the first K-pop group with a number one album on the Billboard 200. No biggie.) Corden then challenged them to break even more records, like the fastest time to assemble a Mr. Potato Head toy, most handclaps in one minute, and removing the most Jenga blocks in a minute, all of which they attempted with glee, because it's unlikely there's anything Blackpink can't do.
Corden had the group sing along to a number of their own songs including "Pink Venom," "DDU DU DDU DU," and "How You Like That" — but the real earworms you're gonna play on loop forever were their renditions of TLC's "No Scrubs" and Spice Girls' "Wannabe."
"They had vocals, they had raps, and they had a bit of hip-hop," said Jennie of her legendary girl group predecessors TLC before Corden presses play and they all erupt in screams and synchronized swaying. (Could we be getting an official cover soon?)
And to top it off Corden asked the girls for their own Spice Girls monikers: Rosé snagged "Aussie Pink," Lisa received "Boss Pink," Jenny got "Shy Pink," and Jisoo closed it out with "Nail Pink."
While most of us sadly missed Blackpink Coachella's set, you can watch their carpool karaoke segment, below. Next, the group embarks on a worldwide stadium tour for a total of 36 dates through June 2023, leaving little time for 90s karaoke bangers, but a lot of time for friendship.