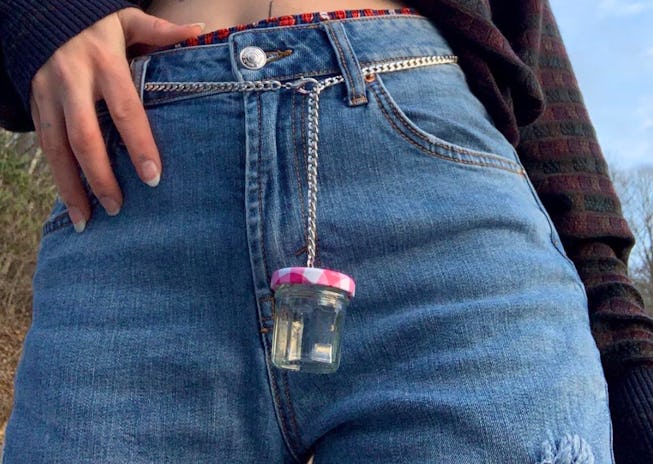 Isa Edwards
Meet The Depop Seller Making Belts Out of Tiny Bonne Maman Jars
Isa Edwards turned remnants of her Bonne Maman advent calendar into bespoke accessories.
Depop sellers have always been masters of innovation — creating bespoke delights such as skirts made out of silk ties or Ikea-inspired playsuits. Now, one of them has gone full upcycle camp, using an empty miniature jar of Bonne Maman jam to create a belt that took Twitter by storm this week.
The belt was created by Isa Edwards, a designer living in a small town near Boone, North Carolina, who makes clothing and accessories "for bums and misfits of all genders and sizes." Edwards' work is unlike the ironic-yet-sincere product placement fashion of Juicy Couture x Kraft mayo sweatsuit collaboration, the kitschy delights of Gohar, or the shenanigans of artist Nikolas Bentel's Barilla pasta purse — only without a corporate sponsorship or triple-digit price tag. Combining kitsch, cottagecore, and a staunch devotion to upcycling — the Bonne Maman jam belt is the holy trinity of a viral fashion moment, but with non-commercialized heart.
"I wanted to make something tiny and cute that is unisex, since most tiny things are marketed towards women and children," Edwards tells NYLON. "I'm surprised thousands of people have an opinion about my odd creation, but it's fun to read the comments. Some comments are people in horror, and some love the idea. That doesn't surprise me since you don't usually find canned goods upcycled into chains for jewelry."
The jar belts (and necklaces) in particular, were inspired by the Bonne Maman Advent Calendar, which Edwards' aunt sent to for Christmas, which comes with 25 one-ounce samples of jam.
"I collected my mom's and grandma's jars from their calendars and brainstormed what I could do with them," Edwards says. "I've made a few chain body harnesses recently, and decided to experiment with a wearable stash jar. I've now made a Bonne Maman necklace, belt, and keychain."
Edwards started making jewelry in 2010 and never stopped, moving from crafting friendship bracelets from embroidery floss to using beads, and now is learning how to work with chains. She started an Etsy shop called Cuddle Club while in high school, but eventually closed it and reopened as a local business called Dewdrop Doobie in 2021, where she sells jewelry and accessories in town or at nearby music festivals. The name comes from the word "dewdrop," an old term for a lazy person, while "doobie" refers to the "herbal smoke blends" Edwards picks, dries, and sells.
Edwards didn't realize the belts were going viral on Twitter until NYLON reached out — especially because only a few have sold on Depop and Facebook Marketplace so far. (They're also now available on Etsy as well.)
"The people I have shown the belts and keychains to are very excited to use them as stash jars for herbs and things they find foraging," Edwards says. "The jars hold just enough herbs to roll up or pack a bowl with, which is very exciting to people here in the high country."