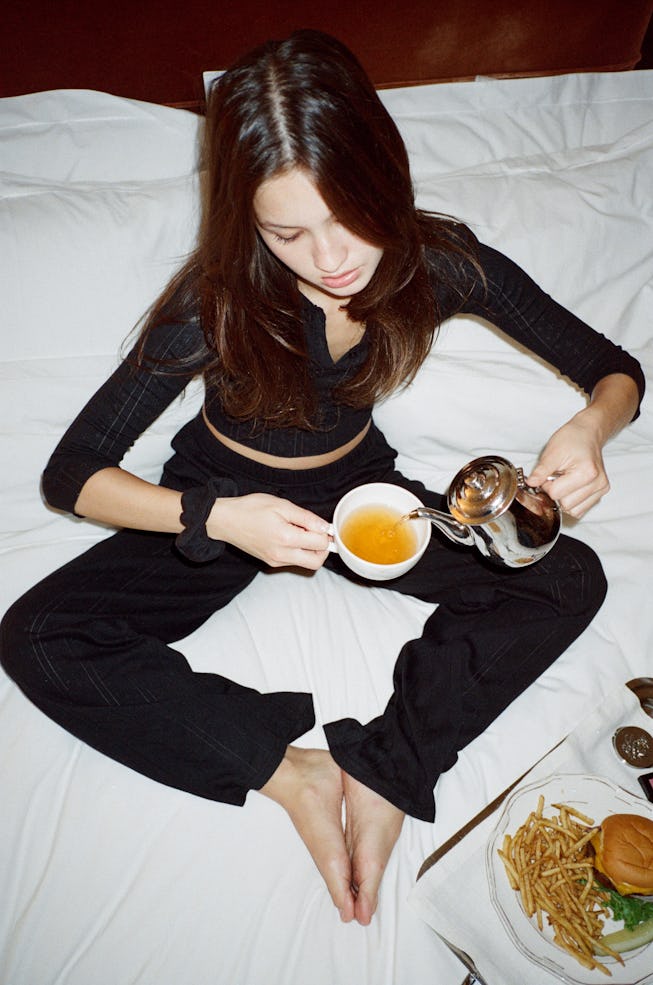 Cou Cou
Cou Cou's Holiday Campaign Is Fit For A Sofia Coppola Heroine
Cou Cou founder Rose Colcord takes NYLON inside the brand's dreamy holiday campaign.
During long, meditative walks in the Cotswolds during lockdown, Rose Colcord had a stroke of brilliance. She was tired of the dichotomy of undergarments: paying a premium for lingerie that was worn on special occasions or settling for whatever happened to be available in her underwear drawer. What if there was a third option? Something comfortable, something effortlessly glamorous, something intentional?
Fast forward three years and Colcord's vision not only has a name, but a robust following. Cou Cou has become something of a power player in the world of intimates; there's no disagreeable synthetic fabrics, only 100% GOTS certified organic cotton, and delicate touches like pointelle, impossibly tiny bows, lace trimming, and a dreaminess that fits seamlessly into Sofia Coppola's oeuvre.
As a subtle nod to the director's 2010 film Somewhere, Colcord brought Cou Cou's holiday campaign to life at the Chateau Marmont. The film and the hotel easily lended themselves to Cou Cou's vision for the shoot: "The concept around the campaign was literally a girl feeling at home in herself, having fun, and being who she is when she feels like no one's watching," Colcord tells NYLON.
The holiday campaign also expands Cou Cou's clothing offerings; joining popular pieces like a bodysuit, cardigan, and shorts are the Baby Henley and the Pant. "We want to make the perfect blank from the beginning," says Colcord. "First, it was to make the perfect thong, the perfect high-rise. Now, it's like the perfect pant and the perfect Henley."
Ahead, Colcord talks about Cou Cou's campaign, the brand's newest offerings, her visions for Cou Cou Talks, and more.
Cou Cou's holiday shoot takes place at the Chateau Marmont. What's special about the location to you?
Like most people, I've always loved Sofia Coppola. One of my favorite films that I used to watch with my Nana is Somewhere, which is set in the Chateau, and it's about a father and his daughter and the process of the daughter becoming who she is. I'm always wondering: When do people feel at home? What does family mean to you? The concept around the campaign was literally a girl feeling at home in herself, having fun, and being who she is when she feels like no one's watching.
That's also a very Sofia Coppola-adjacent state of mind. Her films are always asking: Who are girls when no one is watching?
Exactly. I know people see home and family very differently from how I do, especially during the holidays. I'm lucky enough to have a very big, loving family and a home in London. But I know that for other people that might not be the case. It's a lot about how you create that sense of home in your own company and in solitude, and how you can have fun with that.
For the holiday campaign, Cou Cou is releasing two new styles: a baby Henley and a pant. What was important to you when you were designing these new styles?
It's never, "Oh, I need to design something." It's always, "I want this." I wanted the perfect pair of comfy cozy pants that I could also just throw on with a cool jacket and vintage shirt and go out for dinner with friends. With all Cou Cou pieces, it's inspired a lot by the '90s and nostalgia, while redefining it for the perfect fit. When we put them on with Lilah and Amata on the shoot, they were freaking. They were like, "These literally are perfect!" That's always our brief: We want to make the perfect "blank" from the beginning. First, it was to make the perfect thong, the perfect high-rise. Now, it's the perfect pant and the perfect Henley.
You recently came out with your first-ever print: the English rose. There are the obvious points: You are English, your name is Rose, and English roses are culturally symbolic. Is there a deeper personal significance when it came to choosing that floral?
I think it was almost purely personal. I was even worried that people weren't going to like it. I knew firstly that I wanted it to be a vintage print that we just slightly tweaked. But mostly, I wanted something that was an ode to the time that Cou Cou came to fruition because of how pure the intention was.
Can you tell me about that time in your life?
I was in the Cotswolds with my Nana, who has always been my rock. Anytime I doubted myself, she'd say, "Oh, don't be bloody stupid. Do whatever you want to do. Just give it a go. Who cares if you fail?" She gave me the courage, along with my professor at USC, to be like, "OK, I don't know anything about underwear or production or f*cking finance or trademarks, but I'm going to give it a go because I have a vision of a philosophy that I think I can share through a brand."
It was through my walks in the Cotswolds with my dog Rocco, going through the wintertime of February, all the way through spring and into summer, imagining the brand and working on the design and the logo and learning so much. And just as much as it's an ode to that period, it's also an ode to my Nana, whose name is also Rose. She's my English rose for just trusting your gut, how time and nature can give you answers that you didn't know you were looking for.
You clearly love your Nana. She's very inspirational to you. Does she have a favorite Cou Cou item?
She lives in the high-rise briefs and the Cami Slip. She's always worn night dresses — and sexy night dresses! Even though she's in her 80s, they're lacy, sexy night dresses. And I'd always been like, "Why do you wear that when I would just wear oversized tees?" She's so elegant. She was the first one to be gifted the Cami Slip. This has turned into an interview about my Nana, but she's just one of the strongest people I know. She's from Liverpool, so she has that grit to her.
I know Cou Cou Talks is a new addition to the brand. I'm curious how that came to fruition and what your vision is for it?
I literally had the concept and idea of Cou Cou Talks before I even had the first prototype of the Thong. I knew Cou Cou wasn't just a product. It's a philosophy and a lifestyle. What do you want to do in your Cou Cous? How do you want to spend your time? How do you want to live your life? I wanted to make a platform that explored questions on literature, philosophy, art, culture, and theory, but in a way that was fun and not intimidating. I loved Into the Gloss: I think this girl's cool and I want to know what's in her makeup bag. Then I'm like, I would f*cking love to know what movies she watches, I'd love to know which book changed her perspective. Sharing those ideas was really important to me, but also something that I knew I wanted and I would find really interesting. And through following that, I hope that there'll be other people who find it valuable and trusting — and if they don't, then that's fine. They don't need to read it.
It's always more exciting to see the inner world of interesting people beyond where they go and who they know.
My vision one day is that it's its own content platform with a separate website, Into the Gloss or Dua Lipa's Service 95. What I love about Cou Cou and how we do things is we give a platform and opportunity to artists. Let's say with Coco, I asked her to direct a short film about her Cou Cou Talks piece, which was about Toni Morrison. She said it was such an amazing experience reflecting on that prompt and making a film around that. I also think it's nice to have the time and attention that they're putting into it.
This interview has been edited and condensed for clarity.