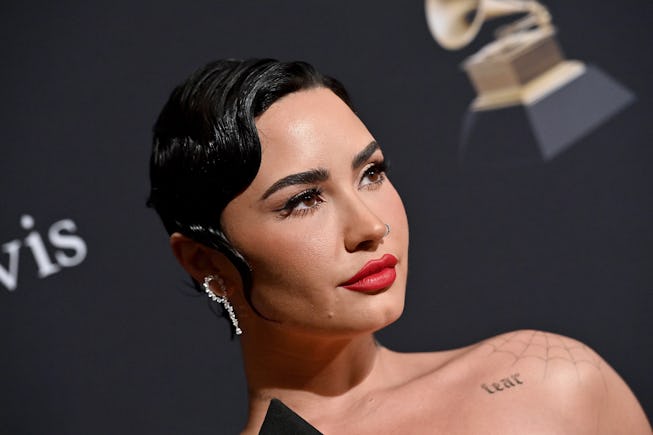 Axelle/Bauer-Griffin/FilmMagic/Getty Images
Demi Lovato To Direct Documentary On Child Stardom
Demi Lovato is sitting in the director's chair for Hulu's documentary, Child Star.
Demi Lovato is known for far more than crystalline ballads and gravelly punk pop anthems. Not only did the actor and singer transcend her Disney Channel Camp Rock roots as quickly as they were planted, but in the last decade and a half has honed a wide range of interests — which includes everything from dabbling in intergalactic affairs in her extra-terrestrial-ghost hunting show Unidentified with Demi Lovato to collecting (likely fake) Egyptian antiquities, all while delivering truly emotional gut-punch concerts.
Now, the multi-hyphenate star is making a directorial debut, with a documentary for Hulu about one of their subject matter expertises: being a child star. Tentatively titled — wait for it — Child Star, the feature-length documentary will "deconstruct the highs and lows of growing up in the spotlight through the lens of some of the world's most famous former child stars, including Lovato," per a press release. It will be co-directed by Nicola Marsh and produced by the same teams as Dancing With the Devil, Lovato's 2021 docuseries chronicling the singer's struggles with addiction, including her overdose in 2018.
Lovato, whose career began with a stint on Barney, has been notably critical of the perils of being a child star.
"I'll always look at child stardom, at what I went through, as something traumatic for me," the singer told Spin in September. "No child should ever be in the limelight. It's too much pressure. There's an absence of childhood that you never get to experience. It makes things confusing because you develop problems from that experience, whether it's addiction or trust issues or financial stress. It follows you into adulthood."
It's unclear who will be featured in the documentary, but there are no shortage of candidates who have spoken openly, particularly in recent years, about the harrowing reality of child stardom; from Britney Spears to Jeanette McCurdy, there's never been more public understanding of the trauma of being sexualized at a young age, undergoing financial abuse, and losing childhoods to a career that robs them of more than it gives them.
"There is no better film or topic for my directorial debut than this story, which is close to home," Lovato said in a statement. "Our project sheds light on important messages about growing up in the public eye, learning to protect our boundaries, and becoming active advocates of our own destinies. I'm humbled to be able to learn from the individuals who have lived the unique experience of child stardom and share their stories in our film."