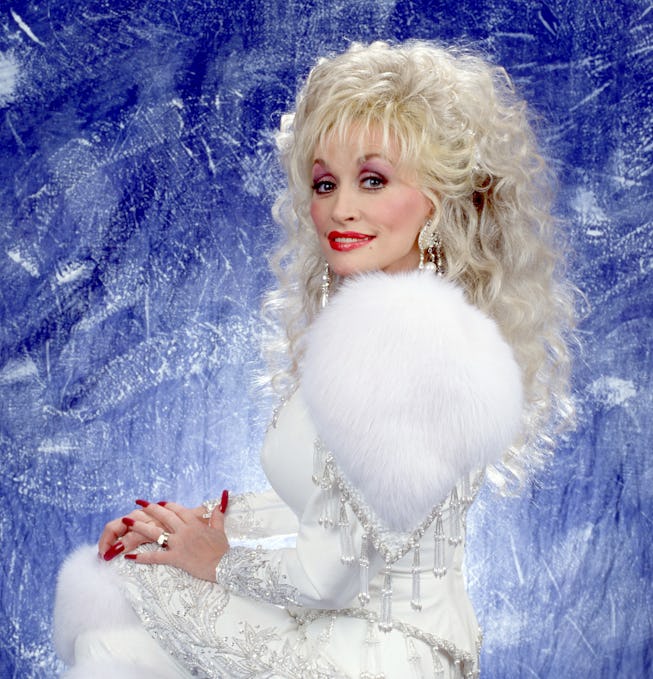 Ron Davis/Archive Photos/Getty Images
Dolly Parton Is Writing A Book About Style
Behind the Seams: My Life in Rhinestones will tell the story of a life in clothes, makeup, and of course: hair.
The only reason Dolly Parton is not known first and foremost for her fashion is because she's excelled so extraordinarily in nearly every other area: songwriting, acting, her work for children's literacy, Dollywood, and being Miley Cyrus' godmother, to name a few. Simply put, everything she touches turns to rhinestone. But Parton has always been a style icon — injecting much-needed glam into country with sky-high stilettos, big wigs, and plenty of glitter since the 1960s.
Now, in a new book, Parton will explore her life through the lens of her clothing, as the singer takes us on her sartorial journey in the memoir Behind the Seams: My Life in Rhinestones, which includes 450-plus color photographs and reveals an exclusive look into her personal costume archive — highlighting everything from the clothes her mother would sew her out of feed sacks (including her "Coat of Many Colors" look) to her famous Playboy bunny suit (which she donned again in 2021!) to the glitzy wares of Studio 54.
Parton is co-writing the book with author and journalist Holly George-Warren, who has authored more than a dozen celeb-adjacent books, including a Janis Joplin's biography. It is the second book in a Dolly Parton tribology (we are so lucky!) following 2020's Songteller: My Life in Lyrics, which explored Parton's songwriting.
Parton has been working hard on her prose writing as of late. Last year, she teamed up with James Patterson (only the most recognizable popular fiction writer in the U.S.) to write the novel Run, Rose, Run. She has also written two books for children.
Parton announced the book on Instagram on Thursday, revealing a cover which shows her looking fab in a baby pink sparkly bodice dress.
"I am happy, proud, and excited to present my brand new book Behind The Seams to all of you! It is my hope that you will enjoy a look at my life in costume and hair, and get to know some of the wonderful people that have helped shape my life and look," she wrote.
Behind the Seams is out from Ten Speed Press on October 17. You can pre-order the book now here.