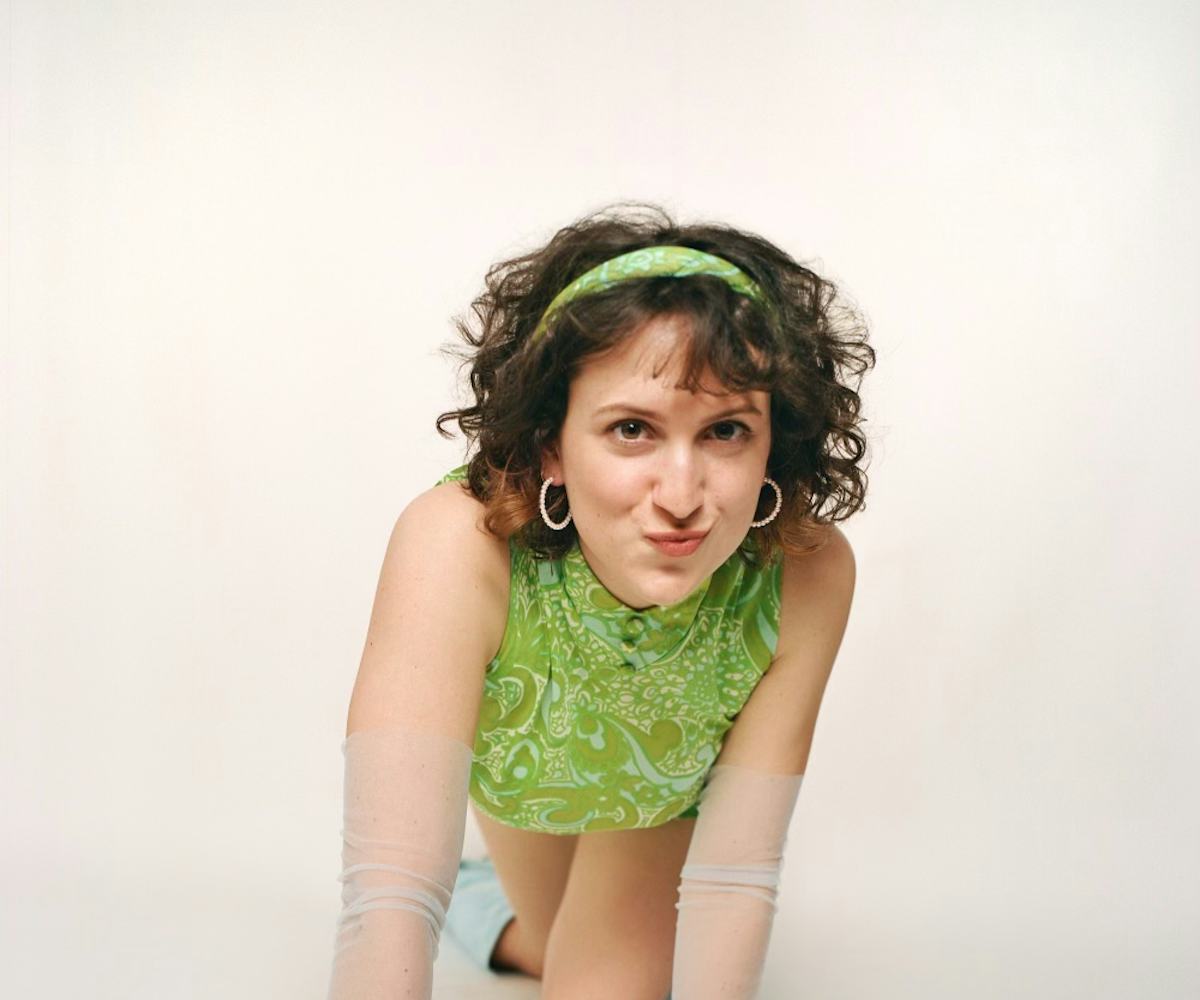 Dev Bowman/Styled by Porchfinds
Emily Wilson's Inner Child-Healing Show Unpacks Teenage Humiliation
"I had never felt so raw on stage and so myself."
Emily Wilson's one-woman musical comedy show "Fixed" has been in the works for the last two decades, whether she was conscious of it or not.
When she was 15 years old, Wilson did what any Hannah Montana-viewing teenager with a YouTube account and a dream would do: She auditioned for reality music competition show The X-Factor. It didn't go as planned: Wilson tried out with her friend Austin; the judges loved him and hated her. Still, they made the cut, eventually progressing all the way to the finals.
"It was this crazy experience — crazy for me specifically because I had a bad audition, but I was still on the show, as opposed to everyone else who essentially was there because they got sent through and everyone liked them," Wilson tells NYLON.
Afterwards, she completely stopped performing — until she picked up stand-up six years ago. But she never considered mining this particular teenage trauma. For years, people told her to talk about it onstage, an idea she was staunchly against. "I was just like, 'Absolutely not. Where would I even start?'" At the time, she was doing 10-minute sets and had no idea how to tackle such a big topic in a short window.
Then came the pandemic, forcing her to reconsider basically everything.One more urge from the brother of her fiancé John Higgins (of Please Don't Destroy, whom Wilson is opening for this summer on tour) finally did it.
"I think the combination of time passing, coming out of Covid, getting back to stand-up, it was just like, 'Yeah, what do I have to lose? The world is falling apart,'" Wilson explains. "I might as well talk about this thing that I've been holding inside and was so embarrassed by."
She wrote a 10-minute set about the audition and it was immediately clear: It was gold.
"I had never felt so raw on stage and so myself. It's that thing of when you really are talking about something specific and true to you is when you really come out of your shell as a performer," Wilson says. "I feel like that just immediately happened."
Over several months, she and her friend Sam Blumenfeld built the show, which includes five original songs and video footage, both from the X Factor and VHS clips of Wilson as a child, already possessing star power. For the past year-and-a-half, Wilson has been performing the show, now upwards of 70 times.
"As a comedian, it's really helped me find my voice.I feel like when you're talking about something so vulnerable is when the humor you use around it is your raw sense of humor, and that's been so helpful to discover throughout the journey of writing it," Wilson says.
Aside from Fixed, Wilson hosts a weekly show at KGB Bar, Tuesdays at the Red Room, with Blumenfeld, and is also opening for Please Don't Destroy this summer.
Her comedy is quick-witted, self-effacing social satire that's unserious, but still vulnerable. Her musical comedy video, "Things," takes a self-aimed swipe at millennial consumption: "The internet's a mall and when I shop/ I forget I wanna die," she sings with a lilt of vibrato. "I don't actually wanna die just like if it happens, it happens."
Her recent short film "Gun!" also starring Ryan Beggs and produced by Blumenfeld, is a satire of influencer culture. Her music videos include "Curly Pubes" and "White Girl on a Diet" – all pointing the finger at herself, because everything is embarrassing anyway – but everything is less embarrassing than being 15 on The X Factor.
NYLON caught up with Wilson ahead of the Los Angeles performance of Fixed about what it was like turning her childhood trauma into a comedy show, a fame-obsessed 2000s youth, and her favorite musical comedians.
It's such a specific experience; have people been able to relate to it?
A big part of why I was like, "I'm not talking about this," is it was so specific and so crazy that I was like, "Who's going to even care? Who's going to get it?" It's so wild. When I was first writing it, it was four months before I even performed it. I was just focusing on telling the story in a very funny way. It was after the first few shows where people would come up to me after and be like, "I saw myself in you. I used to do these YouTube videos. I auditioned for The Voice." It's so corny, but the way people related to it was just something I didn't even think of. I was just so focused on making it funny that it was like, "Oh, this?" Yeah, it's as specific as you are, people will see themselves in you. That's when you get more universal, the more specific you get.
I would love to talk a little bit about this era of reality TV in the mid-2000s. It was just such a fame-obsessed culture.
I grew up with these shows. When American Idol aired, I was a kid. Seeing everyday people make their dreams come true was just so crazy and inspiring. I remember Kelly Clarkson winning. The '90s was also when my dad was one of those dads who got that big VHS camera. And so my entire childhood, pre-five years old, is just all on VHS. I literally have a clip, which I opened the show with of my dad filming me, and me just being like, "Can we watch me on the TV now? Can you play it back? Can I see myself?"
I feel like between that and reality shows … and then by the time I was in middle school, I started this YouTube channel with Austin who I auditioned for the show with. We were just trying to get famous on YouTube, become famous singers, and I grew up doing theater and singing and I was watching Hannah Montana. I was just like, "I am Hannah Montana. I am Miley Cyrus. I am going to blow up on the internet or get on one of these shows and blow up and become a superstar."
I definitely think fame played a role in it. My dream as a kid was just to sing on a stage as much as I could. And the combo of the two was just a deathly driving force, which then eventually led me to audition for the show and get everything flipped on my head in an instant. Obviously, there's a lot more manipulation behind it, but these shows made it look like you turn on the TV and these everyday people from all over America were just suddenly becoming superstars if they had enough talent and everything, and so we were sure that was going to be us.
How do you feel now that you have performed the show 70-something times? Do you feel like you've healed your inner child?
It feels corny to say, but absolutely. I've learned so much as a performer and a writer, just doing shows like the Edinburgh Fringe Festival. Doing a show every single night in front of people who don't know you and at any level to be able to do that was crazy. But aside from learning in terms of the craft, I truly have had such a journey with myself and how I feel about this experience in a way where I could truly say it's been therapeutic doing the show.
I still have some shows where I'm like, "Oh my God, I can't believe I'm actually showing this to people." But it is at the point where I have accepted it as part of what made me who I am in a way that it's like, "This is just the way my life went." And hey, if that didn't happen to me, what would I be doing right now? Would I have started comedy yet? You never know.
What other musical comedians have inspired you?
Bo Burnham is definitely number one. I remember when his first special came out and I was like, "You can do that?" So much of my upbringing, again, with YouTube and the internet, I used to just make videos on iMovie and f*ck around. And seeing his special made me feel like I could bring so much more of that. I didn't have to be George Carlin. Do you know what I mean? I feel like when I started standup, I just imagined me with a microphone telling jokes, and Bo showed me it can be so much more than that. Not that that's not enough, but I feel like really who I am at my core is bringing in videos and sound cues and music and these other elements to be the funniest version of myself. So that was that, and he continues to be a huge inspiration for me. I just think he's absolutely brilliant.
Adam Sandler, his musical comedy. I don't know if you've seen 100% Fresh, but it's his special in the past two years. It's been in my Spotify top stream because his songs are just... he, I feel, has shown me how to be silly. I feel like it's the opposite end of Bo. Sandler has a song called "Grandma Died." Having those two spectrum ends with the same form has really been very cool.
I would also say Catherine Cohen. She's a friend of mine, but I feel like as I was getting the show off the ground, she was definitely a huge inspiration and a cool model of someone a little bit ahead of me to have as an example of ways to, as I was writing my show, I could look to her for someone who's done it and she was helpful with advice.