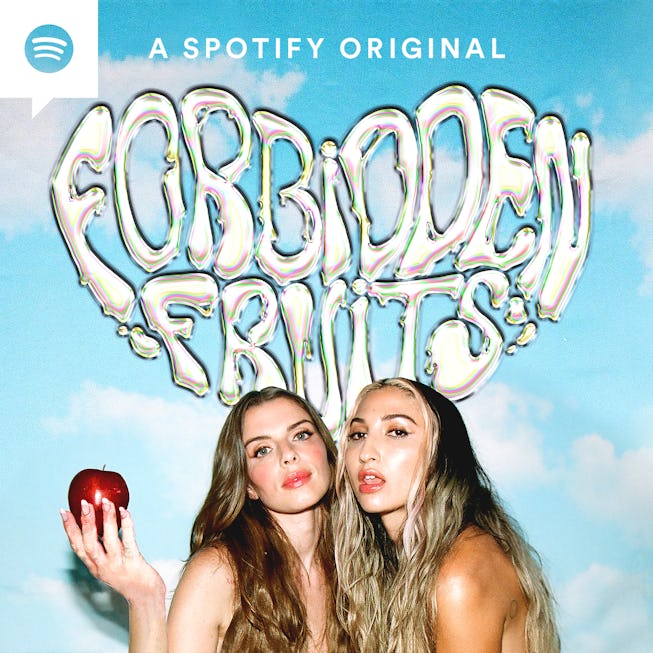 Spotify
Julia Fox & Niki Takesh Pivot To Video Podcasting With Forbidden Fruits Season 2
Watch the trailer, premiering exclusively on NYLON.
Julia Fox and Niki Takesh are firing up the podcast mics once again and returning for a new season of their feisty cultural commentary podcast, Forbidden Fruits.
The two best friends and downtown New York gals about town will continue the transgressive and and insightful programming they spearheaded in their inaugural season — like when Fox's former dominatrix client and NYPD cop engaged in an on-air choking and whipping BDSM session — featuring new titillating moments, like Fox commanding disgraced Frye Fest organizer Billy McFarland to "look into the camera and address the innocent people of the Bahamas."
Joining McFarland are guests across the pop culture spectrum, like Amber Rose, Paz de la Huerta, and astrologer Susan Miller — perhaps the latter can break down why a podcast like Forbidden Fruits was destined to be hosted by two Aquarians? Beyond an intriguing guest roster, Fox and Takesh are taking Forbidden Fruits to the next level for its sophomore season by pivoting to an all-video format, ensuring that they not only crush taboos and delve into controversial topics with empathy, all while delivering head-turning fashion and glamour.
"We're going to have real guests on a real couch. We have real chairs," says Takesh in the trailer, premiering today on NYLON. "We're real girls," chimes in Fox.
Season 2 of Forbidden Fruits premieres on March 17 with the first two episodes. Listen for free, exclusively on Spotify, with new episodes releasing every Friday. Until then, catch the trailer, below.