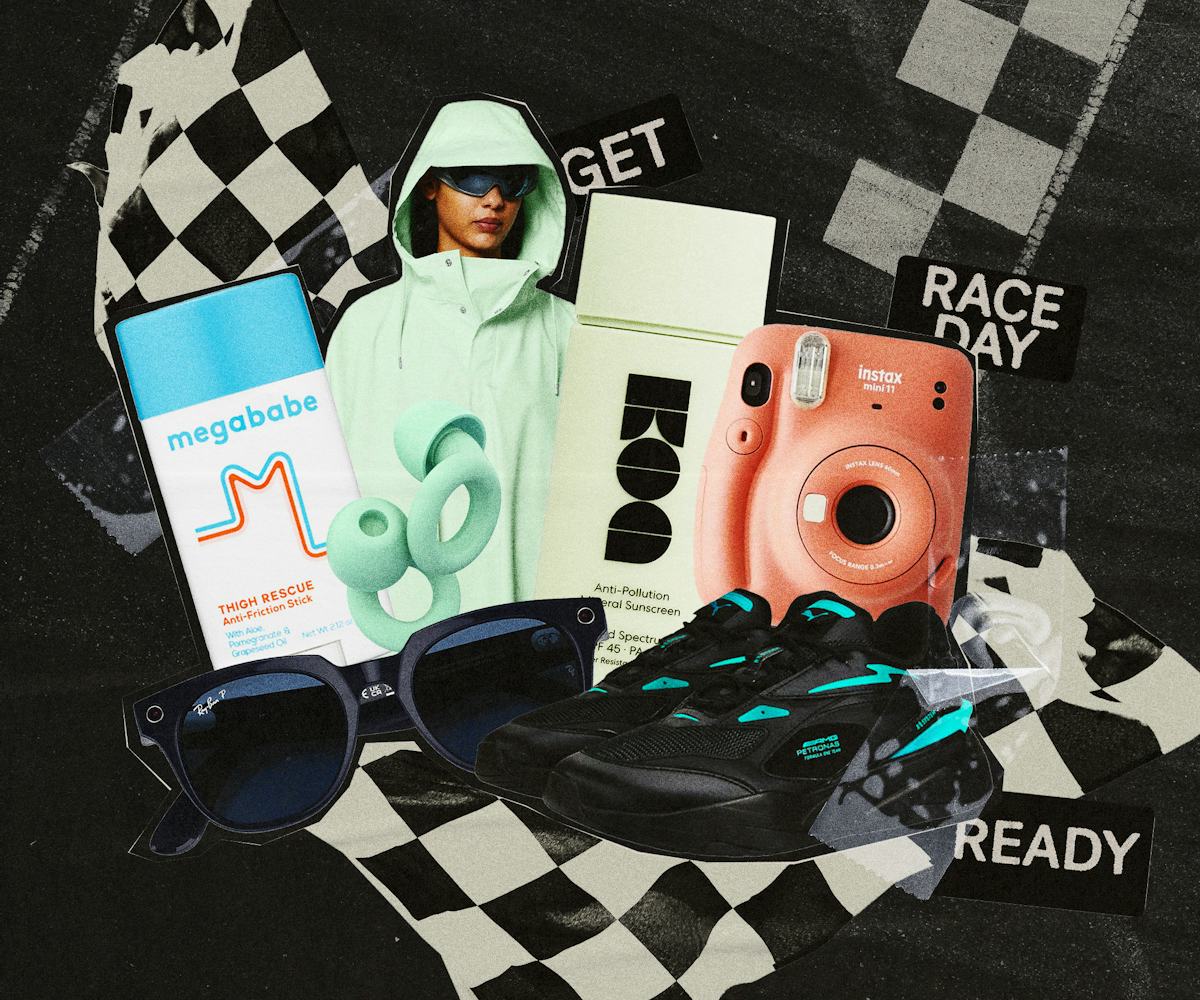 Lindsay Hattrick/Nylon
Your Ultimate Formula 1 Grand Prix Packing List
Prepping for an unforgettable Formula 1 Grand Prix doesn't have to be complicated.
We may receive a portion of sales if you purchase a product through a link in this article.
As a global sport that travels around the world over 20 times a year, there are plenty of opportunities to see your favorite Formula 1 drivers battle it out in person, but that's only if you haven't spent all of your hard-earned coins trying to buy the ticket first. For the lucky ones who manage to snag a seat to witness the competition IRL this season, you might be stuck on how to pack for the three-day race weekend.
After an unforgettable experience last year attending the Austin Grand Prix, I'm looking forward to seeing the grid in places like Miami and Imola — but I've somewhat forgotten what exactly to fit in my carry-on for my first trips of the year so far. While it's easy to get overwhelmed, and to overthink every item on the checklist, it's all about packing with intention so that you can enjoy the race without any inconveniences (because the unfortunate truth is that things do happen…).
No matter what city you're traveling to for the Formula 1 Grand Prix, here are five tips and refreshers on what to pack, as well as outfit suggestions for an easy breezy yet stylish weekend.
Pack Lightly And Intentionally
Sorry to all the over-packers out there, but the biggest tip is to keep things light and simple. Between navigating the crowd and hitting up post-race parties, the last thing you'd want is to lose any valuables or, God forbid, the airline loses your luggage. It's important to ensure your suitcase can stand out from the sea of other bags, especially checked ones, by opting for vibrant prints and colorways. Make sure your bags are secured with locks on them, or built-in with codes, to prevent anything inside from being stolen. Even if you extend your F1 travels to a mini vacation — a decision most people make — use compartments to help keep your items in as few suitcases as possible. If you absolutely must check in a bag, have AirTags on hand to track its whereabouts at any time.
Be Functional But Don't Compromise Style
Being comfortable doesn't necessarily mean compromising my personal style in the process. The F1 race venues are grand and outdoors, meaning lots of walking and unpredictable nature, from excessive sweating to sudden rainfall. The F1-ready outfits, especially in the summertime, should consist of striking linen pieces, branded hats, protective eyewear, and supportive shoes. In case of emergencies, you might want to swap out sandals with comfy sneakers. And from personal experience, my Ray-ban Stories Sunglasses make capturing and living in the moment feel a lot more hands-off thanks to their built-in smart technology.
Secure Your Team's Merch Beforehand
Formula 1 is no longer this "niche" sport — thousands of fans (and we're talking over 100,000 people at any given track) gather in one place and just like you, they also want to get their hands on their favorite team's merchandise. The lines at the circuit can be long and exhausting, so it's best to cop your F1 swag beforehand, preferably online. You can never go wrong with sourcing from the official F1 website but brands like PacSun have their own spin on the motorcore trend, and even drivers themselves have coveted merch drops to keep an eye out for (Lewis Hamilton, we're talking about you).
Always Have Emergency Items On Hand
Maybe it's a bit much, but traveling can come with unexpected turns and the last thing you want is to spend an outrageous amount more money on something you could've prepared beforehand. Factors like weather can put a damper on the event, so to enjoy the race as best as possible, make sure to have a compact raincoat on deck or if it's hot, a mini hand-held fan to wick away the sweat (trust me when I say it's a lifesaver). Rather than spend extra cash on miscellaneous essentials such as water and chargers, make sure to have portable and travel-friendly options with you on the track. At previous circuits, I also noticed that fans and small children with sensory issues have noise-cancellation headphones in the stands, as the cars zoom past quite loudly.
Bring Cameras For The Memories
The F1 Grand Prix is the perfect spot to make memories, whether that's in the audience with other like-minded people or by suddenly running into one of the 20 drivers outside of the paddock. I'm a sucker for capturing and treasuring the mundane moments, so if you're traveling to another part of the world, be ready with a camera or two in hand at all times. A phone gets the job done, of course, but Polaroids, disposables, and even digital kiddy cameras make for an effortlessly nostalgic shot.