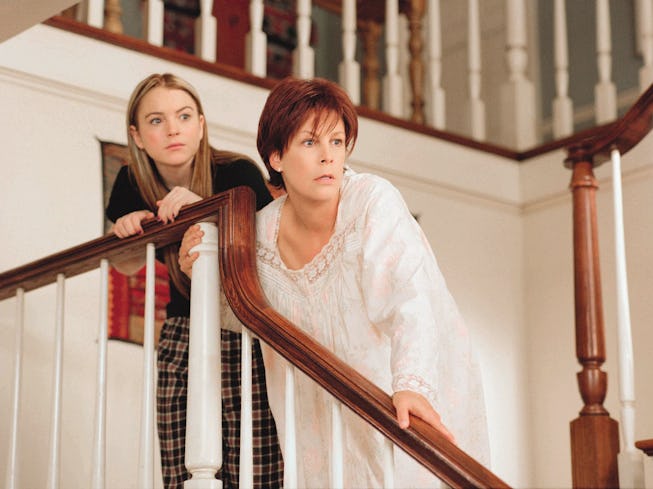 Ron Batzdorff/Walt Disney/Kobal/Shutterstock
Lindsay Lohan & Jamie Lee Curtis Continue To Tease Freaky Friday 2
The actors might live to body-swap another day in Freaky Friday 2.
Nostalgia may prove to be the ultimate demise of culture, but it has to be said: 2003 was an incredible year to be alive and sentient. It's the year Britney Spears shifted the paradigm with In The Zone, and then by sharing a steamy, highly publicized kiss with Madonna at the MTV VMAs; Louis Vuitton dropped its first collaboration with Takashi Murakami; and Lindsay Lohan was on a career hot streak. She'd wowed the world with her debut feature film role in Disney's wildly successful remake of The Parent Trap, and now she was ready for her next big hit: Freaky Friday.
The film, also a remake, followed Lohan as a punk-rock, headstrong teenage girl who body swaps with her type-A mother, played by Jamie Lee Curtis, thanks to a mysterious and powerful fortune cookie spell. Freaky Friday had it all — enviable hairstyles, Chad Michael Murray as a heartthrob on a motorcycle, one of film history's best musical performances, and a hilarious, heartwarming script that's helped the film stay a fan-favorite for two decades.
Now, as Lohan prepares to welcome her first child and Curtis rides high on her Oscar for Best Supporting Actress in Everything Everywhere All At Once, the duo are in talks to return for a Freaky Friday sequel. Disney confirmed that a sequel was in development, with Elyse Hollander writing the screenplay.
"As I went around the world with Halloween Ends, people wanted to know if there was going to be another Freaky Friday," Curtis told The New York Times. "Something really touched a chord. When I came back, I called my friends at Disney and said, 'It feels like there's a movie to be made.'"
Lohan echoed Curtis' sentiments, which makes their on-screen reunion like a big possibility. "Jamie and I are both open to that, so we're leaving it in the hands that be," she said. "We would only make something that people would absolutely adore."