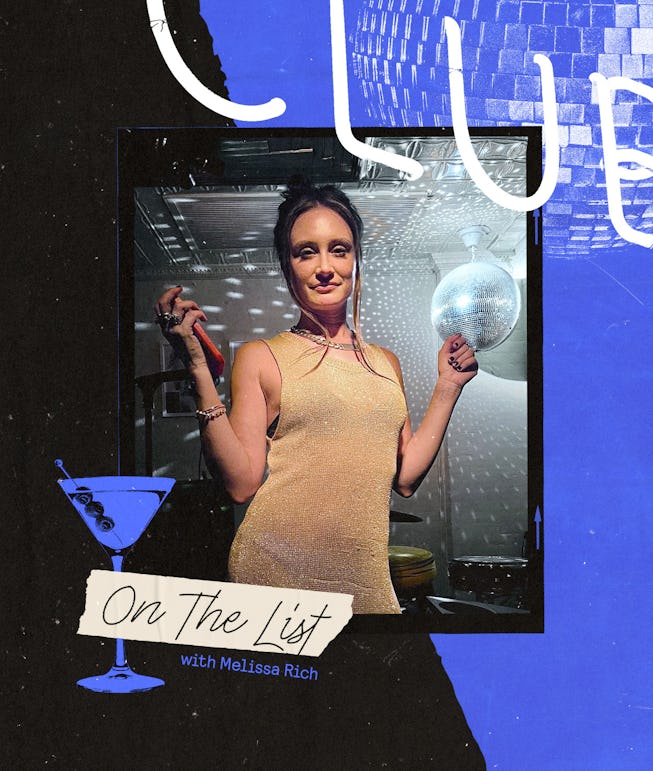 Nylon/Melissa Rich
On The List (With Melissa Rich): How To Throw The Ultimate Apartment Party
A guide to throwing a gag-worthy party in the comfort of your tiny apartment.
Welcome to On The List (With Melissa Rich), NYLON'S column with comedian Melissa Rich, here to illuminate the state of nightlife, one party at a time.
Happy new year, party girls! Where were you for midnight? How was the afters? Was the line longer than death? I stayed local in the Lower East Side and went to a party at a newly remodeled venue you probably remember…Mehanata, the Bulgarian bar on Ludlow. It's difficult to forget it: stripper poles, disco balls and, of course, the Ice Cage. While there's only one remaining pole, you can still pay $30 to enter the small five degree room and take as many shots as you can (up to 5) in two minutes. Gag! The party was one for the books…It's rare on this holiday that I'm blessed enough to stay in one place. Aside from a very late afters, I was thrilled to saunter all night in the crowd drawn by hosts Meg Superstar Princess, Leisure Centre, True Whitaker, etc., particularly in the countdown aftermath when very realistic hundred dollar bills were sprayed from the booth sending everyone into a frenzy. DJs Nick Haddad, Jackson Lewis and Kasper threw the party. They crushed per usual and brought a killer line up including Nigel Three Times, whose skills we never deserve. It was young, eclectic and it absolutely worked.
Now is the time that we look forward to parties of the future, but not without looking back at the year that was, to say thank you for the open bars, the great DJs, and the free food that was actually good food. A few stand out in my mind: the Grailed party where they rented out Cervo's. To have nearly unlimited 50/50 Martinis and oysters at one of downtown's culinary treasures? Heaven. Honey Dijon at The Public Hotel for a jewelry company of some sort…I don't know who they were but I thank them for the vodka sodas and for putting up our queen. Then, there was the nightlife/fashion set take over at Soho Diner. Mischa Barton, the staff of Paul's Casablanca and Baby Grand — everyone was fabulous and the vibes were beyond. It's amazing what shameless free alcohol can do, which leads me to my next point…
What makes a good party in 2023? This season of holiday soirees, my favorites were the ones in apartments. Friends' apartments, friends of friends' — I can't get enough of seeing peoples' homes. Design choices, use of space, and it's even better if I'm in on what they pay. I'm nosy, sue me. A great house party brings the feeling of having club bottle service to the intimacy of home. It's a true art and there are learned fundamentals that work to guarantee a great time.
The first, I fear, will be the most polarizing. If you are letting us into your spacious-enough sanctuary, it's fair that you'd prefer the remnants of the city stay outside the door. However, a "shoes off" mandate absolutely shifts the vibe. If we're doing a cozy on-the-couch party, fine. But if we're standing? If there's potential for dancing? Consider respecting your guests' desire to conceal their true height, maintain outfit continuity, and simply bleach the floors tomorrow. Let's not forget what happened to our good friend Carrie Bradshaw….
Another crucial element? Gags. I consider a gag to be anything that makes partygoers gasp, laugh, "whoo," or scream (mainly in delight, rarely in fear). Whatever amuses and enchants, like a burst of confetti, but not a nightmare to clean up. Maybe it's a conversation piece selected just for the party or an oversized disco ball you have up year round. It could be entertainment of some sort; I am not above a magician and would welcome Criss Angel Mindfreak to any of my gatherings. Hookah is one of my favorite gags, though the hot coals do require some watching. Gags can be functional! Ordering eight 20 pound bags of ice and filling your bathtub with said ice is a gag of a way to keep your champagne chilled. It gives guests a fun reason to enter the bathroom and is a great place to take photos. I first saw the champagne bathtub at writer and professional party thrower Marisa Meltzer's holiday soiree a few years ago and was forever changed. While I didn't invent it, I did perfect it, as I live in a very high walk-up.
A crippling fear that guests may leave hungry is very healthy for a host to maintain. In an ideal world, all we would serve is caviar bumps, but there are many quick, easy and satisfying hors d'oeuvres that will keep your guests happy and you unstressed. I, personally, am obsessed with prosciutto wrapped around cheese. It's delicious and objectively gorgeous to look at. I love brie and a non-labor-intensive cheese plate. Dips are fabulous and generally won't break the bank if you order from a restaurant. A tzatziki always hits! Food is a great arena for gags: seafood tower, chocolate fondue, a labyrinthine sushi platter, the list is endless! A friend recently threw a party where each of the appetizers was inspired by each of the guests. That is beyond my jurisdiction, though I do respect it tremendously.
Beverages will, of course, be the star of the show. You'll have wine already open and champagne in the tub, but the best way to keep everyone on the same level is a gorgeous, well-mixed punch. It's so easy to find a recipe or simply mix gin or vodka with prosecco, a bit of juice, club soda or ginger ale and a functional garnish of berries and an herb like rosemary. Is storing a massive crystal bowl annoying? Yes. But a punch is a great way to not deal with mixers. It creates a cohesive vibe within the party and encourages people to really "go for it," which is obviously the goal.
And saving the most important for last: smoking inside. It is my #1 "In" of 2023. Consider providing your guests one of life's great joys and place an ashtray of your choosing near an open window. Icon Sophia Lamar maintains that the ban of indoor smoking changed nightlife for good — and it would do the same to your party! Suddenly, half of your guests are outside, conversations are halted to put on coats and once a coat is on and a guest is outside…well, I haven't done the math but a premature exit feels much more likely. Alternatively, your guests remain uninterrupted and are further bonded by the faint "home without a babysitter" feeling of sharing a cigarette indoors. If you leave the window open the following day, the smell is gone and you've thrown a superior party. Happy hosting and happy 2023!