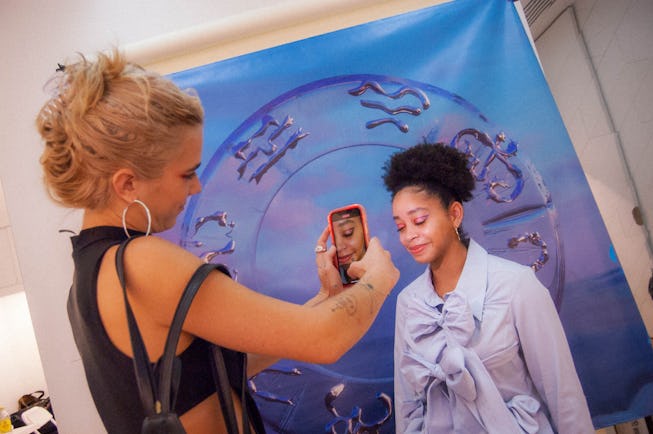 Irregular Hours/Conlan Thompson
Inside Irregular Hours, Where Finding A Job Doesn't Have to Suck
Irregular Hours offers free headshots with styling and makeup, career counseling, canned lattes, and professional horoscopes.
There's no way someone can be intimidating while they're eating cereal. That's the idea behind Cereal Brunch, one of the daily offerings from Irregular Hours, a company that is helping Gen Z look differently at work. In the Lower East Side storefront that houses the company's career center, every day, professionals across industries hang out and talk with anyone who wants to stop by. If you hang out long enough, Heidi Bivens from Euphoria or Beyoncé's stylist Karen Langley might even style you for a headshot, which are offered every Friday, complete with makeup and clothing.
"You're literally eating cereal with notable people that would otherwise be intimidating to you. It's like, how scary can this be?" says founder Molly Logan. "You get a headshot and yes, do a more traditional one, but then do one that you just like doing because it makes you feel good."
Irregular Hours is not what you think when you think of a career center. There's no harsh lighting, quotas, or impersonalized support. Instead, it looks like an art gallery. The only printer in sight is a photo printer for headshots. People come in constantly, either spotting the space from the street or on Instagram, and everyone is greeted with canned lattes and snacks. It's hard to tell who works there and who is dropping by; the lines are blurred not in the service of "link and build," but in the service of something more like community. It feels like what the dream of an open air workspace promised: an easy, low-pressure place to hang out, a place that benefits collaboration and not just optics.
It's hard to be cool and wholesome, to care but not be too serious about it, and Irregular Hours manages to strike the balance. I chatted casually with a student interning at Michael Kors and living in New York City over the summer, as well as with two young stylists, and a girl who recently moved to NYC, who, when I asked what she did, said she didn't have a job; that's why she was here.
"It's like a sleepover," she later said while watching my friend, the embroidery artist Aly Reinert get styled by Saint Sintra for headshots shot by Conlan Thompson.
By the end of the morning, I left with a printed headshot, a folder of digital photos, a Professional Horoscope (which Forever Magazine editor Anika Jade Levy and Irregular Hours' Head of Brand helped conceive), and a renewed sense of lightness that I hadn't felt about work since before the girlboss era imploded. Things, arguably, have only gotten worse for the under 30 crowd looking for work in recent years; and the experience of refreshing your inbox to a mass of pre-written infinite rejections to jobs you don't care about can feel something like getting rejected from an apartment with a hole in the ceiling.
It's almost like we forget that it doesn't have to be this way.
"I just want to take away the weight and bring a lightness," says Logan. "It's not to say that it removes the stress as one moves through their professional life, but even when it's a stressful situation, I think that if you know there's a place for a person or a group that you can go to that will support you even when it's a yuck: You can't take that away, but the feeling of being alone and the feeling of lack of control? That you can remove."
Irregular Hours/Conlan Thompson
Ultimately it comes down to accessing knowledge. Irregular Hours is interested in building tools to help young people: things like better resumes, and better ways of "networking" which will come in an extensive platform launch next spring. A lot of the tools that exist, Logan says, have been built for the employer, not the person doing the job. There's more room for agency for job seekers; there's more room for fun.
The first of these digital tools is the Professional Horoscope, a self-assessment archetype system that falls somewhere between a Co-Star reading and a Myers Briggs. You take a quiz with prompts like "I'm pretty certain I would survive the asteroid-impact apocalypse," to which I marked "Neutral," that lead to (stunningly accurate!) answers: My types, for example, are The Entertainer and The Innovator, which includes a detailed assessment of the strengths and areas of improvement. My mantra? "I fly so high. No ceiling when I'm in the zone cause I got that sunshine in my pocket, got that good soul in my feet" - Justin Timberlake, 2016." Essential work tool? Microphone.
"I don't think you can make any decision about what you're interested in, who you want to work for, how you want to work, all those things: You have to know yourself first," Logan says. "Starting with the Professional Horoscope is a first tool that we think can be fun, approachable, and useful."
Another project is building a better resume – a document that Logan has long-detested and one that contributes to the staggering $30.5 billion a year that entry-level turnover is costing the U.S. economy.
"You know, it's 500 years old…and yet it's never had any sort of intentional design intervention," Logan says. "Like, there's Leonardo da Vinci: first resume, and then there are evolutions along the way, but it was really when Microsoft Word launched that it ended up influencing the template today. That wasn't even intentional. So it's like Leonardo da Vinci and then Bill Gates, which is awesome but maybe there's some rethinking there. The problem has more to do with the information in there and the design."
Irregular Hours is interested in morphing to the person – in doing what works for individuals, not for what people think they should be doing.
On the Friday I visited Irregular Hours, makeup artist Saba Gray brushed biodegradable hot pink glitter on my eyelids, Saint handed me a blush pink collared jacket to wear and Thompson guided me, America's Next Top Model-style on how not to lose my chin while taking a photo. It's not that any of it is particularly groundbreaking – but it's really smart; and it's individual. Job searches make you feel like a number, but Irregular Hours makes you feel like a person.
Logan was inspired to offer headshots from learning that a generation who grew up on selfies don't necessarily know what to wear or can't afford headshots. But she believes a headshot should be fun and should feel like you. Future styling guests on Fridays include Bivens, Langley, and Melissa Battifarano, former creative director of Fenty, who is currently at Diesel. Upcoming cereal breakfasts include taxidermist Divya Anatharaman, Sintra, and Wall Street Journal luxury director Agnes Majewska.
"Why don't you just have some fun with it? It just starts to make it all less intense and intimidating," says Logan. "Your career and thinking about your career should feel like a possibility. It should not feel like a dead end. It's less about transformation and more about validation."
Irregular Hours is located at 172 Forsyth St. in New York City.