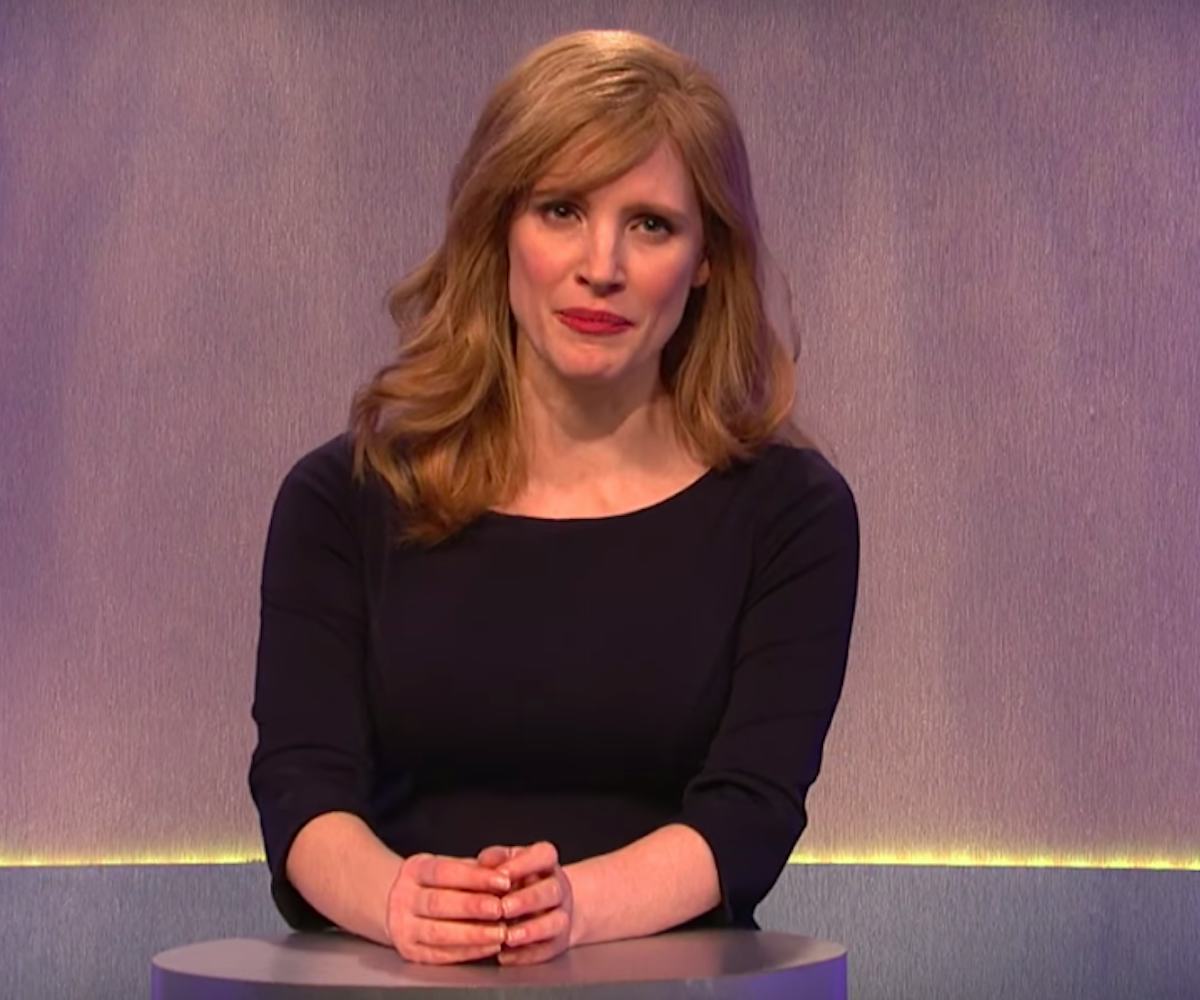 Photo via YouTube @Saturday Night Live
On 'SNL,' Jessica Chastain Asks A Question We've All Been Wondering
"What even matters anymore?"
The first few times Trump said/did/tweeted something ludicrous or just downright horrifying during his campaign and eventual presidency ("grab them by the pussy," anyone?), we all collectively turned to each other with the same thought: Surely, this is enough to show how awful and unfit to be president Trump truly is?
But after having endured everything from the "shithole countries" comments to the accounts of Trump's affair with adult-film star Stormy Daniels—among many other major misdeeds—we're beginning to wonder if any of this will ever really affect Trump's place in the White House.
That's the question Jessica Chastain asked in last night's episode of Saturday Night Live, where she plays Veronica Elder, host of the game show "Does It Even Matter Anymore?" In the show, Chastain shares something the president did or said, and the contestants have to decide if it even matters anymore. Spoiler: It never does. You can watch the full sketch below.
The skit is funny, almost depressingly so, because of how accurate it is. More and more, Americans are left wondering if anything the president does will have consequences, while his supporters and news outlets like Fox News use excuses fabricated to keep him absolved of blame.
Chastain also touched on the Women's March in her opening monologue, eventually breaking out into song, singing "You Don't Own Me" by Leslie Gore with Cecily Strong and Kate McKinnon. During the number, Aidy Bryant threw a dig at President Trump, claiming that it seems the word "pussy" is only okay on TV when the president says it.
It's undoubtedly been a tough year since Trump formally stepped into the presidency, but thankfully we've got humor and some badass women to keep us laughing and marching on.