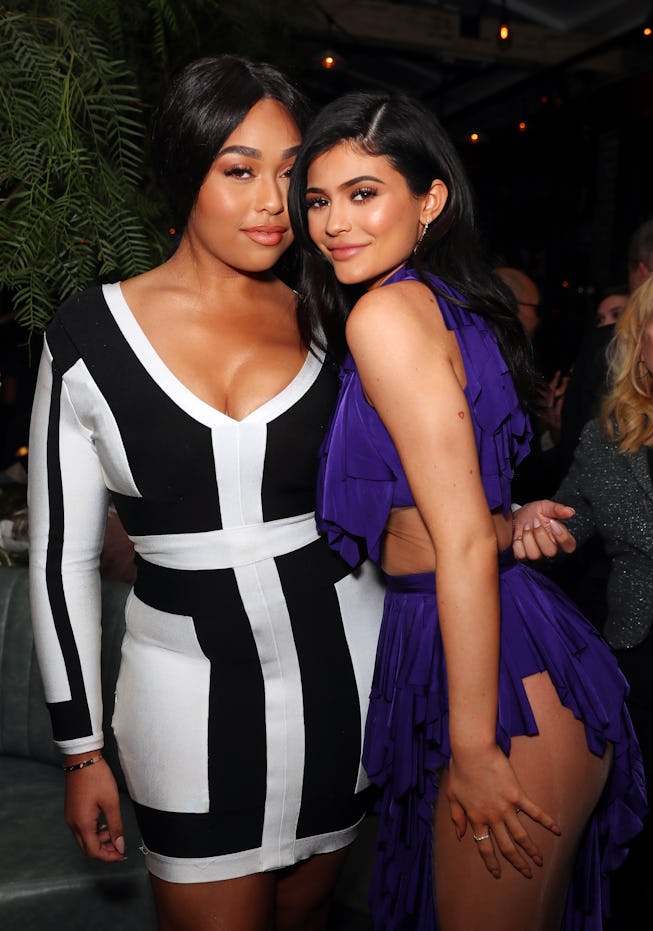 WWD/Penske Media/Getty Images
Kylie Jenner and Jordyn Woods Have Reunited
There's nothing better than a bestie reunion post-scandal.
There's no bigger tragedy than a best friend breakup. Long love affairs have got nothing on the tragedy of two warring besties. Fortunately, a famed BFF duo may be reconciling. If there's anywhere modern day peace treatises are signed, it's in the dim lighting of chic LA restaurants, and Kylie Jenner and Jordyn Woods were seen together, leaving such establishment over the weekend.
It's been four years since Woods and Jenner had a public fallout, after rumors that Woods had cheated with the father of Khloe Kardashian's children, then-boyfriend Tristan Thompson.
Woods and Jenner had been friends since middle school, and sources close to the situation say it was difficult for Jenner — who was thrust into public conflict between her best friend and her sister — to take sides. It was a situation made even more difficult by the fact that Kardashian and Thompson broke up shortly after.
"For a long time it seemed like Kylie wasn't sure what would happen with their friendship," a source who used to lived with Jenner told People. "It was very difficult for Kylie to just cut Jordyn out of her life. Kylie was devastated at first. Jordyn was her confidant for so long. When Kylie was hiding her pregnancy from the world, Jordyn spent almost every day with her."
In a tell-all interview with Red Table Talk in 2019, Woods revealed that Thompson kissed her at a party, but nothing more happened. She also defended herself, saying that she wasn't the reason for the breakup.
"I'm no home wrecker," Woods said. "I would never try to hurt someone's home, especially someone that I love. And someone that I've seen — has a beautiful daughter. I never was trying to steal someone's man."
She continued: "Now, this situation may have made it harder for her to want to be with him, and I understand that, but I know I'm not the reason."
It's unclear if a truce is made, but Woods and Kardashian leaving the LA sushi restaurant together is their first public sighting in years — and could signal a reconciliation.