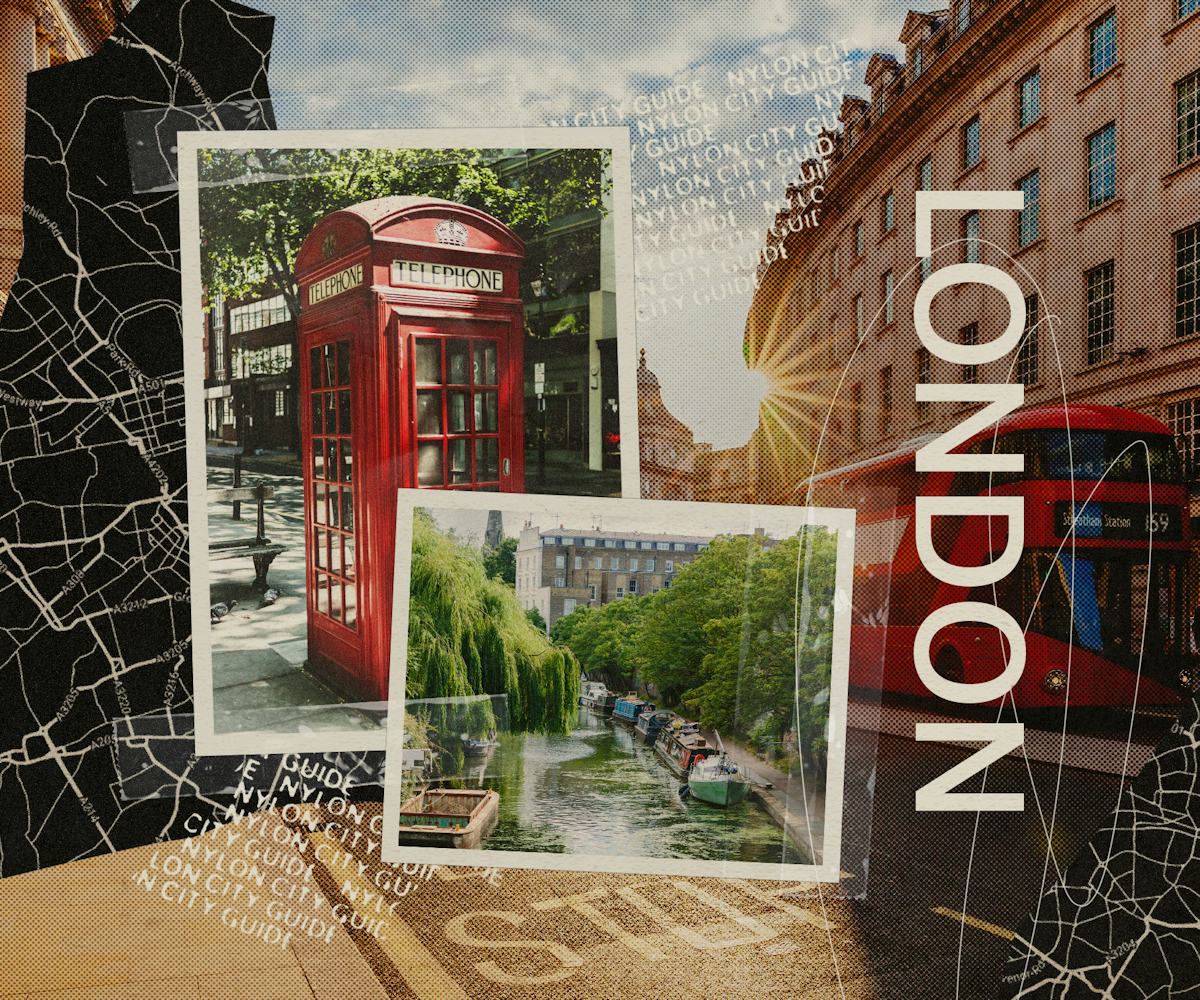 Nylon/Getty Images
NYLON's Guide To London
How to have the best London vacation, courtesy of NYLON.
Welcome to NYLON's City Guides, your one-stop shop for the ideal vacation. Here, you'll find the ultimate recommendations when it comes to where to stay, eat, drink, shop, and more for the world's hottest cities — all tried and tested by NYLON editors. Read on for your ideal, NYLON-approved itinerary.
There's many ways to enjoy London. There's the touristy version, with suggestions to ride the London Eye or gape at Big Ben — and then there's the Londoner way.
The city itself is deceptively large; divided by the River Thames, each zone and neighborhood is distinct and steeped in history. And with that level of sprawl — all thankfully connected through multiple, extremely reliable train and bus routes — there's always something to do. Are you keen to dig for unique vintage, or is gallery hopping more your speed? Are you in town to enjoy fine dining and a posh hotel, or do you want to get loose on a few cocktails before heading to the rave? However you do it, get the most out of London with NYLON's comprehensive city guide, complete with the best plates to eat, drink, stay, and more.
Where To Eat
Lucky & Joy
Walking inside this intimate, candy-colored Hackney spot is an instant serotonin bump. Lucky & Joy brings a bright spin to regional Chinese cuisine, offering shareable plates of go-to hits like steaming hand pulled noodles to a delicate (and addicting) turnip cake. Maybe it's their adorable and amorphous animal mascot or the zing of their Szechuan negroni, but dining at Lucky & Joy feels akin to the feeling of a beloved neighborhood haunt: easy, warm, and full of heart.
95 Lower Clapton Rd, Lower Clapton, London E5 0NP, United Kingdom
Akoko
During my time in London, I came across a video on Twitter of actor Will Poulter extolling a recent meal he had at Akoko, a West African restaurant in London's Mayfair neighborhood. Poulter notes how African cuisine is routinely overlooked by Michelin, and that since its inception, only four Black chefs have ever held Michelin stars. I immediately made a dinner reservation for the following evening, which quickly became one of the best meals that I had in London.
Akoko has a lively yet intimate atmosphere free of the typical stuffiness at this echelon of dining. Its 10-course tasting won't leave you hungry either. (There are no à la carte options, but the meal is absolutely worth relinquishing control.) The performance of the cuisine — elegant and creative plating, coordinated reveals from the attentive staff, a printed statement on the sacredness of jollof rice — elevates the bold flavors of souped-up family recipes from Nigeria, Ghana, and Senegal. Akoko should have a Michelin star, but don't wait until it does to experience the excitement for yourself.
21 Berners St, London W1T 3LP, United Kingdom
Carmel
Located in Queen's Park, Carmel serves up Middle Eastern fare in a sensual, dimly-lit locale. While the dinner menu offers plenty of bold flavors like turmeric cauliflower or short ribs with date glaze — as well as an excellent wine and cocktail list — the real stars are their fresh, warm flatbreads, which serve as sturdy vehicles for their must-have yogurts and dips.
Ground Floor, 23-25 Lonsdale Rd, London NW6 6RD, United Kingdom
The Cow
This no-frills Notting Hill pub offers some of the biggest oysters I've ever seen, along with deceptively simple daily specials like steak sandwiches and asparagus soup that will stay on your mind for weeks.
89 Westbourne Park Rd, London W2 5QH, United Kingdom
Dishoom
Four different Londoners suggested Dishoom to me when I asked for restaurant recommendations, going as far as calling it "exemplary Indian." They were not exaggerating. Dishoom takes Parsi cuisine popular in Irani cafés across Bombay in the 1960s and adapts it to the modern palette; classics like chicken biryani and paneer tikka bring the best of home cooking to the high-end dining experience. Head to the King's Cross location, which boasts multiple floors for bigger groups, and is a stone's throw away from one of London's best people-watching destinations, Central Saint Martins.
5 Stable St, London N1C 4AB, United Kingdom
Cheneston's
British cuisine is deeply misunderstood, but all can be rectified by a meal at Cheneston's. Located in the Milestone Hotel, Cheneston's is an elegant dining experience, from the lush traditional decor to the fresh and creative seasonal fare. Cheneston's tasting menu, which features signature dishes inspired by the hotel's founder, Beatrice Tollman, can make your meal into a night to remember. The gentle and knowledgeable staff will walk you through the delicate flavors and wine pairings, and you'll have plenty of time to marvel at the darling and picture-worthy platings.
1-3 Kensington Ct, London W8 5DL, United Kingdom
The Wet Fish Cafe
This tiny West Hampstead eatery was the former home to the neighborhood fishmonger; the restaurant retained the beautiful tiling and sturdy wooden accents of its past life, as well as its ability to serve up delectable fish. Morning visitors can enjoy savory gravadlax or amaretto cherry-soaked french toast, while evening visitors can dig into heartier meals and enjoy live music.
242 W End Ln, London NW6 1LG, United Kingdom
Señor Ceviche
Señor Ceviche may have some of the aesthetic trappings of a TikTok-friendly restaurant, but it's a different story once the food hits the table. Fresh fish, succulent chicken, and a boozy happy hour cocktail menu make this spot a sleeper hit. For an added bonus, it's centrally located in the bustle of Soho and the perfect first stop before hitting a few rowdy pubs.
Kingly Court, Carnaby, London W1B 5PW, United Kingdom
Where To Drink
Dalston Superstore
A queer bar known for delivering an absolutely raucous good time, whether you're turning up at one of its many legendary dance nights or crawling back in for a hair of the dog the next afternoon. Start your weekend at Dalston Superstore's drag brunch, where the East London's cheekiest queens MC all afternoon and leave you feeling energized enough to party for 12 more hours.
117 Kingsland High St, London E8 2PB, United Kingdom
Narrowboat
Named after the narrowboats that glide through London's canals, this pub boasts views of Regent's Canal and some prime outdoor seating on a boiling, air-conditioning-free evening.
119 St Peter's St, London N1 8PZ, United Kingdom
Bobby Fitzpatrick
Imagine if a discarded set from Austin Powers: The Spy Who Shagged Me was turned into a two-story bar and you'd have a pretty good understanding of the appeal of West Hampstead's best bar. The kitschiness gets even more delightful after every cocktail, which are inventive, strong, and worthy of being called "crafted."
273 W End Ln, London NW6 1QS, United Kingdom
Where To Stay
The Lanesborough
The Lanesborough is the epitome of what you'd want from a London hotel. The Knightbridge hotel has rightfully earned every star they have; the staff is unlike any hotel, a group of dutiful and thorough individuals who seamlessly work to make you feel like royalty. Much of The Lanesborough's charm and beauty lies in just how quintessentially British it is as an establishment. It's the very best of Bridgerton society meets the London elegance of The Parent Trap: the doormen wear bowler hats, each floor has a butler, and every detail of decor, from the marble foyer to the moss green hallways, has a stately sophistication.
Located across from Hyde Park, The Lanesborough already feels close to Eden, and the feeling of tranquility only intensifies in their rooms. It's a lesson in tastefulness: rich mahogany woods and powder blue walls; a soaking tub large enough for two; even their shower amenities were beautifully formulated to deliver serenity and softness. The room almost feels too beautiful to leave — a feeling that can be overcome with the help of room service cappuccinos and crisp, crown-shaped shortbread cookies.
Apart from staying at the hotel, the next best way to experience The Lanesborough is through a visit to their award winning spa. It's an elevated experience from start to finish: you're provided plush robes, taken to a relaxing, darkened waiting room, and then escorted to your service. There's facials using the best Tata Harper products, massages inspired by ancient Ayruvedic medicine, salt, mud, and crystal treatments, and more. I went in for a Silk & Salt pedicure and felt so deeply relaxed and pampered that I fell asleep. The therapist's meticulous work helped rejuvenate my feet — and the pedicure lasted twice as long as any other treatment I've gotten in the past. When it's at The Lanesborough, it's time and money well spent.
Hyde Park Corner, London SW1X 7TA, United Kingdom
The Standard
London's edition of The Standard continues the hotel's legacy across the pond: the sleek rooms are punched up with zesty colors and its central location makes it a breeze to pop around town. The hotel's rooftop bar offers picturesque views, while Sweetie's, the cocktail bar and discotheque, serves as the perfect first — or last — spot of a night out.
​​10 Argyle St, London WC1H 8EG, United Kingdom
The Milestone Hotel
Sitting across from Kensington Gardens (home of the late Princess Diana, for any lovers of The Crown) the Milestone Hotel offers a lovely mix of old and new Britain. The hotel's rooms are spacious; modern art decorates the walls while the beds can feature old-world glamour, like a thick, princess-worthy canopy. The hotel is one of the few places that's generous with the air conditioning — something that will be deeply treasured by American travelers in particular during London's "boiling" heat waves.
Where The Milestone truly shines is in its food; breakfast is not to be missed, where the fresh juices, hot-out-the-oven soda breads and crumpets, and savory omelets are some of the best in town. (Don't sleep on the traditional English Breakfast, either!) The Milestone's Stables Bar is a horse girl's dream: the equestrian decor is eclectic yet refined, and the cocktails are made with artistry in mind. Order the old fashioned, which comes with a theatrical smoke element that will leave you giddy even before your first immaculate sip. And as noted above, a reservation at Cheneston's Restaurant is an absolute must.
1-3 Kensington Ct, London W8 5DL, United Kingdom
What To Do
Colour Factory
So you came to London to party? Colour Factory is home to the city's best raves, an immersive space for techno, house, and live performances. Located at the edge of Hackney Wick, the Black-owned nightclub has something going on every weekend, from parties curated by designer Mowalola to sets from the best rising international DJs.
8 Queen's Yard, London E9 5EN, United Kingdom
Tate Modern
Art fiends won't want to skip the Tate Modern, one of the largest museums of modern and contemporary art in the world. Located south of the River Thames, the Tate Modern boasts over a hundred years of paintings, sculptures, and more — along with special curated exhibitions, like the must-see "Capturing The Moment," which explores the dynamic between painting and photography, and features dynamic and haunting work from David Hockney, Gerhard Richter, Miriam Cahn, Andreas Gursky, and more.
Bankside, London SE1 9TG, United Kingdom
Serpentine Gallery
Your mandatory stroll through Hyde Park and Kensington Gardens can be broken up into stops at the Serpentine Gallery. The two galleries are free to enter and host world-renowned contemporary art exhibitions all year round.
London W2 3XA, United Kingdom
Hampstead Heath
This rambling, ancient heath is lush, shady, and hands-down London's best green space, a place where runners, bird watchers, and chillers all coexist in harmony. Plus, the heath's ponds are a favorite among locals who want to cool off in the summer heat.
London, United Kingdom
Serotonin Vintage
London's Brick Lane district has no shortage of thrift and vintage stores for the sartorially-obsessed to sift through for hours, but Serotonin Vintage is a cut above the rest. The store has curated a selection of vintage similar to what's likely haunting you from TheRealReal's obsession tab: designs from Jean Paul Gaultier, Kenzo, Roberto Cavalli, Versace, and more. Welcome to well-priced designer heaven.
194 Brick Ln, London E1 6SA, United Kingdom
Harrods
Simply put, Harrods has to be seen to be believed. Yes, you may have enjoyed the splendors of department stores like Bergdorf Goodman, but Harrods blows its competitors out of the water with spectacle. Each floor is a labyrinth of luxury, there's plus multiple dining options ranging from posh afternoon tea to upscale Chinese food. You may not be able to afford the majority of Harrods' wares, but block off a few hours to explore the store and you'll leave richer in experience.
87-135 Brompton Rd, London SW1X 7XL, United Kingdom