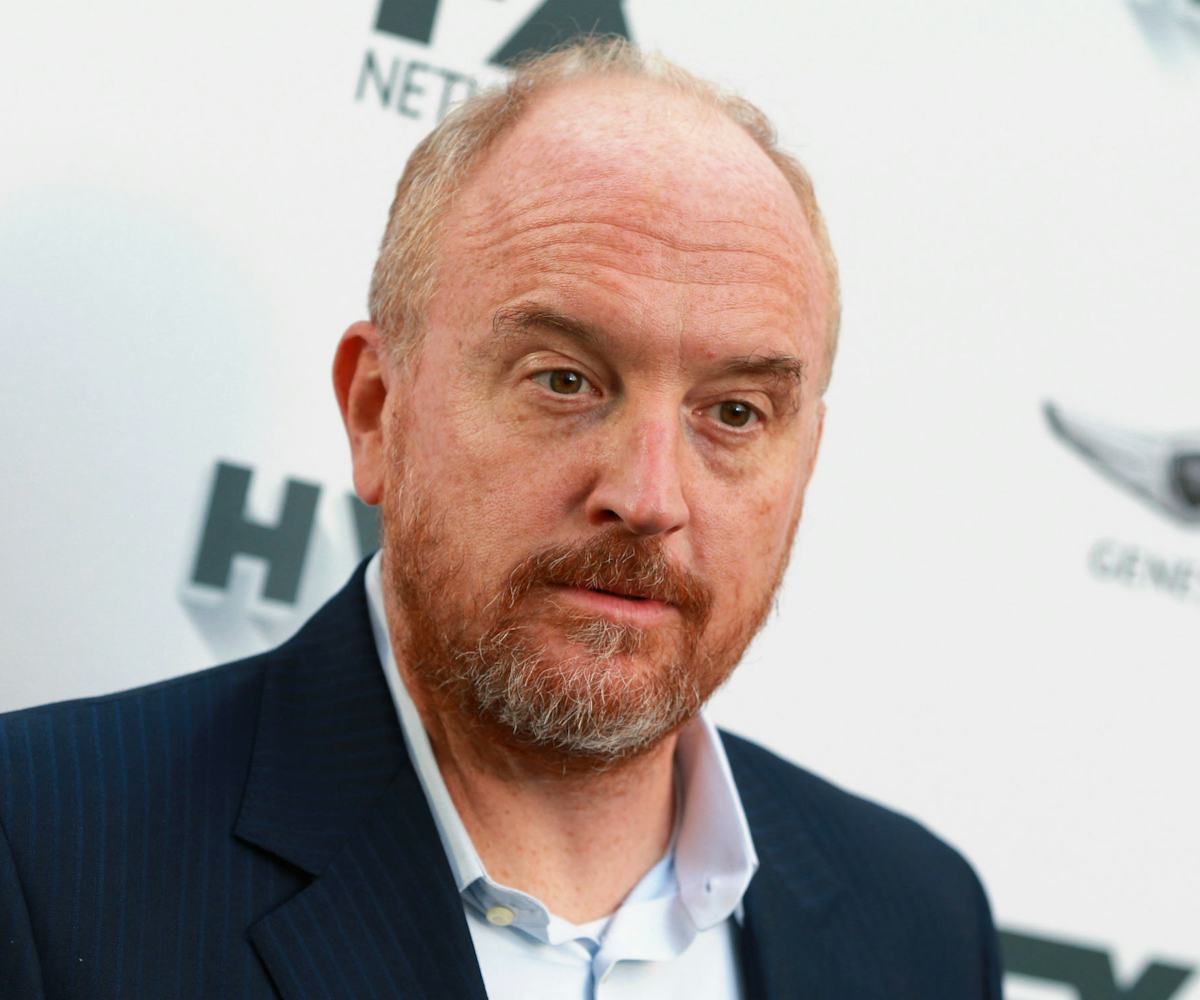 Photo by Rich Fury/Getty Images.
Louis C.K. Admits To Sexual Harassment In Statement
Update 11/10/17: Louis C.K. has released a statement after The New York Times report. "These stories are true," he writes. "There is nothing about this that I forgive myself for. And I have to reconcile it with who I am. Which is nothing compared to the task I left them with." You can read the full statement on Deadline. 
The Hollywood bubble continues to burst. In a new article by The New York Times, Louis C.K. has been accused of sexual misconduct by five different women. The news comes shortly after the sudden cancellation of the comedian's New York premiere of the poorly timed movie, I Love You, Daddy.
Rumors about inappropriate behavior toward women have followed the popular comedian for years, but in the wake of the wave of sexual misconduct claims that have ensnared the entertainment and media industries, Louis C.K's victims are finally having their voices heard. The story details an account from Chicago comedy duo Dana Min Goodman and Julia Wolov, who recalls an incident in 2002 when the pair went to Louis C.K.'s hotel room in Aspen, Colorado, at his request. While there, he asked the women if he could take out his penis. "He proceeded to take all of his clothes off, and get completely naked, and started masturbating," Goodman told the Times.
Two other comedians reported similar situations that involved him masturbating. Abby Schachner said that he could hear him masturbating during a phone conversation in 2004. In 2005, he asked comedian, writer, and actress Rebecca Corry if he could masturbate in front of her. She said no and pointed out that he had a daughter and a pregnant wife at the time. "His face got red and he told me he had issues," she said. Corry and Schachner both received apologies from Louis C.K. years after the incidents.
One final woman, who chose to remain anonymous, says that she allowed Louis C.K., who has two daughters, to masturbate in front of her while working on The Chris Rock Show in the late '90s. "It was something that I knew was wrong," she said. "I think the big piece of why I said yes was because of the culture. He abused his power."
When Goodman and Wolov began telling people about what happened, they felt like Louis C.K.'s manager, Dave Becky—who also represents Kevin Hart, Aziz Ansari, and Amy Poehler—was warning them to stop talking. They've made it a point to avoid Becky since. Both women told the Times that, with all of the other women coming forward with allegations, they didn't feel like they could stay quiet about what happened any longer. Wolov said: "Because of this moment, as gross as it is, we feel compelled to speak."
While Louis C.K. has yet to respond, the allegations come just one week before I Love You Daddy was set to premiere in select cities. The company releasing the film, The Orchard, is now debating releasing the movie at all. "In light of the allegations concerning Louis C.K. referenced in today's New York Times, we are cancelling tonight's premiere of I Love You, Daddy," the company said in a statement. "There is never a place for the behavior detailed in these allegations. As a result, we are giving careful consideration to the timing and release of the film and continuing to review the situation."