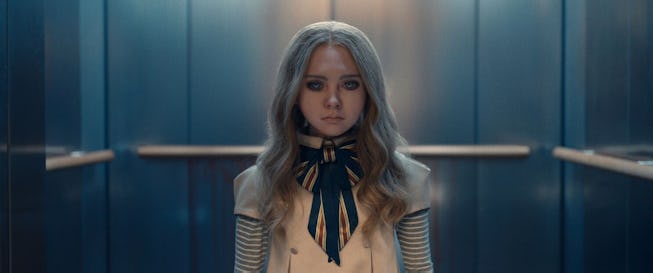 Blumhouse
M3GAN S3QU3L Will Be Released January 2025
Everyone's favorite murderous doll robot is only getting started.
I hate to be the one to tell you this, but art has already peaked in 2023. M3GAN, the horror film featuring the year's fiercest It Girl, a murderous doll robot with the voice of an angel and the erratic dance movies of a Sia music video, went viral the minute its trailer dropped back in October. Not only has M3GAN since surpassed its box office predictions and become the largest box office debut for a film with original IP since Jordan Peele's Nope, but the film is the fixation of many a meme, in a celebratory carnival led by M3GAN's fiercest obsesses.
In short, everyone wants a piece of M3GAN. If you've been lucky to see the capital-A high art film in theaters, you'll know the ending leaves an opening for a potential sequel. Now, in what is the best possible turn of events in 2023 thus far, the Hollywood gods are gifting us with exactly that: more M3GAN. Sources confirmed that the sequel is is in early development, as reported by Deadline on January 9. Now, the film has been given an official release date: January 17, 2025. And in even better news, Allison Williams and Violet McGraw will return.
"I wanted to make a movie that really connects and is emotional," said James Wan, who produced the film and co-wrote the script with Akela Cooper. "M3GAN plays on a lot of different levels: It's scary, creepy, touching, and emotional at the same time...We wanted to lean into something more technology-driven as opposed to supernatural."
The article goes on to talk about the importance of M3GAN's iconic dance, a droopy feverish jig in which she sways side to side and kicks her legs in the air before ripping a blade off a paper cutter. It was a dance seemingly made for TikTok, with videos tagged #M3GAN, #M3GANMovie, and #M3GANDance garnering 1.3 billion views on the platform.
The dance was brought to life at the global premiere of the film in December 2022, where a gaggle of M3GAN clones performed — also making stops at the Empire State Building, The Tonight Show starring Jimmy Fallon, Jimmy Kimmel Live!, the American Girl doll store, and a Rams game. Fingers crossed for a Super Bowl performance, which is perhaps the only thing that could make Rihanna's performance even more iconic.
While any glimmers of more M3GAN makes us salivate, there might also be the potential of an unrated director's cut of the film being released. Cooper told The Los Angeles Times that there's a version with even "gorier" murders.
"No shade to Universal, love them, and I understand that once the trailer went viral, teenagers got involved and you want them to be able to see it. There should be an unrated version at some point. ... I heard it is on the books," Cooper told the Los Angeles Times. "But yes, it was way gorier. Her body count in the script was higher than in the movie. It wasn't a Gabriel [in Malignant]-scale massacre, but she did kill a bunch more people, including a couple of characters whom James was like, 'I like what you did with those people, but I want them to live.' I was merciless, but again, that is me. My humor is extremely dark."
This article was originally published on