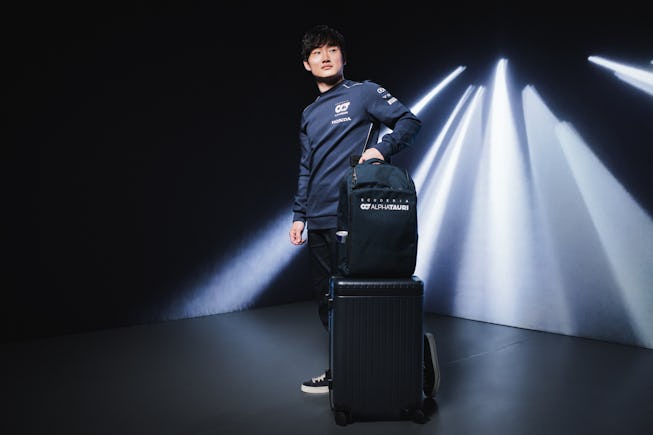 Courtesy of P448 and AlphaTauri
How P448's Alphatauri Collaboration Pushes Formula 1 Fashion Forward
P448 creative director Wayne Kulkin shares his thoughts on its collaboration with the Alphatauri team.
Formula 1 is taking over the world, one racetrack at a time. After the global reach of Netflix's docuseries Drive of Survive, the sport's influence has hit an all-time high — while the drivers enter new realms of celebrity. And like all things that infiltrate mainstream culture, fashion brands are taking notice.
Amidst the DTS hype, P448's creative director Wayne Kulkin saw the potential in the sport from a fashion perspective, eventually leading to the Italian brand's partnership with AlphaTauri in 2022.Since its inception, the P448 x AlphaTauri collaboration has joined the rising motorcore trend and features the official team travel shoes: five low-top and high-top sneakers, embellished with an Italian flag detail, the signature AlphaTauri logo design, and stamped with the drivers' numbers on the back heels. The sneakers are offered in the racing brand's color palette of navy, beige and white, with the capsule retailing from $315 to $345.
"AlphaTauri and its drivers are clear examples of what the sport is because they're a hybrid of everything interesting in the past, and they almost resemble modern fashion models or rock stars," Kulkin tells NYLON about the impact of F1. "When you go to an F1 event, it's bigger than any stadium out there."
Not only are the shoes beloved by the team's devoted fans but AlphaTauri driver Yuki Tsunoda swears by them, too. Though "They gave me a customized one just for me," he says. "They put my logo behind the shoe just like I requested and added a lot of dark gray to it." He also says that his P448 sneakers are just as fresh as they are comfortable: "They smell so good every time I take off the shoes, too."
Ahead, Kulkin discusses more about the partnership with AlphaTauri and the future of fashion in F1.
How did P448's collaboration with AlphaTauri come to fruition?
We want to give the entire team a product that personifies Italy and their hometown. The P448 office is 15 kilometers away from where the AlphaTauri cars are made in Faenza, so it was a nice coincidence. We wanted to have a little bit of fun when designing the shoe so we have our little signature Italian flag and then added things to make the drivers feel great.
We wanted to design a shoe that they could enjoy with comfort top of mind and if we could do that, we thought it'd be natural to get the consumer to buy the shoes. We have three collections out now and people seem to enjoy them. They're also very easy to pair because the team colors are navy, white, and beige.
What did you learn from working with AlphaTauri, especially the drivers?
They're very young and quite small in person, but they're sweet and hard-working. What they do is incredible and it has to be precise in terms of both physical and mental ability, and discipline. I think being an F1 driver is a very busy activity because not only are you driving but there's a massive amount of travel that comes with the job. They're multi-talented individuals that, even with what their jobs entail, are always smiling. We're making footwear for the guys and the team, but working with them made me realize why people love them so much. We've done a few events in our stores where people would line up at 7 a.m. just to meet them.
I learned even more about how F1 works because it's a whole system involved to produce the best results, and I have to say I've never seen as much teamwork and camaraderie as I do in this sport. It's fun to see how global and culturally relevant the sport is becoming even though it's been popular for a long time in Europe.
Courtesy of P448 and AlphaTauri
As creative director of P448, do you ever feel pressured to follow or conform to trends?
I don't care for trends at all. People will ask us about our strategy all the time. Our strategy is to make interesting things from lots of unique materials at the best possible price value proposition. We want to continue focusing on comfort and design, and then how to make interesting products that can excite the consumer from a content perspective, maybe from one they haven't seen before.
What can we expect for the future of F1 and fashion from your perspective?
I think [athletes] are the new supermodels because they're cultural icons. Businesses and brands will realize that F1 drivers cover everything – male and female audiences across all geographies. It's already so popular, obviously in Europe, but it's catching up everywhere else and in the States. My prediction is that more F1 teams will launch their own brands because right now, they might be doing collaborations, but it's so powerful for them to just have their namesake stuff versus working with someone else.
Shop the P448 x AlphaTauri collection here.
This interview has been edited and condensed for clarity.