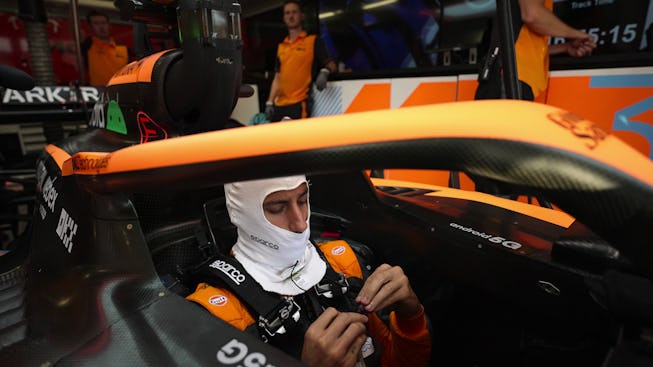 Netflix
5 Standout Moments From Netflix's Drive To Survive
It's lights out and away we go with Netflix's Drive to Survive Season 5.
Netflix's Drive to Survive has attracted a cult following since its inception back in 2019. Now, it officially returns for a fifth year in a row, following arguably the most heated competition season as of yet.
The 10-episode production offers a glimpse inside a new dawn of Formula 1 in the "biggest overhaul" of the sport's history and debuting smack in the middle of the sport's pre-season testing in Bahrain for the upcoming year. Like times before, fans all over the world are granted behind-the-scenes access into the drivers, the teams, and the 23 race weekends.
Season 5 of Drive to Survive picks up on the explosive aftermath of the Abu Dhabi Grand Prix in 2021, where Red Bull's Max Verstappen and Mercedes' Lewis Hamilton battled in the final race on equal points for the Constructors' Championship, only for Verstappen to overtake Hamilton on the last lap. In true DTS style, Season 5 opens – and closes – on a more light-hearted note: a scene of two team principals, Ferrari's Mattia Binotto and Haas' Guenther Steiner as they frolic around in an Italian vineyard.
The show continues to highlight that Verstappen is now being hunted for No. 1 spot as he dominated the 2022 ranks, but not without controversy from his team's "Cost Cap" spendings – a new regulation from the FIA that keeps all teams within a limited budget – and continuing to knock Hamilton out of his championship winning streak. Formula 1 is cutthroat, Alpine's team principal Otmar Szafnauer says in one episode, because the value of winning is so high, with each spot in the championship's top 10 going for millions of dollars.
DTS doesn't shy from spotlighting the massive risks to come out of the sport this time around, too, including nearly-fatal incidents from the car fire of AlphaTauri's Pierre Gasly in Bahrain, the horrifying crash of Alfa Romeo's Zhou Guanyu in Silverstone, and the half a million dollars in damages from Haas' Mick Schumacher. Other highlights feature Sebastian Vettel's retirement from F1, Daniel Ricciardo's struggles in McLaren, and much more. As the sport grows in global popularity, it's also become a destination for A-listers; Paris Hilton, Brad Pitt, Shaq, and Shawn Mendes are among the many celebrities who are hitting the track to witness the phenomenon.
Ahead of the start of the new 2023 competition season at the Bahrain Grand Prix on Sunday, March 5 (and luckily, the show is already confirmed for a sixth round), see the five most anticipated moments, as well as things we learned, from Drive to Survive, below.
1. The 2022 season was more competitive than ever before, and the Mercedes team was feeling the pressure
The fifth season picks up on the intense pressure weighing on Mercedes, with Lewis Hamilton and George Russell as its drivers. For the first time in years, the team is fighting for the top spot in the Constructors' Championship and it's apparent that the team is not used to losing.
In Episode 2 "Bounce Back," FIA's president and CEO Stefano Domenicali gathers each team's leaders for a meeting. While chatting about the cars and the issues of porpoising, Mercedes' Toto Wolff reacts to comments made about the W13 model out of frustration. "All of you are playing a dangerous game and each of you has done something to limit the problem. Congratulations," Wolff says to the circle. Red Bull's Christian Horner replies to the outburst that Mercedes needs to change the car, only for Wolff to respond, "You change your car because Checo [Sergio Pérez] says the car is f*cked… I have it printed out."
As stated best from Haas' Gunther Steiner: "No one is having a good time in Formula 1 because you need to perform." Following the scene, Ferrari's Mattia Binotto says he didn't expect this reaction from Wolff and that instead, "team principals should always remain rational."
2. Drive to Survive Season 5 gave us tons of meme-able content
It wouldn't be DTS without top-tier clips landing in our meme folders. The opening scene of Steiner and Binotto hanging out in an Italian vineyard forever holds its first place spot on the list, but there were other standouts that are simply too good not to mention.
Episode 2, for instance, kicks off with a scene of someone naming their dog after Toto Wolff. In his introduction, Lewis Hamilton still doesn't get his team name right (it's Mercedes-AMG Petronas, not Mercedes-Benz.) We can't leave out the sudden thirst trap from McLaren's Lando Norris. In the clip, the producer said, "Geez Lando. Give the people what they want, right?" before Norris calmly replying "Nipple."
Other moments include Red Bull driver Serigo Pérez as he tunes into Sebastian Vettel's Instagram. Apparently, he was just as surprised as fans when the four-time world champion announced his retirement from the sport – and it instantly became F1 Twitter's favorite scene.
3. The 2022 championship line up saw a major change for the first time in years
Similar to 2021, this past season also showed frustration coming from multiple teams. Mercedes was forced to reckon with its underperforming car that put a strain on its record-breaking winning streak over the years. Despite its wonky strategy decisions at times, Ferrari ended up behind Red Bull in second place, with driver Charles Leclerc following behind Verstappen with a 146-point gap.
It was also a tough time for McLaren driver and DTS superstar Daniel Ricciardo as he didn't reach the level of performance needed for the competition, which left him out of a seat for 2023.
The Alpine team was faced with a lack of loyalty during the sport's "Silly Season," as said by team principal Otmar Szafnauer. Their reserve driver, Oscar Piastri, took a spot in their rival McLaren for the upcoming year unbeknownst to the team beforehand. Two-time world champion Fernando Alonso channeled the bad guy as he leaves his nearly decade long relationship with Alpine for a seat in Aston Martin for 2023.
4. Some key moments from the 2022 competition unfortunately didn't make the cut
As many fans have already pointed out, DTS Season 5 sadly didn't include many important, highly-anticipated moments (or drivers, for that matter) from 2022. The show missed out on Kevin Magnussen's first-ever pole position for the Haas team and in his career during the qualifying session in Brazil; Magnussen was tapped as a driver after Haas terminated its contract with Nikita Mazepin before the start of the competition season due to the ongoing conflicts of Russia and Ukraine.
George Russell's win in the São Paulo Grand Prix for Mercedes also didn't make the cut, along with details of Sebastian Vettel's retirement decision and the moments leading to his final race. Red Bull's race to the top didn't come without the heat – mostly coming from the drama surrounding Max Verstappen and Sergio Pérez, where Verstappen refused team insurrection to let Pérez pass him in the final lap of Brazil due to "reasons already known to the team." As you can see, there was lots happening in Brazil that we didn't get!
5. There are a change in a few key players for the upcoming 2023 competition
F1 is a tough sport and not everyone is worthy of a seat at the top table, especially if you're not delivering results. There's a new energy coming into 2023, seen with new tracks in the U.S. like Las Vegas and six sprint races added to the grid. New faces are also introduced to the lineup, like 21-year-old Australian driver Oscar Piastri for McLaren, 28-year-old Dutch driver Nyck De Vries for AlphaTauri, and 22-year-old American driver Logan Sargeant for Williams.
Familiar names switch it up for the upcoming races, like Fernando Alonso for Aston Martin, Pierre Gasly for Apine, and Nico Hülkenberg for Haas, while both Daniel Ricciardo back at Red Bull and Mick Schumache at Mercedes in reserve spots. F1's team principals are also shuffled around like musical chairs, with many leaving their spots. All new bosses take on the role in their respective teams like Frédéric Vasseur in Ferrari, Alessandro Alunni Bravi for Alfa Romeo, Franz Tost for AlphaTauri, Andrea Stella for McLaren, Mike Krack for Aston Martin, and James Vowles for Williams.
Drive to Survive is now streaming on Netflix.