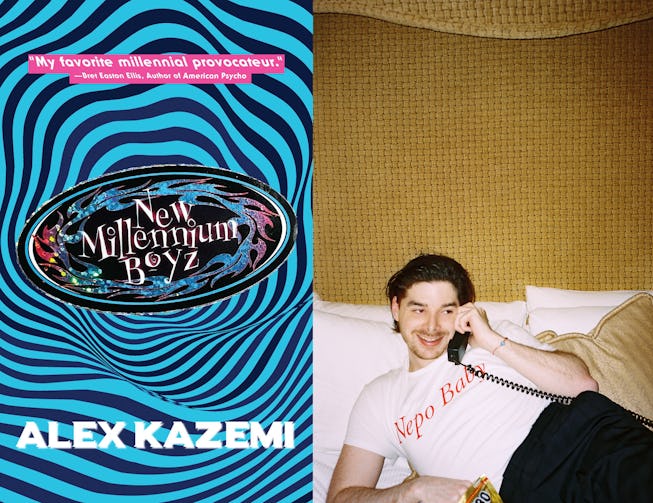 Photo by Lauren D Zbarsky
'Pop Magick' Writer Alex Kazemi's Y2K Obsession Novel Is Ten Years In the Making
The author and occultist explores masculinity, the early internet, and pop culture obsession in his forthcoming debut novel.
From the author of Madonna-approved spiritual guidebook Pop Magick, cult favorite writer and occultist Alex Kazemi is working a debut novel. New Millennium Boyz is a project ten years in the making, an unnerving portrait of masculinity, cultural obsession with Y2K, and the internet.
Described as "the love child of Bret Easton Ellis and Gregg Araki," New Millennium Boyz tells the story of Brad, a 17-year-old in the year 1999 who's over his new age mom and corporate Boomer dad who decides to embark on a journey through the literal and figurative woods where he indulges in his darkest impulses — capturing it all on Handycams, Blair Witch style — until the hijinks go too far, threatening to expose who he truly is.
For the book, Kazemi was inspired by everything from teen exploitation genre films like Spring Breakers to the warm feeling of listening to The Verve on the radio, all underscored by the both serious and unserious horror-driven realities of being a teenager.
And where better for the genesis of the novel than Tumblr? An early version of the novel went viral in 2013, back when viral was a new word, after Kazemi posted a manuscript on Scribd (TBT) that gained the attention of celebrities including Chloe Grace Moretz and Hailey (then) Baldwin. Called "Yours Truly, Brad Sela," it was a trip back to the '90s written from the perspective of someone who was born in the middle of the decade. Kazemi inked a book deal with MTV Books (now housed under Simon & Schuster) in 2013, but decided the book wasn't ready. Now, after 10 years, it finally is.
"After a decade of being delayed, rejected, postponed, censored and re-writing this book multiple times since I received the book deal for this novel after a rough-draft went 2013-viral during the peak-Tumblr era when I was 19 years old," Kazemi tells NYLON. "There are just no words to describe the amount of gratitude I have to be able to finally get to share this novel I've been working on in secret with whoever is meant to experience the world that only exists in these pages."
The novel has already been praised by people like Bret Easton Ellis, who called Kazemi his "favorite millennial provocateur," as well as by Columbine survivor Brooks Brown, who called it an "intrusively intimate narration of someone who lived in familiar coordinates yet a different social stratum. That wholly un-unique alienation and emptiness is one that fills me with a nostalgia for a past that was, and was not, my own."
New Millennium Boyz is out September 2023. You can pre-order the book here.