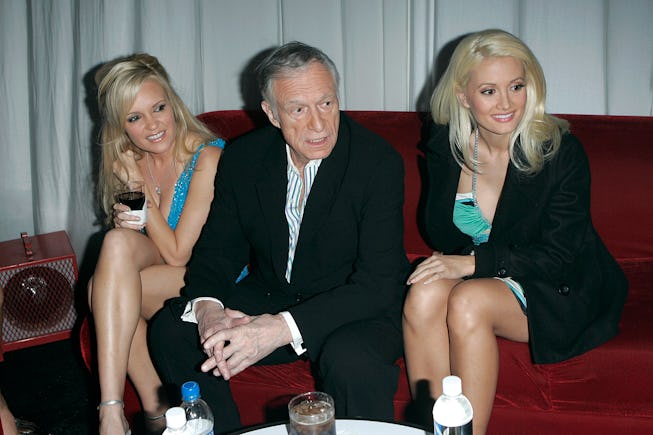 Patrick McMullan/Patrick McMullan/Getty Images
Holly Madison Speaks On "Cycle Of Gross Things" While Living At The Playboy Mansion
The upcoming 10-hour docuseries Secrets of Playboy looks at the dark side of Hugh Hefner's empire.
It's been 16 years since the premiere of The Girls Next Door — and we still have a lot of questions. The E! series about the women who lived as Hugh Hefner's girlfriends in the Playboy Mansion gave viewers a look at life behind those hallowed walls, as have memoirs from former Playboy bunnies. But soon we'll learn all the tea, thanks to a new A+E documentary series called Secrets of Playboy, a 10-hour series that premieres January 24, 2021 at 9 pm. Here's everything we know about the Secrets of Playboy, below.
We're going to see some of our favorite faces — but not everyone
Madison and Bridget Marquardt of The Girls Next Door have confirmed interviews in the docuseries, but it doesn't look like Kendra Wilkinson is going to be making an appearance. Kendra, who appears to be a real estate agent according to her Instagram, has kept away from making comments about the Playboy mansion to the media. NYLON interviewed Marquardt and Madison earlier this year about the ghosts in the Playboy mansion and Wilkinson did not respond to repeated inquiries.
There's a lot of people ready to talk about playboy
The floodgates have opened, it appears, and people are really ready to talk about Playboy. Along with Madison and Marquardt are Sondra Theodore, a former Playmate and author of Playground: A Childhood Lost Inside the Playboy Mansion, Playboy Mansion West resident Jennifer Saginor, Bunny Mother PJ Masten, former Playmates Rebekka Armstrong, Susie Krabacher, Dona Spier, Tylyn John and Cristy Thomas. There's also members of Hefner's staff and inner circle, including his executive assistant Lisa Loving, his butler Mitch Rosen, and his personal valet Stefan Tetenbaum. Looks like a slew of (probable) NDAs have expired!
Secrets of Playboy will grapple with the dark side of Playboy
The docuseries won't be the first piece of media to be critical of Hefner, but when he passed, media coverage was largely positive, praising the publishing mogul's protection of First Amendment rights. Similarly, a 2017 documentary called American Playboy: The Hugh Hefner series largely painted Hefner as a trailblazer. The series will grapple will some of the more uncomfortable and darker sides of the Playboy empire, a reckoning that is long overdue.
"The fantasy world of Playboy has been shrouded in secrecy for decades and we are proud to lift the veil on these long-hidden stories," said Elaine Frontain Bryant, Executive Vice President and Head of Programming for A&E in a statement. "Breaking down barriers and exposing the truth, Secrets of Playboy is a masterful example of brave storytelling that takes an unflinching look at the personal effects of Hugh Hefner's empire, while also exploring his legacy's larger influence on our society and modern-day views of sexuality."
Expect to hear some hard stories from Madison
Madison is probably Hefner's most recognizable former girlfriend, and was his "main girlfriend" during The Girls Next Door. Madison has spoken out about Hefner's harsh treatment of her in her 2015 memoir Down The Rabbit Hole, and if recently released sneak peek clips from the series highlights anything else it's that she's going to speak explicitly about her poor treatment of her. In one teaser, Madison says Hefner "screamed" at her after she cut her hair.
"I got to a point not too far into my time there… where I kind of broke under that pressure and being made to feel like I needed to look exactly like everybody else," Madison said. She decided to cut her hair. "I came back with short hair and [Hefner] flipped out on me," she shared. "He was screaming at me and said it made me look old, hard and cheap," she recalled.
The official Secrets of Playboy trailer shows a new side of Hefner
The Secrets of Playboy trailer shows interviews with former Playmates and Hefner's former girlfriends, including Holly Madison of The Girls Next Door. Sound bytes from the trailer touch on the contradictions that make Hefner such an interesting — and flawed — character. He was a staunch advocate for sexual freedom and First Amendment rights, but he also believed he owned these women. "I didn't realize that getting into the Playboy world was a dangerous choice," Madison says in the trailer. Whew.
This article was originally published on