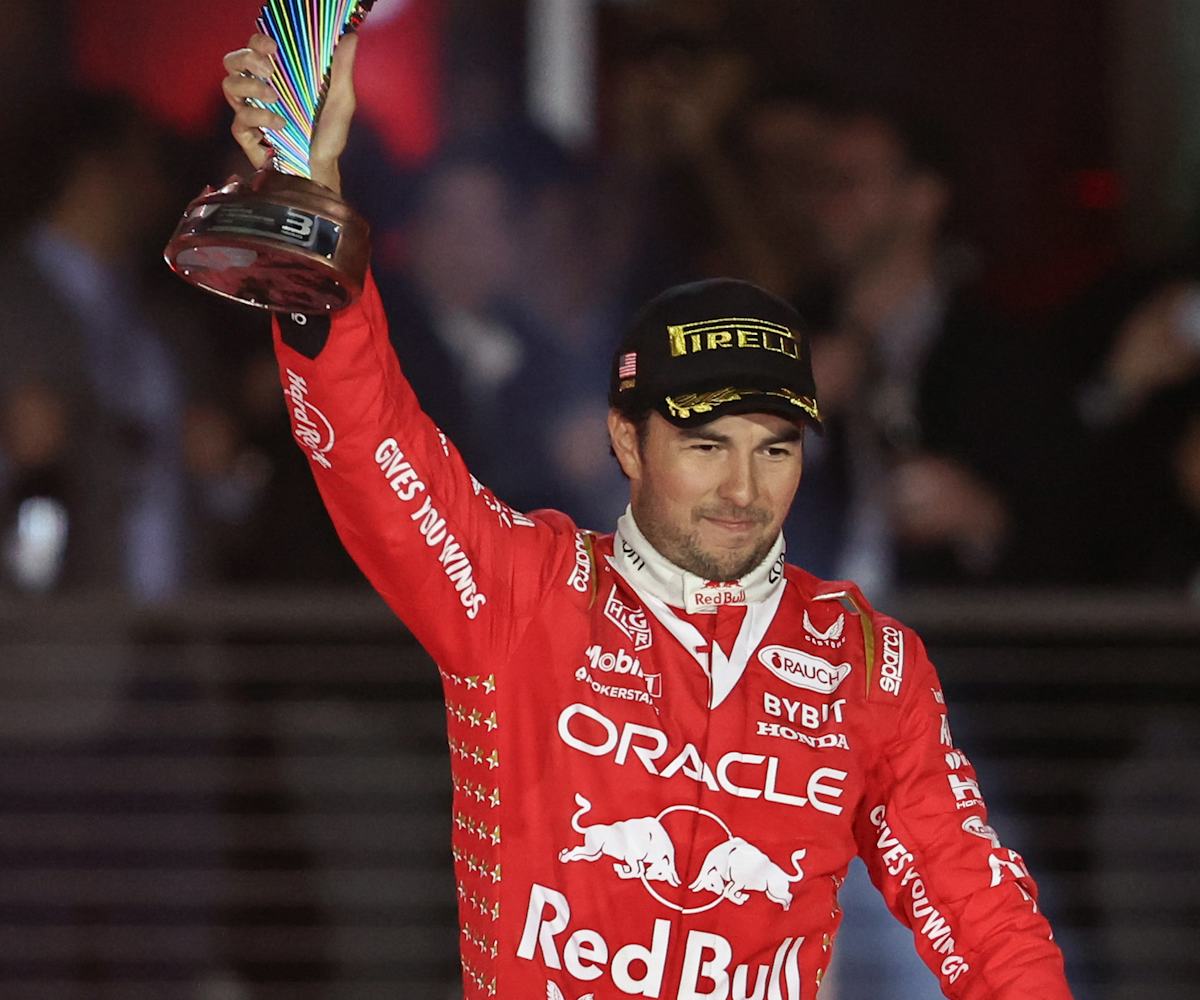 Song Haiyuan/MB Media/Getty Images Sport/Getty Images
Sergio Pérez Puts It On Podium At The 2023 Las Vegas Grand Prix
Despite an overwhelming season, the Mexican Formula 1 driver is looking onward and upward as the year comes to a close.
In the last seconds of Formula 1's Las Vegas Grand Prix, the Patrón and Red Bull paddock howled in dismay. Over the course of 50 laps, Sergio "Checo" Pérez had climbed from eleventh to second place, following behind his teammate and world champion Max Verstappen at the top. But as Pérez neared the final corner and toward the checkered flag, there was Ferrari driver Charles Leclerc, who, right before the finish line, overtook him, knocking Pérez down to third on the podium instead.
But the defeat wasn't as unfortunate as onlookers initially thought. Red Bull has already secured its sixth constructors' championship for 2023, with Verstappen receiving the drivers' championship for the season. After a tight battle for second place with Mercedes' Lewis Hamilton, Pérez finally secured the spot — and with one more race to follow before the end of the year, he's more than ready to unwind over a glass of Patrón Silver on the rocks.
Avid viewers and fans are well aware that Pérez's time in the 2023 season was arguably a rough one to watch. Though he has two race wins under his belt and slimly kept his spot in the Constructor's Championship, he's also faced a slew of challenges, from pressures to live up to Red Bull as the team's reliable second seat to even facing discriminatory remarks from the company's adviser Helmut Marko.
Anadolu Agency/Anadolu/Getty Images
MediaNews Group/Inland Valley Daily Bulletin via Getty Images/MediaNews Group/Getty Images
So it's no surprise that the Las Vegas Grand Prix, the first since 1982, was a make-or-break moment for the Mexican driver. Built along the famous Las Vegas strip, the track posed its fair share of complications. The buzzy event occurred on a street circuit and ranks the coldest, where temperatures in the desert dropped as low as 50 degrees Fahrenheit. It wasn't exactly the safest either, as Ferrari's Carlos Sainz Jr. ran over a broken drain cover that ended the first practice session after only eight minutes.
Despite it all, Pérez ultimately believes that racing doesn't always go to plan, which is what makes it so exciting. "Although it was a tough race in Mexico, you have to put it behind you and focus on the next race," he tells NYLON. "It was an exciting race in Vegas. A tough battle to the end and, ultimately, a great comeback. I am really happy to have secured the runner up in the Drivers' Championship this season, and it was great to be on the podium in Vegas."
As the closing race in Abu Dhabi nears, Pérez chats with NYLON about his 2023 season, below.
In your own words, how has your season been so far?
It's been a good season in terms of the team winning the Constructors Championship so early on, so we've collectively had a lot of success. I enjoyed winning in Saudi and then Baku, and most recently getting on the podium in Vegas last night, and I am proud to have clinched P2 in the Drivers' Championship. It is a historic result for the team – the first 1-2 finish in Red Bull Racing history. Of course, I am always challenging myself and never giving up. I will continue to improve even more next season.
Now that there's some distance from Helmut Marko's comments from a few months ago, has any of it translated into trust and support from the team and other drivers on the grid?
Helmut and I have a great relationship, as I've discussed many times. Obviously, F1 has a lot of media attention, and people are always waiting for mistakes inside and outside the car. It is nice to see drivers working together and looking after other drivers.
What has been the most challenging part of the season?
Mid-season, I was unlucky in a few races, as was the team, and things didn't go our way. However, I feel we are now closing the season off in a positive way and building towards the next season as well.
MediaNews Group/Inland Valley Daily Bulletin via Getty Images/MediaNews Group/Getty Images
Icon Sportswire/Icon Sportswire/Getty Images
Mark Thompson/Getty Images Sport/Getty Images
With this being the first Las Vegas GP, what were you looking forward to? Did you check out the track or go through the simulation? What's different about this track compared to the other American tracks?
Most notably, the biggest difference from the other U.S. tracks is that we get to race through the Las Vegas strip, which we experience at races in other countries, but never here. What better way to get accustomed to our new home for F1 than by getting a firsthand feel for the street — it was very special.
What were you looking forward to at this GP, both on and off the track?
On the track, I am very proud to have secured the team's first 1-2 win in the Driver's Championship. It was a comeback and tough race as I pushed from P11 to P3. I pushed, and it was great getting to race on a new track under the Vegas lights on the strip. It is always rewarding to reach new milestones with the team.
Off the track, it was incredible to finally announce a new, limited-edition product with Patrón Tequila. In case you didn't see, we kicked off the week in Vegas, celebrating the launch of the 2023 Mexican Heritage Tin that I designed with Patrón to celebrate our shared Mexican Heritage.
After Las Vegas is one more race, then winter break. Do you have any exciting plans during that time?
I can't believe it — what a year! While I'm sad for the season to end, I am very excited to toast to a year of incredible teamwork and another amazing season with my Patrón Tequila familia. I'm looking forward to spending time in Mexico with family and friends. I love spending the holiday surrounded by people I love, with a good cocktail in hand. I need to rest and recharge and be with my family. This is something I cherish every year.
This interview has been edited and condensed for clarity.