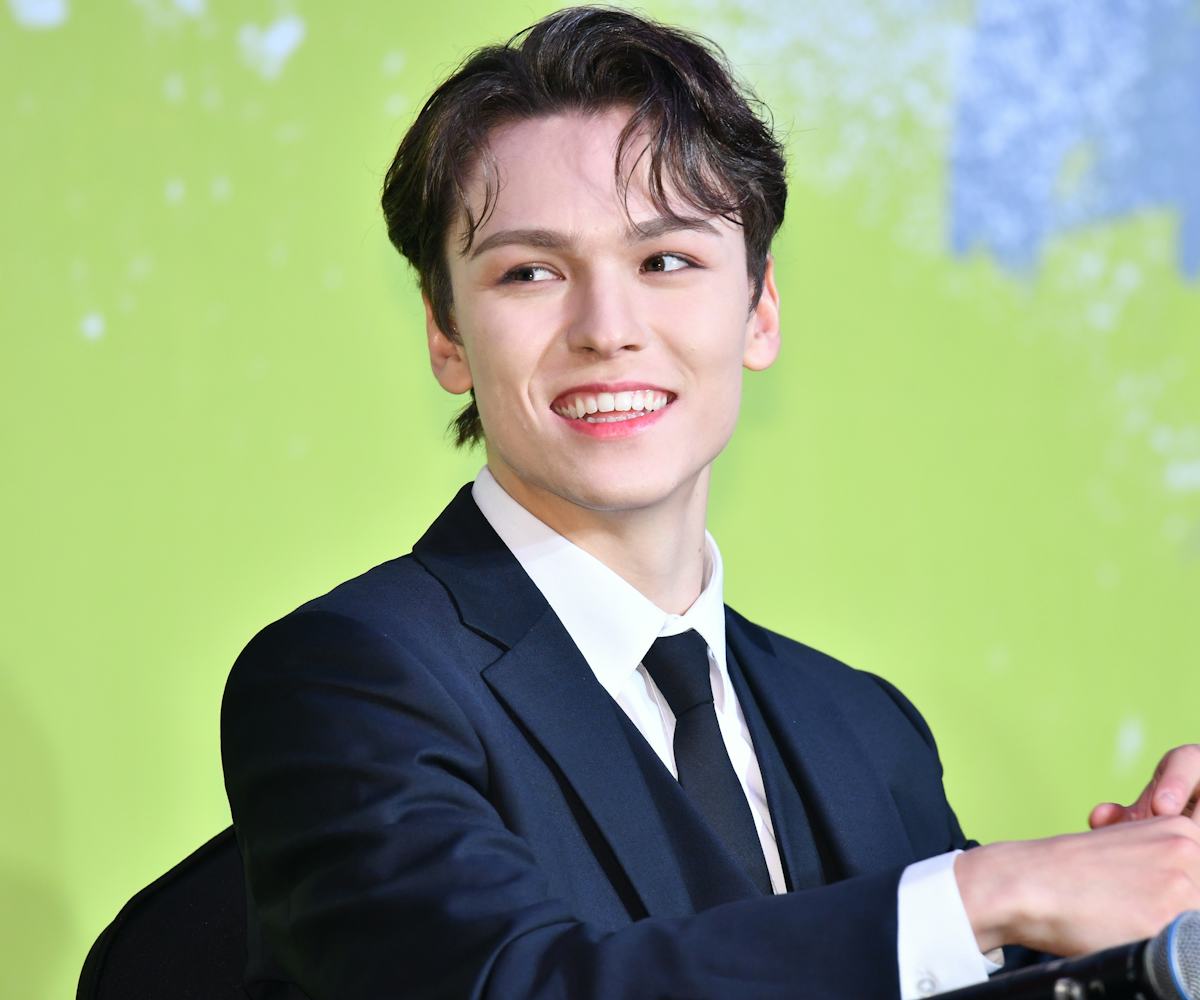 The Chosunilbo JNS/ImaZinS/Getty Images
SEVENTEEN's Vernon Thanks Fans for Manifesting Charli XCX Collab
The power of Twitter and a devoted fanbase.
Vernon, member of the mega-popular K-pop group SEVENTEEN, recently had his existence affirmed in a big way. Last month, he saw that Charli XCX had tweeted about him. "How do I get in touch with Vernon??" she wrote on Twitter. If that wasn't already reason enough to freak, she then tweeted at him, "wanna collab?" A few weeks later, he joined her for a new remix of "Beg For You," produced by PC Music label head A.G. Cook and featuring Rina Sawayama.
In a new interview with Teen Vogue, Vernon waxed poetic on how much Charli means to him and talked about the influence she's had on his music. "I'm still having a hard time grasping this reality. I just really want to say thank you to Charli for acknowledging my existence," he said in the interview. "It's truly an honor to be a part of her music."
Undoubtedly, the only truly good thing about being famous (other than getting free clothes) would be getting to be simply perceived by your idols, let alone getting to work with them. In Vernon's case, he thinks the collaboration was in no small part thanks to SEVENTEEN's very vocal fans, who are known as CARATs. He believes he got the chance to work with Charli after enough of them tweeted at her.
Vernon has been obsessed with the pop star since her acclaimed self-titled 2019 album. "It was a whole new world for me, really," he said in the interview. "I feel vulnerability, but at the same time, invincibility in her music. There's something really beautiful about it." We love when a celebrity isn't afraid to gawk at their fandom for another of their own echelon; stars, they really are just like us!
It doesn't seem like the industry has fully milked an overlap between the obsessive K-pop and hyperpop fandoms enough, and Teen Vogue points out that the two genres have an overall shared affinity for electronic experimentation and genre-mashing. You can also hear Charli's influence in SEVENTEEN's music in terms of how technology exists as a character in itself, like on the glitchy, hyperpop "GAM3 BO1," which Vernon says is influenced by Charli.
Fingers crossed for more hyperpop-K-pop collaborations. In the meantime, you can listen to "Beg For You" remix featuring Rina Sawayama, A.G Cook, and Vernon, below.