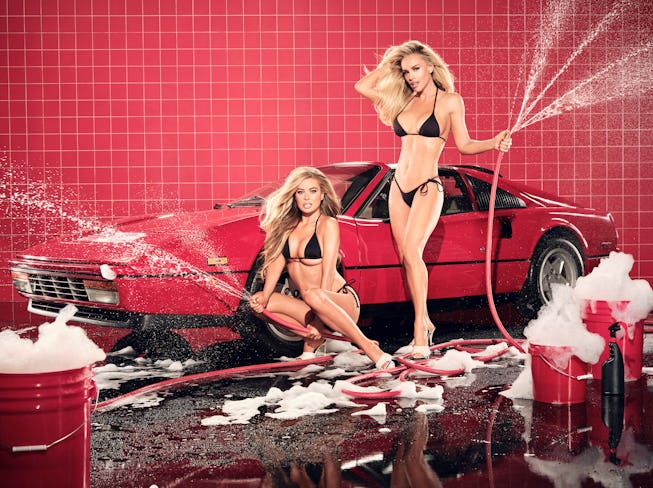 '90s Icons Carmen Electra And Jenny McCarthy Star In Skims' New Swim Campaign
The naughties are back and hotter than ever.
Summer in the '90s did not officially start until you saw some hottie hose down a Ferrari in a bikini. A few decades later, the new Skims campaign pays homage to those soapy, lathered days, tapping 1990s icons Jenny McCarthy and Carmen Electra to star in the brands' new swim campaign.
Both McCarthy and Electra were pillars of '90s pop culture in their own right. Electra is best known for her roles in Baywatch and the Scary Movie franchise, while McCarthy is a former Playmate whose latest act is being a judge on The Masked Singer. But even in the waves of '90s and naughties nostalgia, the actresses have yet to enjoy the same cultural resurgence as the likes of say, Kate Bosworth, who recently did a Blue Crush swimsuit collection with Urban Outfitters and Roxy.
Now, they're finally getting to cash in on their cultural cachet, and for the benefit of us all.
The campaign shows McCarthy and Electra posing together while washing a sports car and eating ice cream. It harkens back to the Paris Hilton eating a Carls Junior burger in a bikini on a car-era of advertising, when sex appeal is silly, fun, and sizzling. (Also, it's worth mentioning that they're 50? Drop the ab routine, please.)
SKIMS
SKIMS
SKIMS
SKIMS
SKIMS
It's a fitting combination with Skims' swim line, which is like the lovechild of Coyote Ugly and Laguna Beach — a collection of faux leather, crochet, and studded bikinis. In the campaign, McCarthy and Electra wear SKIMS signature Triangle Top and Dipped Tie Bikini, plus other signature SKIMS Swim cuts, including the Zip Front Sleeveless One Piece, Scoop Neck One Piece, Tank Bikini Top and Mid Waist Bottoms.
"I couldn't be more excited to be a part of SKIMS' latest campaign," McCarthy said in a release. "The energy on set was incredible, especially shooting alongside Carmen, who looks amazing! It felt like we were back in the 90s, and years later we're still having fun!"
"Being reunited with Jenny for this SKIMS campaign was such a dream," added Electra. "Not only does she still look incredible, she also brought the best energy to set and was my biggest cheerleader. I'm so happy we're able to share in this iconic moment together!"
You can shop the collection now on skims.com.