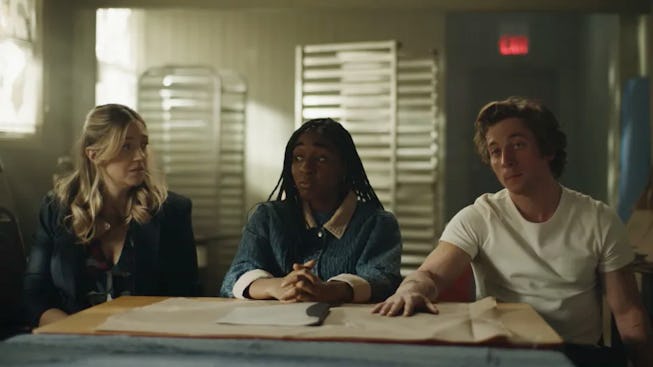 Hulu/FX
The Bear Season 2 Trailer Cooks Up New Chaos
Everyone's favorite psychically and emotionally burned and bruised chef is back, with an entirely new restaurant.
Almost a year after a half-hour, FX-produced Hulu series about a Chicago beef joint and its moody chef aired to critical acclaim, we are getting our first look at what's on the menu The Bear Season 2 — and spoiler alert: It could include a saucy romance.
Last summer, the internet absolutely lost its mind over Shameless star Jeremy Allen White in his role as Carmy, the blistered and burned (physically and emotionally) chef who is absolutely not going to call you back.
The Bear followed Carmy, who left his life as a Michelin star chef (at what is not not the famed, now-closed Noma) to take over his family's Chicago beef restaurant after his brother's suicide. He has to save a restaurant that is literally and financially crumbling, win over a staff skeptical of his haute cuisine chops, and figure out how to not unravel from grief in the process. The show was wildly popular and was renewed for a second season last summer.
After Season 1 ended with Carmy finding enough cash to close the restaurant, and it appears Season 2 will pick up right where we left off, showing the trials and tribulations of converting a beloved Chicago beef joint into a place that serves small plates with the help of Sydney (Ayo Edebiri) and Richie (Ebon Moss-Bachrach). The team seems to have a six-month timetable to open the new restaurant, which means negotiating everything from menus to hiring staff to navigating Chicago permitting bureaucracy — while "undertak[ing] transformational journeys of their own, each forced to confront the past and reckon with who they want to be in the future," an official synopsis reads.
Notably, the trailer also teases at something that Season 1 unequivocally and refreshingly did not have: a romance. It was a surprise considering how hunky White's character was, but it made sense that a character already preoccupied with so much would forgo his dating life. But in the trailer, we see Carmy talking to a former culinary school classmate, played by Shiva Baby star Molly Gordon, with whom he shares a flirty exchange in the cereal aisle. More to be revealed soon...
The Bear premieres on Hulu on June 22. In the meantime, you can watch the trailer here, below.