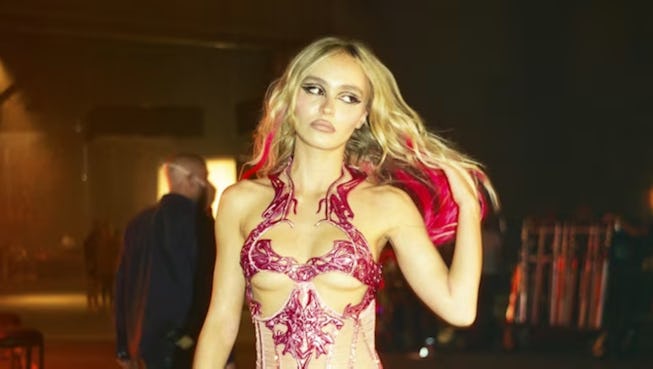 Courtesy of HBO
How HBO's 'The Idol' Lost Its Buzz To Chaos
'The Idol' is one of the most hyped shows of the past two years. It's also been so plagued with issues that it's unclear what exactly remains to be excited about.
Ever since it was first announced in June 2021, The Idol has been one of the most hyped shows in the entertainment universe. The sexy HBO series starring Lily Rose-Depp playing a rising star and The Weeknd (Abel Tesfaye) in his small screen acting debut about the cult of music industry, the show has coasted on hype alone for nearly two years.
Now, it's unclear whether the show is going to come out at all — and if it does, there's a lot of speculation around what it will look like. The production has been plagued by shooting hiatuses and changes in creative direction, but all of this speculation came to a head on Wednesday, when Rolling Stone published an incendiary report including 13 sources who worked on the show, about just how much of a nightmare the entire production has become.
At the center of this nightmare is Sam Levinson, the director best known for Euphoria — or rather, for spending a lot of money to create TV lacking in plot, but teeming with sex, drugs, and vibes. According to the report, Levinson is largely responsible for the production delays and general sense of chaos on set, as well as for more nefarious acts, like allegedly wanting to incorporate some disturbing sexual content into the script, which was described as a "sexual torture fantasy."
HBO has responded to the allegations, stating that, "throughout the process, the creative team has been committed to creating a safe, collaborative, and mutually respectful working environment."
"The creators and producers of 'The Idol' have been working hard to create one of HBO's most exciting and provocative original programs," HBO said in a statement to The Wrap. "The initial approach on the show and production of the early episodes, unfortunately, did not meet HBO standards so we chose to make a change...last year, the team made creative changes they felt were in the best interest of both the production and the cast and crew. We look forward to sharing 'The Idol' with audiences soon."
Whether it will eventually come out remains to be seen. In the meantime, here's a rundown of all the alleged issues plaguing The Idol.
Constant script re-writes
The series' initial director Amy Seimetz was encouraged to put her own spin on the script, which resulted in multiple rewrites. The first version of the show was reportedly rewritten more than 20 times. Eventually, the crew stopped receiving daily schedules of what was being shot, making it nearly impossible for crew members to prepare for the next day of work.
"I'd be driving home [at the end of the day] and they'd be like, 'Oh, we're adding a scene, but it hasn't been written yet,'" one source said.
"It was kind of a joke how many revisions there were — whether it was changing somebody's name or whether it was something more intensive, like completely changing the scene and taking away a story," another production member said.
Seimetz exited the project
Seimetz suddenly quit the project in April 2021, with 80 percent of the six-episode series finished. Sources told Rolling Stone that before the show even starting filming, Seimetz was given half-finished scripts, a tight schedule, and near-impossible expectations from HBO. "Honestly, I think HBO handed her a shit stack," one production member said.
Suzanna Son exited and many cast/crew get were let go
Shortly after Seimetz, Suzanna Son also exited the project. It was during this time that HBO announced "a new creative direction" for the series, with the production "adjusting its cast and crew accordingly." Many cast and crew members did not return from the first shoot, though big names like Troye Sivan remained. It was unclear what exactly this "new creative direction" meant, but it was reported that Tesfaye felt the show was going too much into a "female perspective," and the show went on a filming hiatus.
Sam Levinson took over as director, scrapping the first version
Things really went off the rails, production staff told Rolling Stone, when Levinson took over and reportedly scrapped the nearly finished $54-75 million project to rewrite and reshoot the entire thing.
Levinson overhauled the script, upping the sexual violence
Whereas the original script was about a young star falling victim to a predatory industry figure, the revision was described as a "degrading love story with a hollow message." One production member described the new version as a "rape fantasy," while another called it "sexual torture porn."
"It was a show about a woman who was finding herself sexually, turned into a show about a man who gets to abuse this woman and she loves it," one crew member said.
Some of the more disturbing scenes included a scene where Tesfaye bashes in Depp's face, and her asks to be beaten more, giving Tesfaye an erection. Another proposed scene was for Depp to carry an egg in her vagina and if she dropped or cracked the egg, Tesfaye's character would refuse to "rape" her; Depp in turn would beg him to "rape" her because she believed he was the key to her success. (On Wednesday afternoon, The Weeknd posted a clip from the series on Instagram with a snarky caption directed at Rolling Stone, serving as his response to these allegations.)
Big-name stars like Jennie from BLACKPINK didn't actually have significant roles
Levinson was casting big-name stars like Rachel Sennott, Dan Levy, Hank Azaria, Moses Sumney, and Mike Dean — but the biggest get of all was Jennie from BLACKPINK. But crew members say she barely had any screen time or a real story arc. "They didn't let her talk that much," one production member said. Her job was to sit there [and] look pretty, basically."
Production was extremely far behind
Levinson's shoot was supposed to last three months, from May to July, but stretched far into October, despite the cast and crew celebrating a wrap party in July.
"I was so drained by the end of it," one crew member says. "I was like, 'I can't have a job make me cry every day because I have two hours to sleep, and I'm being pulled 100 directions because nobody knows what they're doing, or nobody knows what they want because we don't know what we're filming."
Eventually, Levinson allegedly stopped sending scripts to HBO
There was allegedly friction between the few crew members that remained from Seimetz's shoot, Levinson, and higher-ups at HBO. Eventually, Levinson stopped sending scripts to HBO altogether.
"I got the vibe that the mood on set was, 'What's HBO gonna do, pull the plug? Yeah, right. If they want a third season of Euphoria, they'll give me what I want…," the source said. "'We're just gonna shoot what we want and if [HBO execs] have a problem with it, that's their problem.'"