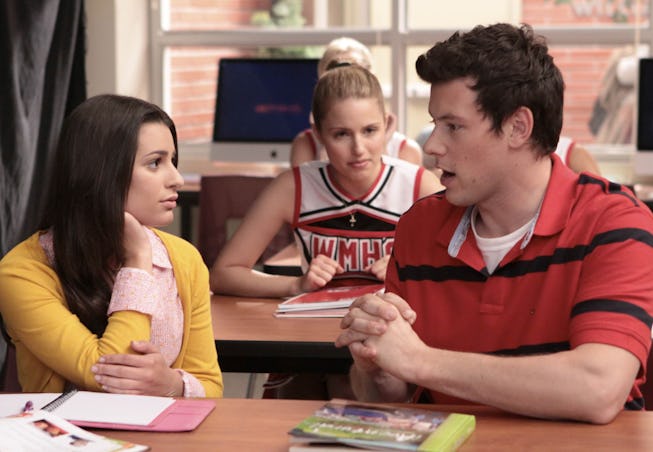 Carin Baer/Fox-Tv/Kobal/Shutterstock
The Biggest Revelations From The Price Of Glee Docuseries
Despite the glamour of Glee, the show will never be able to escape its tragedies.
When it premiered in 2009, Glee was everything: a new kind of network TV show, a moment of unprecedented representation for LGBTQ characters, a place where a capella arrangements of Madonna songs on Primetime TV could thrive. It was a cultural touchstone of the mid-aughts. And as a weird high school drama kid, seeing a motley crew of expressive outcasts burst into Amy Winehouse songs was peak culture. But as Glee went on, tragedy followed. Now, a new Disovery+ docuseries, The Price of Glee, tries to make sense of the darkness.
Cory Monteith died in 2013 after accidentally overdosing in a Canada hotel room. In 2015, Marc Salling was charged with child pornography and died by suicide in 2018. And in 2020, Naya Rivera was reported missing after taking her son out boating on a lake; her body was recovered days later. Despite the shininess of Glee, the show can't escape its dark underbelly of tragedies even years later. Notably, Ryan Murphy and the main cast are not involved in the docuseries, but it does include archival footage and interviews with cast and crew members, as well as the friends and family of those lost, who share their experiences, leading to some new revelations about the show and its tragic aftermath.
Read on for some of the revelations we learned from The Price of Glee, which is streaming on Discovery+ now.
Everyone thought Cory Monteith and Lea Michele were a weird couple
Everyone in the Glee cast hooked up with each other, as the documentary unsurprisingly revealed. This, of course, included Monteith and Michele, who started dating even before the pilot aired, much to the surprise of the cast and crew.
"I did not understand the two of them together," executive assistant Garrett Greer said, later calling Michele a "narcissist." "I had friends who lived in New York and grew up with Lea, so I was very aware of her reputation. She had a rep for being a little bit difficult."
"I think a lot of Cory's confusion had a lot to do with his relationship with Lea Michelle," said hair department head Dugg Kirkpatrick. "I don't know that she was a friend." And set decorator Barbara Munch echoed similar sentiments: "I found that interesting that they ended up together. I was really very surprised."
Marc Salling lied about his age during casting
Salling was 26 when he auditioned for Glee, but told everyone he was 19. It's one of the many revelations about Salling that is eerie in the wake of his child pornography charges and subsequent suicide. Munch also described Salling as "a bit off," in the docuseries.
"He wasn't just a regular young man. He had some issues going on," she said. "It seemed obvious, but it was really none of my business what they were."
Cory Monteith predicted he would die young
Much of the documentary focuses on the rise and fall of Monteith, who started using drugs and alcohol when he was 13, eventually going to rehab when he was 19 in 2001. He relapsed during his time on Glee and went to rehab just months before his death.
"I remember him telling me once, 'I thought I was gonna die young,'" his former roommate Justin Neill recalled. "Like 18 or something like that."
Neill recalled Monteith struggling immensely with his level of fame. "He just got to the point where he just hated fame, 'I'm just so tired, I want to rest for a bit. I'm sick of singing of these songs,'" he said. "I remember him specifically saying, 'I wouldn't wish fame on my worst enemy.'"
Monteith allegedly relapsed after a cast member told him to drink at a party
Hair department head Dugg Kirkpatrick shared a story that still haunts him. Before his death, he says Monteith came in for a haircut while he was drunk. Monteith shared that he was at a party and wanted to drink but knew he shouldn't. He was told by a cast member that if he wanted to have a drink, he should, and that the cast member would be there for him; Monteith relapsed. Kirkpatrick did not share who the cast member was.
There were many crew deaths — including three suicides
The Price of Glee frequently mentions the grueling work schedules everyone was subjected to — creating a pressure cooker of an environment that led to extreme burnout. Along with the high-profile deaths of cast members, there were also several deaths in the crew, some of which could be tied to being overworked.
The second team lead and background wrangler Jim Fuller and a man named Paul in the prop department both died at young ages from heart attacks. Mark Watson, a stand-in for Matthew Morrison, died in a car fire, and production assistant Nancy Motes died by suicide. Two other crew members also committed suicide after the show's end.
Lea Michele was instrumental in the decision to keep the show going after Monteith's death
Ryan Murphy reportedly gave Michele the option to take a hiatus or stop the show after Monteith's death. She said she wanted to go back to work.
"It was only a couple of weeks. All of the actors just had to pull themselves together and get back to work," Naya Rivera's stand-in Jodi Tanaka said. "Everyone was just kind of forced to."
"It probably would've been better to just, you know, end the show," actor Stephen Kramer Glickman said. "But there's no possible way they were going to do that. The show was like a giant, massive money machine."