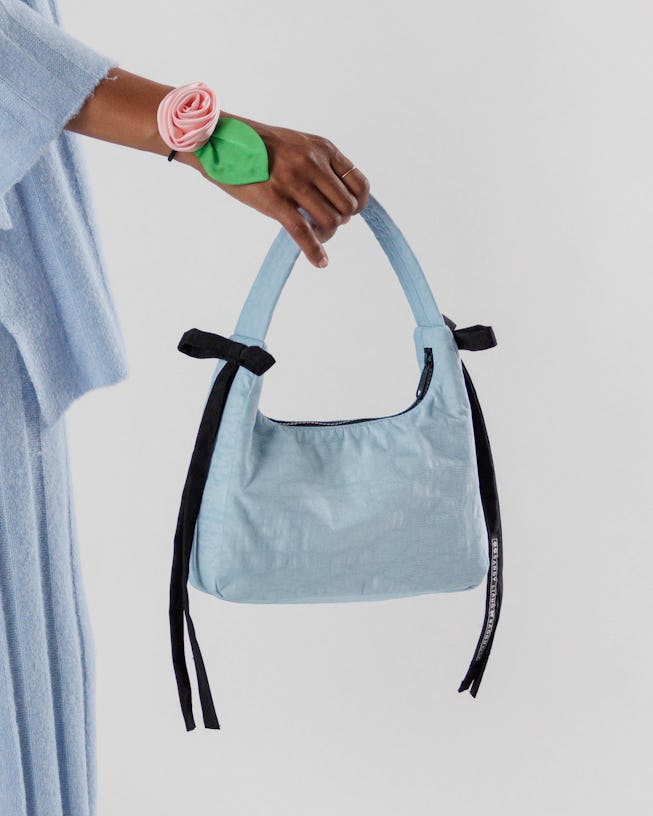 The Sandy Liang x Baggu Collaboration Has Entered the Chat
Get ready for a new It Bag to hit the streets — for less than $100.
Sandy Liang sample sale lines may snake around the block of the brand's Lower East Side store, prompting throngs of fashion obsessives to wait upwards of five hours to get their paws on some discounted items from the New York City designer known for nostalgia and playfulness. Luckily, Sandy Liang has always been the queen of collaborations, partnering with the likes of Target, Vans, and Salomon. Now, Sandy Liang and Baggu are teaming up for a collection of on-the-go bags — getting your groceries has never been so cute.
The new collection, which includes 17 bags and accessories, combines Baggu's utilitarian style with Sandy Liang's nostalgic, girlish adornments — i.e. these bags have cursive, ribbons, and flowers.
Courtesy of Baggu
Courtesy of Baggu
Courtesy of Baggu
Courtesy of Baggu
The collection includes some of Baggu's favorite pieces: The Medium Nylon Crescent, the Standard Baggu, Big Baggu, Dopp Kitt, Packing Cube Set, Cloud Bag, Cloud Carry-On, and Puffy Picnic Blanket in a bright red-and-blue plaid design with Sandy Liang's signature flower icon. The collection also includes a series of canvas totes with navy detailing with the words "a collaboration between Sandy Liang and Baggu" in cursive. But our favorite items in the collection are the Mini Bow Bags, featuring Baggu's signature nylon crescent bag adorned with Sandy Liang's classic ribbons.
You can shop the collection starting at 1:30 p.m. ET on baggu.com or at the Sandy Liang store at 28 Orchard Street in New York City. But move fast: We have a feeling these will sell out in minutes.