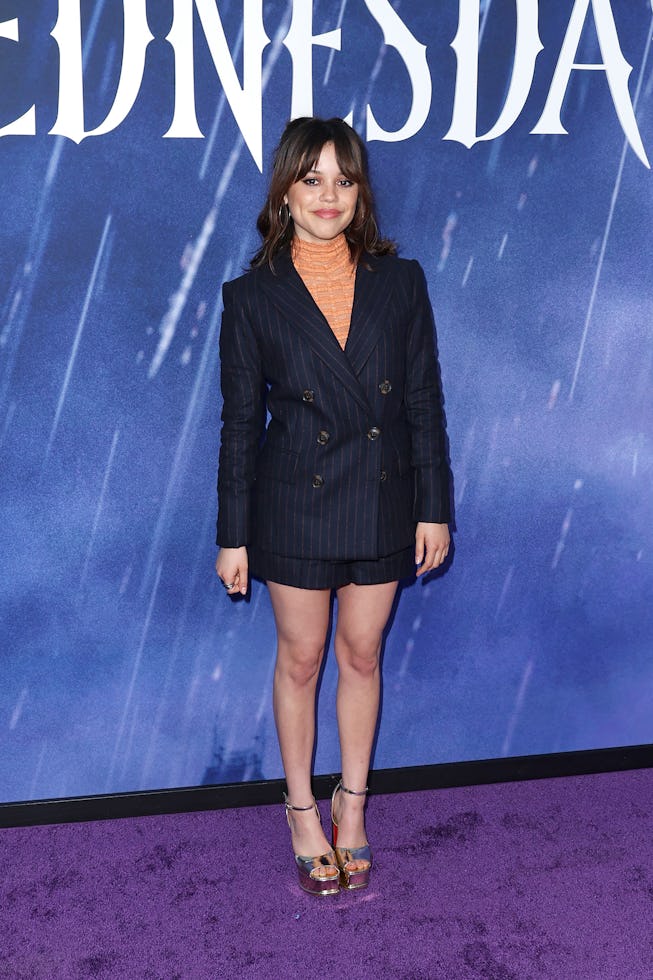 Phillip Faraone/Getty Images Entertainment/Getty Images
The First 'Wednesday' Season 2 Teaser Tackles Some Fan Theories
Fan theories abound, but one is confirmed: a new Addams family member.
Wednesday wasn't just a Netflix series, it was a cultural moment. It spawned a glorious return to goth fashion (black dresses, lace collars, black hair, etc.), a viral dance (set to to "Goo Goo Muck" by The Cramps, which put the song at no. 1 on the Billboard chart and was replicated by Lady Gaga), and of course, it catapulted its lead actress Jenna Ortega to stardom.
Now, less than a year since Wednesday Season 1 ended, we're getting our first look at the series' second season, which is expected in 2024.
The teaser trailer for Wednesday Season 2 was released over the weekend during Netflix's Tudum: A Global Fan Event in Brazil, giving us not quite a full sneak peek at Season 2, but a look back at some of the most popular fan theories of Season 1.
"Wednesday Season 2 is being worked on right now and the storyline is so top secret, even we don't know what's going to happen," Myers says.
So instead, cast members Ortega, Hunter Doohan (Tyler Galpin), Myers (Enid Sinclair), and Joy Sunday (Bianca Barclay) talked fan theories, including Joseph Crackstone's (William Houston) ring and who might have picked it up, as well as a suspected mystery around Lurch's (George Burcea) identity.
They did confirm one fan theory: A new Addams family member is coming to Wednesday, though it's unclear who exactly it is.
"I've always thought it would be really, really interesting if Wednesday had a monster for a pet," Ortega reveals in the teaser. Hmmm... but as far as a member of the family goes?
"I would love to see Cousin Itt," Ortega says, while Sunday and Doohan admit they'd like to see Grandma Addams.
"We can't wait to dive headfirst into another season and explore the kooky, spooky world of Nevermore," Wednesday Season 1 co-showrunners Miles Millar and Alfred Gough told Tudum in January 2023. "We just need to make sure Wednesday hasn't emptied the pool first."
They continued: "It's been incredible to create a show that's connected with people across the world. We're thrilled to continue Wednesday's torturous journey into Season 2."
Wednesday Season 2 won't premiere until 2024. In the meantime, you can watch the first teaser below. Additional fan theories are welcome.