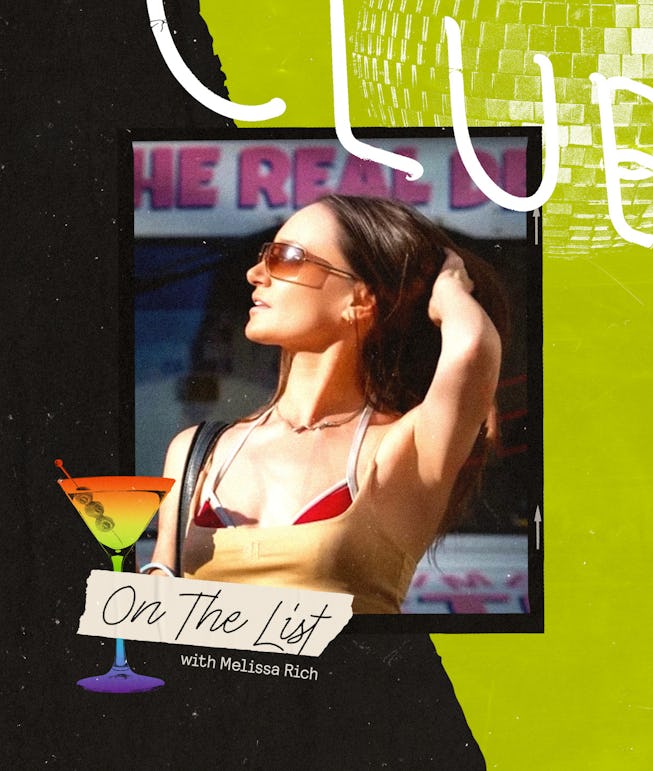 Nylon/Melissa Rich
On The List (With Melissa Rich): Dispatches From The Gay Clubs
Welcome to On The List (With Melissa Rich), NYLON'S column with comedian Melissa Rich, here to illuminate the state of nightlife, one party at a time.
Happy Pride Month, party girls! Padam Padam to you and yours.
Two years ago, at the Fire Island underwear party, we temporarily lost our friend, who told me I could use his real name, which is Brian. I looked for him in the dark room at Ice Palace, maneuvering among sweaty thrusting bodies doing exactly what you'd imagine. I was unfazed and finally had the realization that maybe I am too comfortable in this environment. David Odyssey and I hiked through the Meatrack back to the Pines, unworried about Brian, who stayed at The Belvedere and "had oral in the morning, I think."
I mainly go out with gay guys — and I don't mean just drag brunch. I'm talking circuit parties, where I am the only woman in a sea of men in jockstraps. In fact, I own a jockstrap and can comfortably pee in a urinal. It's always been this way; my best friends growing up were identical gay twins. One of them asked me to prom, but I ultimately went with a Greek football player, whose virginity I took. (Sorry, Kevin.) Of course, I party with the straights, but finding the same energy and excellence that gays demand in a non-queer setting is not easy.
Like Joan Didion once said about her advantage as a reporter, it benefits me that I am physically small and can go unnoticed. There's the time I got turned around in the dark room at Harder and was stuck in a circle of guys doing pup play for approximately 20 minutes. (I was curious and didn't want to interrupt.) There have been many nights at clubs like The Eagle where I've told my friends to peruse and amused myself talking to random guys with their dicks out about a play they're producing or their new cabaret show. Then, there are nights at places like The Cock where it's so dark and smoky that all you can do is slink around and dance, always careful of where you put your hands.
When I first arrived in New York, I was incredibly lucky to be adopted into a heaven-sent friend group: gays and girls who I worked with at a steakhouse in Midtown East. I've clocked more hours at random Irish bars near 43rd and 3rd Avenue than you could possibly imagine, and my first summer in the city was spent almost exclusively at Hell's Kitchen gay bars. I was completely enchanted by The Ritz, an absolute dive of a club. While in the midst of some complicated choreo to "Prerogative" on one of the raised wooden platforms, I fell down so hard I thought I broke my tailbone. I'm now realizing I was actually injured a lot that summer; on my first night at Industry, I was certainly concussed after getting knocked down at some concert — a kind drag queen gave me an illicit upper to help me stay awake. Thank you, sister.
I moved on to the Brooklyn scene, which brought the raves and circuit parties I'm thrilled to still frequent. I met amazing friends and continue to fangirl for queens like Charlene and Tyler Ashley, whose Baby Tea brunch kicked off a near 36-hour bender one Pride. It was these early friends and New York experiences that first brought me to the place where the magic truly happens: Fire Island. I've gone every summer. My earliest memory is at Ice Palace, when I got my tits out in a rite of passage: a walk-off at a poolside drag show. (It's important to do things like that in extreme youth because, trust, you will not catch that again for free.)
There are two sides to the gay part of the island, and apparently, a huge majority that is not gay, which I will never know about. Cherry Grove is for the lesbians, except for The Belvedere, which literally does not allow women. Two summers ago I went absolutely insane after seeing Busted Queen do the Zatarain's jingle 25 times, which can really send you, and ran into the courtyard and kicked over…a statue? For feminism? (I apologize to the establishment.) It was the weekend that the "demon twink" went viral, and I was fairly called that for the remainder of the week.
Even as a queer woman, the Pines is the only place I've stayed on the island. If I see another cis woman there, she's usually older and wealthy, or exactly like me: staying with a house full of gay men. (It's fun to meet the alternate universe version of yourself. There's usually four of us max and we all make out eventually.) Honestly, it's so hard to find lesbians. I tried to take a group of them who hadn't gone out their entire week to club Sip·n·Twirl after Cherry's closed one night, but the water taxi wasn't running and they didn't want to walk there and back. Fair! I'm obviously not in the right spaces, but it does make me wish that there was this type of accessible hard party scene for queer femmes. There are so many underground lesbian parties I don't know about, of course, but with gay guys it's truly everywhere! There are literally three lesbian bars in this entire city. Anyway…
It's hard to write anecdotes about my time spent in the Pines that doesn't incriminate myself and others, but I will say that my favorite Fire Island party ever was called Bette, Bath, and Beyond. Picture this: You walk into a mansion-sized venue, check all of your clothes at the door, and receive only a towel to watch cabaret star Amber Martin perform Bette Midler's set from the '70s Continental Baths. I was transported! After the show, everyone got naked and went into the warm, gorgeous pool right on the water. I have a visceral memory of a tangled aquatic cuddle puddle that I could have stayed in forever. Asses were eaten, I met a rabbi, which directly led to my beach conversion to Judaism several days later. Anything can happen on Fire Island. L'Chaim.