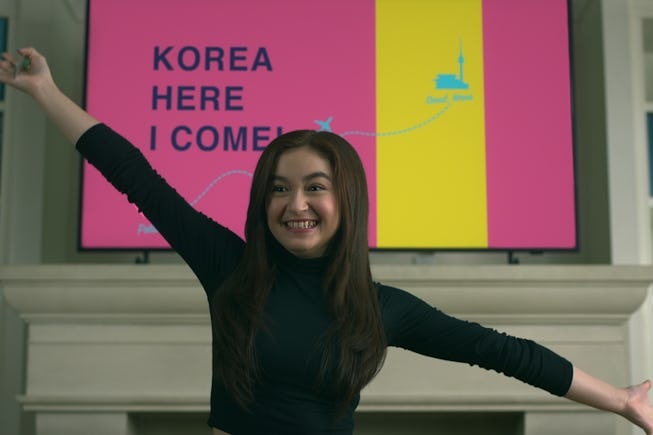 Netflix
XO Kitty, The To All The Boys Spinoff, Shares First Trailer
XO, Kitty has our new heroine jet-setting to Korean boarding school, where she thinks she'll reunite with her long-distance boyfriend — but nothing goes according to plan.
It's hard to believe it's been five years since Lara Jean Covey charmed us all with her boxes of love letters to all of her exes in To All The Boys I've Loved Before. Inspiring behavior, to be honest! It's been two years since its sequel and now, it's time for her young sister Kitty's love life to shine.
Netflix released the trailer for XO, Kitty, a To All The Boys spinoff series that has Kitty searching for love far from home. In the trailer, we see that Kitty has been writing to a long-distance boyfriend in Korea. She decides to apply to the Korean Independent School of Seoul, a.k.a. KISS, and is accepted with the same scholarship her late mother once had. But when she gets there, her long-distance boyfriend has a new girlfriend. (If you're thinking of the Legally Blonde scene where Elle arrives at Harvard only to learn Warner is engaged to Vivian, you're not the only one.) Still, Kitty stays in Korea where we're guessing she gets way more than a boyfriend — life experiences, a richer sense of culture, a coming-of-age journey!
The series stars Anna Cathcart as Kitty, along with the return of John Corbett (before his And Just Like That Season 2 appearance...), and new characters including classmates and faculty, which incudes Lost's Yunjin Kim. We can also rest assured that the show was created by To All The Boys and The Summer I Turned Pretty creator Jenny Han, who understands teenage girls better than almost any adult right now.
"For us, it was about giving Kitty the chance to really explore her inner self and to offer that peek into what she's thinking. To All the Boys is centered around Lara Jean, and we're really in her head. Kitty is obviously a side character to that story. So we don't know what she's thinking," Han told Netflix's Tudum. "We could guess, because Kitty definitely wears her emotions and her thoughts on her sleeve, and she says whatever she thinks. That was the most fun part of exploring this character: She's not so in her head. She will say the first thing that comes to mind. Kitty is definitely a living-out-loud kind of a character."
XO, Kitty premieres on Netflix on May 18. In the meantime, you can watch the trailer, below.