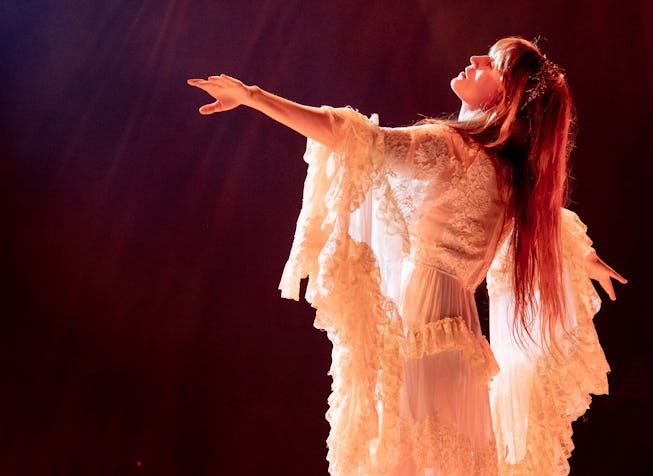 Shirlaine Forrest/WireImage/Getty Images
Yellowjackets Season 2 Trailer: More Cannibalism & Florence And The Machine
The hit show is back, and with it? Another playlist of '90s bangers.
Yellowjackets will soon be back, and with it, another playlist of binge-able '90s bangers as addictive as the series itself. We got a sneak peek of the deep catalogue of songs the show will throw it back to on Thursday, when the official trailer for Season 2 was released.
The trailer includes a cover of No Doubt's "Just a Girl" by Florence and the Machine, who took a distinctly creepy take to the feminist anthem. "I'm just a girl/ living in captivity," Welch sings in her signature yodel-like drawls. She retains the song's same ferocity, only with an ethereal twist, like a sharp icicle you could wield as a weapon if need be.
Speaking of icicles, there are plenty in the upcoming season of Yellowjackets, the psychological horror series that follows a high school soccer team that survives a plane crash in 1996, only to be lost in the Canadian woods. The show toggles between 1996 to present day, where we see the long-term effects of the experience. Oh, and there is cannibalism.
Showrunners have called Season 2 the "Winter of Their Discontent" (because who doesn't love a John Steinbeck by way of Shakespeare reference), which will revisit the show's deadly cannibal plot, which picks up after Season 1's world-expanding finale. The show will see the return of big-name stars like Melanie Lynskey, Juliette Lewis, Christina Ricci and Tawny Cypress. Lauren Ambrose and Simone Kessell will joining as regulars, and Elijah Wood will have a season-long guest arc.
The Yellowjackets fandom ran deep for Season 1. It felt like the whole world was talking about the show last year, or at least everyone on my Twitter feed, and among the obsessed? Florence Welch herself.
"I'm such a huge fan of Yellowjackets and this era of music, and this song especially had a huge impact on me growing up, so I was thrilled to be asked to interpret it in a 'deeply unsettling' way for the show," Welch told Variety. "We tried to really add some horror elements to this iconic song to fit the tone of the show. And as someone whose first musical love was pop-punk and Gwen Stefani, it was a dream job."
Yellowjackets premieres on March 24 for Showtime subscribers and will be broadcast on Showtime's linear channel on March 26. Watch the trailer, below.