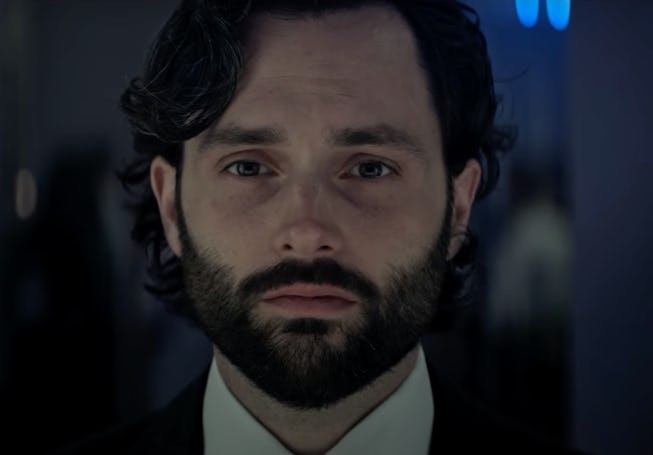 Netflix
You Season 4 Trailer Turns Joe Into A Stalking Victim
Joe's new, murder-free life in London is upended by a mysterious "Eat the Rich" killer.
The official trailer for the highly-anticipated Season 4 of You is here, continuing the murderous antics of everybody's favorite stalker-murderer Joe Goldberg, who is likeable only for the fact that he is played by Penn Badgley.
Season 3 ended with Joe faking his own death and moving to Paris in search of Marienne (Tati Gabrielle), with the new season bringing him to London, where he is naturally moonlighting as a professor. You Season 4 will also have a new female lead: Charlotte Ritchie, star of the British Ghosts series. Joe finds himself amongst an elite crowd of "insane, damaged" people who keep getting murdered by someone they call the "Eat the Rich" killer. The criticism of wealth and privilege is certainly inspired by the late-stage capitalist satires like Succession and White Lotus that echo very real feelings of delusion and resentment around a particular class of people. White Lotus star Lukas Gage will even join the cast of upcoming season of You as an ex-pat American son of a wealthy East Coast business magnate with a trove of pills and secrets.
"Did you break my heart, Marienne?" Joe says in the trailer. "Heartbreak is always a catalyst for a new path." He talks about enjoying his new life in London among a group of "privileged douchebags," which is all fun and games until the murders start thwarting his life. "I just want my little European holiday back," he says.
Except with this season, it's unclear if Joe is the murderer or if, for once in his life, he's the victim of a stalker. The fact that he keeps getting creepy text messages commenting on outfits he's wearing points to the former. Joe is having a taste of his own demented medicine — and he's not liking it. "I ran away from all this," he says, brooding. "But one of you is watching me. One of you is hiding in plain sight. So, who are you?"
Hopefully we'll get some answers, but with You, you're never sure what will be revealed — especially as the show has becoming increasingly more soap operatic in recent seasons. Regardless, Part 1 of You Season 4 premieres on Netflix on February 9, with Part 2 premiering on March 9. In the meantime, watch the full trailer, below.