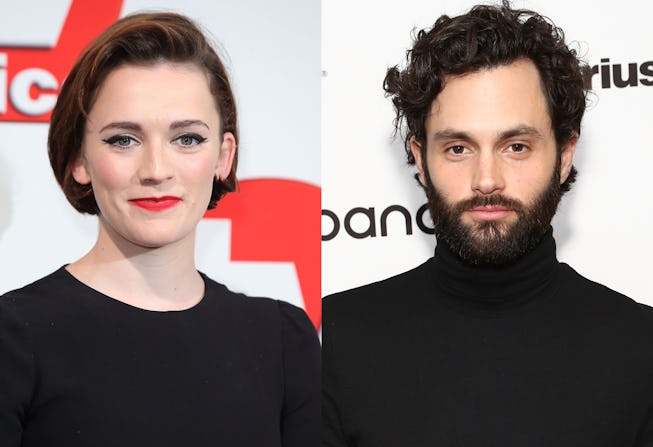 Getty
Charlotte Ritchie To Play Joe's New Foil On 'You' Season 4
The 'Ghosts' actress will star opposite Penn Badgley on the hit Netflix stalker series.
Spoiler's ahead for season 3 of You:
Netflix's hit stalker series, starring the murderous Joe Goldberg (Penn Badgley), is returning for its fourth season. Season 3 ended with Joe moving to Paris in search of Marienne (Tati Gabrielle). Now, Deadline reveals that the fourth season will also have a new female lead: Charlotte Ritchie, star of the British Ghosts series.
Here's everything we know about season 4 of Netflix's You:
The plot of You season 4 will pick up where season 3 left off.
The shocking end of season 3 saw Joe landing in Paris in search of supposed soulmate Marienne, after stabbing his wife Love (Victoria Pedretti) before burning her body (and their home) to the ground. At the end of season 3, showrunner Sera Gamble said, "I would love to do a season where Joe stepped outside the United States and was an American fish out of water." It now sounds like that'll be the case, whether Joe stays in Paris or ends up in the UK, perhaps.
You season 4 will star Charlotte Ritchie as Joe's new foil.
You was adapted from Caroline Kepnes' best-selling novel of the same name, and was on Lifetime before picking up a massive audience on Netflix. Per Deadline:
'Ritchie will play Kate. She's fearsomely smart, independent, suspicious, misses nothing. She is fiercely loyal to her friends, a brick wall to everyone else. The daughter of a chaotic, bohemian single mother, Kate worked hard to create the life she now leads. She's an art gallery director whose job means managing tempestuous artists. Kate tends to be "the adult in the room," and has embraced the moniker of "icy bitch." She's especially protective of best friend Lady Phoebe, a sweet and trusting person whose extreme wealth and fame tend to attract opportunists. Kate prefers "arrangements" to love, which is why she dates fun but self-centered partier Malcolm. When Malcolm invites Joe (Badgley), an American outsider of no apparent means, into their privileged world, Kate not only immediately dislikes him, she strongly suspects something about the man is not what he seems.'
You will eventually address what happened to Joe's son.
When Joe killed his wife love, he left behind baby son Henry. Gamble promised that the plot line would be addressed in an interview with E! News, saying, "That's going to be an ongoing conversation, because no, you can't pretend something that huge about a character didn't happen. I think it will shape him from this moment forward. And even his exact plan of when and if he would return for his son is something that we will...if we get to the writers room...come together and talk about for hours and hours and hours between snacks."
Joe has a new enemy in Lukas Gage's character.
White Lotus star Lukas Gage will join You for season 4, and it sounds like his character, "an ex-pat American, [and] the youngest son of a wealthy East-Coast magnate," is set up to be a new nemesis for Joe.
According to his character description, Adam is "famous for spectacularly failing to meet the standards of his successful, venerable family. An entrepreneur and a gambler, Adam is a warm and funny party host and fast friend. But underneath, Adam is hiding a trove of secrets and papering over problems with heavy self-medication."
You season 4 does not have a release date.
While production for the show's fourth season has reportedly begun, there's no release date yet. Stay tuned for details.