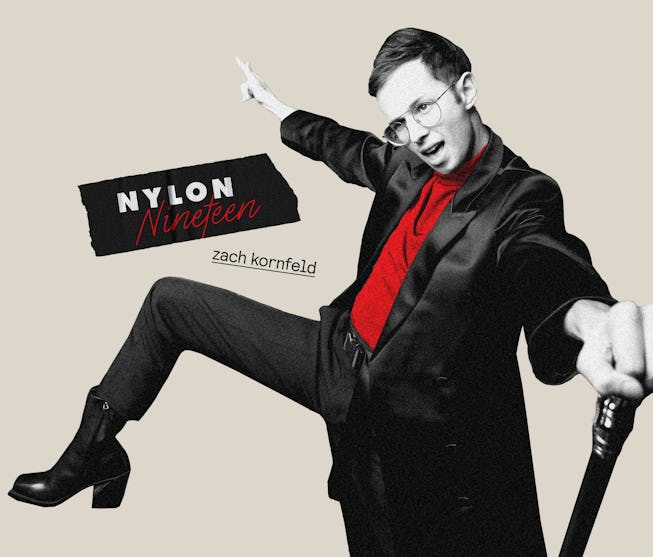 JD Renes
Let 'Try Guy' Zach Kornfeld Sing Rihanna Karaoke With Vin Diesel
The Try Guys star tries the NYLON 19 — see what we did there?
Zach Kornfeld loves family. There's his biological family, his Try Guys family, but most importantly, his familia — the fellow die-hard fans of the Fast & Furious film franchise. Kornfeld has been devoted to the high-octane and completely absurd films for years. "I brought print outs of my Fast & Furious drinking game to the movie theater and handed them out in, what? 2011?" he explains during a Zoom call with NYLON. "I've been riding hard for this for a long time." (Good luck getting your hands on the aforementioned drinking game rules; Kornfeld refuses to share it with the world anymore due to its "reckless and irresponsible" nature.)
Kornfeld, along with his fellow Try Guys Eugene Lee Yang, Ned Fulmer, and Keith Habersberger, leveraged their Buzzfeed franchise of trying pretty much anything into an independent YouTube empire and beyond; the group has traveled across the world for a sold-out live show tour, written a self-improvement book, The Hidden Power of F*cking Up, shot a Food Network pilot, and became Olympians...kind of. The Try Guys collaborated with the Olympic games in a new series about normal people trying Olympic sports — it couldn't be more their bread and butter if it tried.
"The series is essentially us, as normal people, teaming up with Olympic athletes to try extraordinary sports, and really in a classic Try Guys manner, show how exceptional people are by how mediocre we are," explains Kornfeld.
What will The Try Guys try next? Maybe, for Kornfeld's sake, it'll be a drag racing lesson provided by Fast & Furious star, Vin Diesel. After all, anything's possible with family.