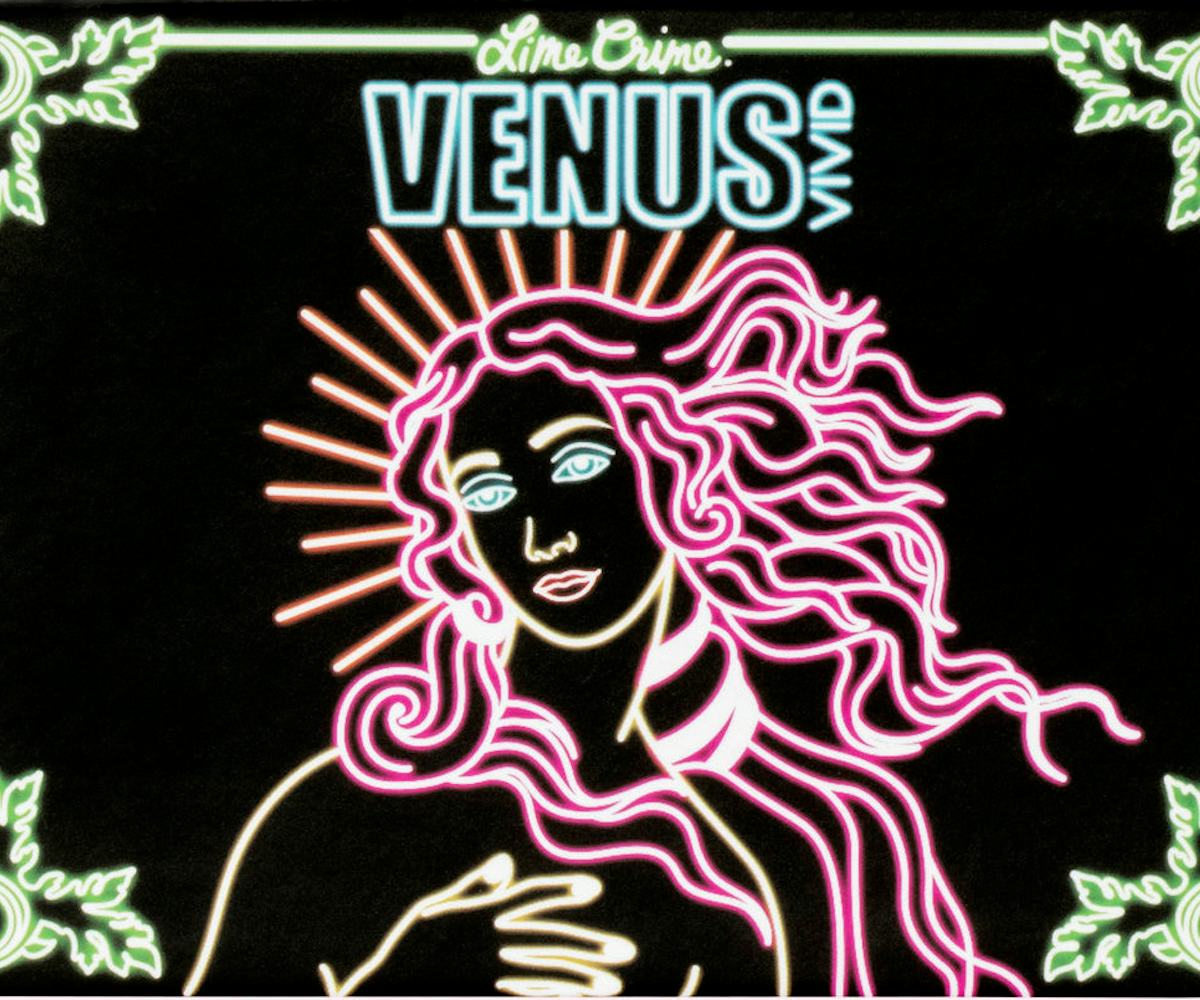 Lime Crime Is Being Transparent About Its New Neon Eyeshadow Palette
Following controversy over shades that may not be safe for the eyes
After the beauty-internet sleuths discovered that your favorite neon eyeshadow palette might not be safe for the eyes (the letters were very tiny, so consider us impressed), it presented a unique conundrum for neon eyeshadow lovers everywhere. Does one ignore the FDA's regulations and follow the U.K. and E.U. standards, that deem these pigments safe, instead? Or maybe abandon neon shadows altogether and take up another makeup trend? Eye gloss, perhaps?
Well, vegan beauty brand Lime Crime is making it easier for you to choose. Their newest offering, the Lime Crime Venus Vivid Pressed Powder Palette, is an aesthetically-pleasing collection of vibrant hues and the kind of palette neon lovers empty their bank accounts for. It's a whimsical take on ROYGBIV and, even though it's only eight shades, has unique enough hues for a versatile look. Pretty mattes and shimmers aside, the palette denotes which shades are eye-safe on the packaging and lists their ingredients.
Betty, a bright matte blue, Lux, a bright golden yellow foil, Limelight, a vibrant neon green, and Happy Place, a yellow-green shimmer, are all safe for use on the eyes, while Flutter, a bright metallic purple, Superbloom, a bright orange foil, and Sassy Starburst, a bright matte pink, are recommended for the face.
The palette dropped today at LimeCrime.com and Ulta.com.
Lime Crime, Venus Vivid Pressed Powder Palette, $38, available at LimeCrime.com.