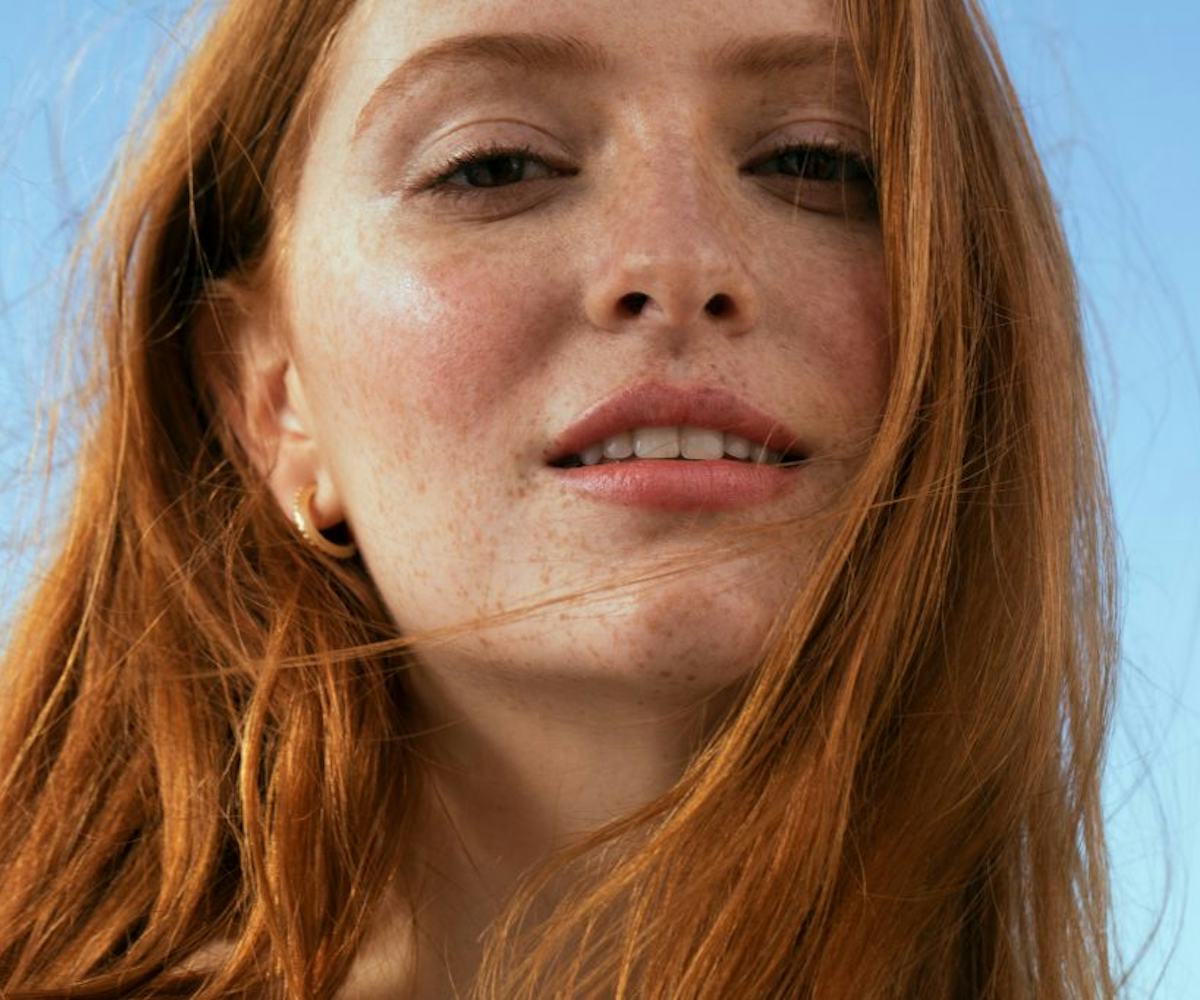 Courtesy of Supergoop!
7 Makeup-Friendly Sunscreens That Won't Melt Off In The Heat
From Supergoop! to Black Girl Sunscreen
Despite what any tutorial might have told you, your beauty routine is never complete without applying sunscreen — regardless of what time of year it is. The idea of lathering up before carefully applying makeup might seem messy or counterintuitive, but thankfully, many beauty brands have you covered with makeup-friendly sunscreen formulas that won't only work with your other products, but make the perfect base for them, too.
According to Skin Worship esthetician Leah Avigdori, you'll want to look for a sunscreen option that blocks out UVA (the aging rays) and UVB (the burning rays) for general SPF protection, in addition to other deal-breaking ingredients . "I recommend looking for a percentage of at least 15% zinc oxide, with additional titanium to achieve a true SPF 30 rating," she says.
In order to avoid sunscreen wrecking your makeup, it's best to choose one that shows up sheer or one that can be used as a primer or moisturizer. "Since silicones are the standard ingredient in attaining a smooth flawless application of primers and makeup, I look for stable, skin nourishing oils as a substitute within my SPF moisturizers," Avigdori said. "I look for oils such as jojoba and squalane as they help balance and stabilize sebum production without clogging the pores. They also offer a smooth texture to the skin presenting a perfect canvas for flawless makeup application. Making sure the skin is properly hydrated is key before any makeup application."
Once you've decided on the perfect sunscreen for your skin, an expert from beauty brand Flesh — which just recently launched its first-ever SPF product — suggests applying it as the last step in your skin care routine. Give the sunscreen a few minutes to be fully absorbed by the skin and then begin the process of applying makeup.
Stock up on some of the best expert-recommended and makeup-friendly sunscreen options, below.
Unseen Sunscreen SPF 40
Supergoop!, Unseen Sunscreen SPF 40, $17-$34, available at Supergoop!
This sunscreen can truly do it all and will leave no residue behind. The Unseen Sunscreen is intended to be worn everyday and can be applied to your face before makeup. The oil-free formula acts a primer, keeping hold of your makeup without messing up application.
Sheer Flesh SPF 35 Hydrating Serum
Flesh, Sheer Flesh SPF 35 Hydrating Serum, $32, available at Flesh Beauty.
For its first ever skin care offering, flesh created this lightweight serum that can be applied before makeup. Its oil-free formula absorbs quickly into the skin and protects against UVA/UVB, blue light, and infrared light. In addition to its sun protection abilities, the serum, which includes glycerin, pomegranate and honey extract, moisturizes for up to 24 hours.
Everyday Coverage Tinted Sunscreen SPF 30
Marie Veronique, Everyday Coverage Tinted Sunscreen, $48, available at Marie Veronique.
This lightweight sunscreen comes in three tint variations — extra light, light, and medium. Apply this product after moisturizing or 15 minutes before you intend to head out into the sunshine. However, if you struggle with dry skin, this product would pair well with a moisturizer.
Essential SPF
Kari Gran, Essential SPF 28, $48, available at KariGran.
A moisturizing sunscreen, Kari Gran's Essential SPF was intended for daily use. Formulated with red raspberry seed oil, french plum oil, and macadamia nut oil, you should notice that the product makes your skin feels lightweight and soft, too.
Black Girl Sunscreen
Black Girl Sunscreen, SPF 30, $16, available at Target.
Infused with natural ingredients like sunflower oil, avocado, jojoba, and cacao, this vegan formula acts as a moisturizing lotion and protectant from the sun, wearing seamlessly under makeup. Made by women of color for women of color, it dries clear, so there's no need to worry about streaky white cast on the skin.
Squalane + Zinc Sheer Mineral Sunscreen
Biossance, Squalane + Zinc Sheer Mineral Sunscreen, $30, available at Sephora.
As the name of this sunscreen would suggest, the product goes on entirely sheer. Apply 15 minutes before you plan to head into the sun or use this in place of your favorite moisturizer.
Full Spectrum 360 Sun Silk Drops Organic Sunscreen
COOLA, Full Spectrum 360° Sun Silk Drops Organic Sunscreen SPF 30, $46, available at Sephora.
Sephora reviewers praise this product for its weightless finish under makeup. Additionally, some suggested mixing it with your moisturizer, creating a liquid that can easily be applied before starting a beauty routine.
NYLON uses affiliate links and may earn a commission if you purchase something through those links, but every product chosen is selected independently.