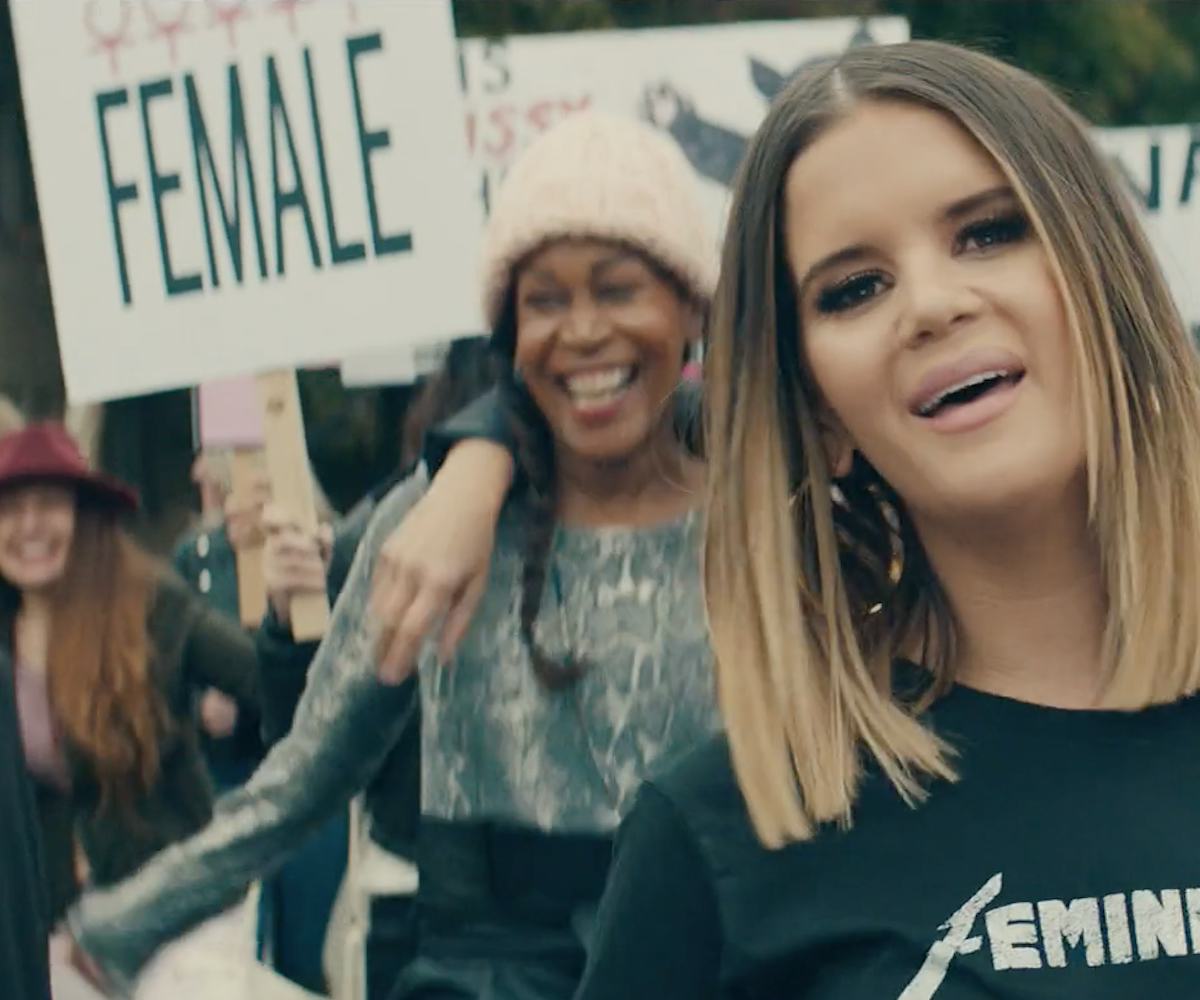 Photo via YouTube.
Maren Morris Holds Her Head High In New "GIRL" Video
"Everyone's fighting an internal battle of their own"
Country pop star Maren Morris is using her time in the spotlight to share a powerful message. Following the success of the hit track "The Middle" with Zedd and Grey (which helped to bring her number of Grammy nominations this year to a whopping five), she debuted a new feminist track "GIRL." Today, Morris follows the song up with an accompanying music video.
On the song's meaning, Morris tells NYLON: "It's about every girl, it's not just about me. I'm singing it to myself and I'm also singing it to them—not just girls, but anyone who feels ostracized or alienated or on the fringe of society."
The video opens with a close-up shot of Morris making a simple statement about equality: "I think it just comes down to, like, we don't want more than anyone else, we want the same as everyone else." Once the music kicks in, the viewer is a fly on the wall as we witness a range of personal moments in varying women's lives. We watch as they argue with spouses, are chased by security, and drink wine while sitting on the kitchen floor. The music cuts out during one of Morris' own moments, as she's corrected by a vocal coach to support her voice better. When she gets it right, we're thrown right back into the video.
It isn't until a pivotal moment, midway through the video, when one of the women watches a car go up in flames and turns around to walk away, that we're finally able to look these women in the eyes as they pick up their heads and carry on. "I feel like this video really emotionally represents those people that have felt disenfranchised," Morris tells us. "I hope that, when everyone sees it, they feel something and hit replay and watch it several times. Maybe it makes them look at the people around them differently and know that everyone's fighting an internal battle of their own."
To close out the video, Morris shares a statement with an off-camera interviewer. "Well, one of the hard things about being a girl," she says, "is having to always answer questions about why it's hard to be a girl."
Watch the video for "GIRL" below.