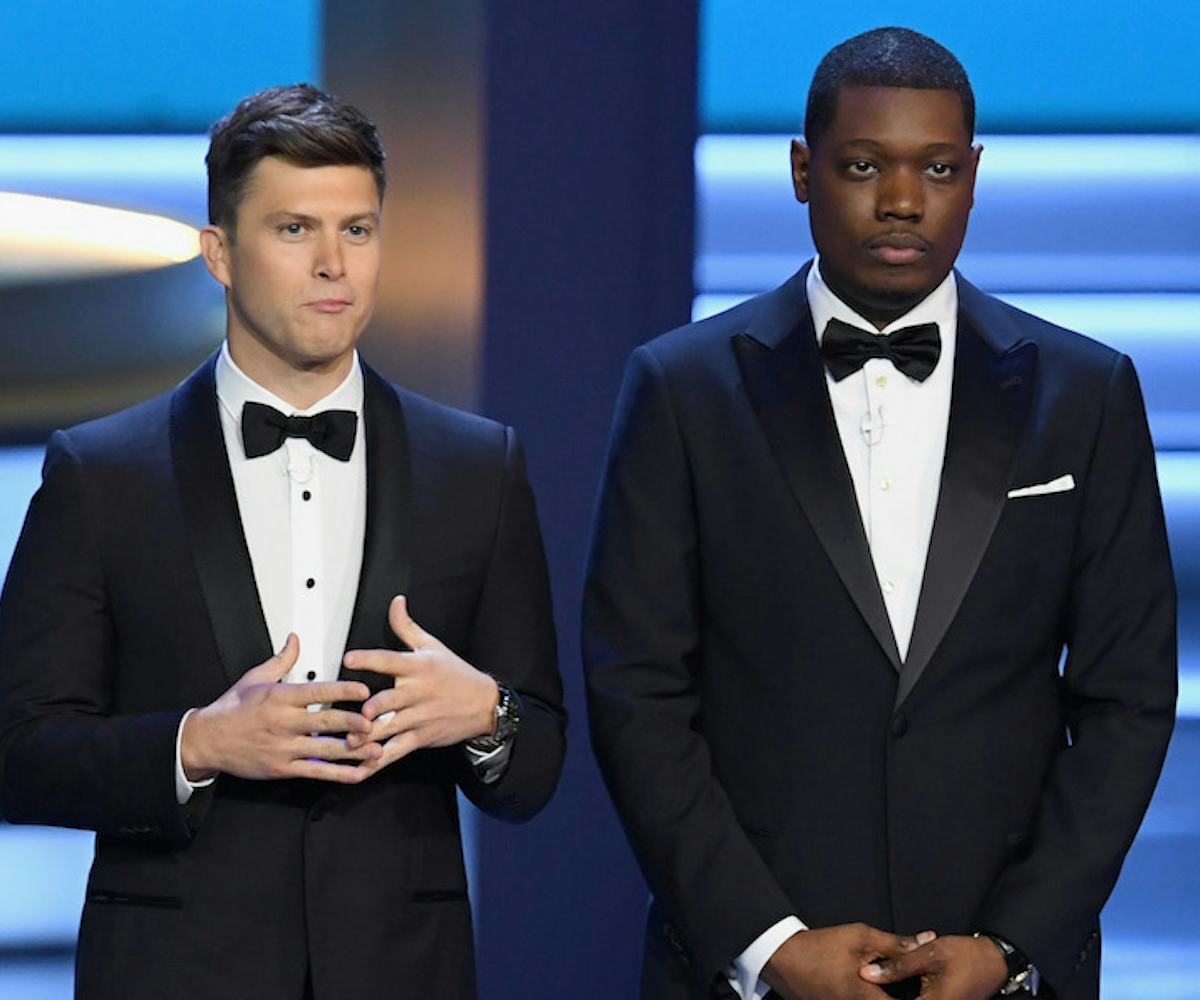 Photo by Kevin Winter/Getty Images
'SNL' Star Michael Che Intentionally Misgenders Commenter In Response To Colin Jost Criticism
After attacking a writer and claiming they "suck off dogs"
Saturday Night Live star Michael Che boasted about slandering a writer who published a criticism of fellow comedian Colin Jost. When Che was called out by a follower in his DMs, he then intentionally misgendered them multiple times and shared screengrabs of the interaction to his story, seeming to be very pleased with himself.
Writer Steven Hyden shared criticism of Jost on Uproxx on Friday, in an article titled "Why Does Everyone (Still) Hate 'SNL's Colin Jost?", stating that he's "nothing less than the epitome of white-male mediocrity, an empty vessel who is handsome (but not that handsome), smart enough (but not all that smart), and, well, passably funny (though only if you grade on a generous curve)." Despite Hyden saying that Che is "generally funnier" than Jost, Che was nonetheless provoked enough to concoct a fake story about Hyden in a series of posts on social media.
He began by saying that "there are some sick fucking people out there" and pretending he heard a "story about this guy in Minnesota." He then wrote, "Anyway, he's some regular mediocre ass white dude, probably like a writer or something..." He then name-dropped Hyden several times as he concocted the story, which was that Hyden "had a secret life where he was rescuing dogs and sucking them off." He shared a series of eight slides devoted to this, each mentioning Hyden's name at least once, pretending not to remember his name. "Steven Hyden? Or something like that. If it's not Steven Hyden, I do apologize. But this guy sucks off dogs."
In the sixth slide, he drew attention to Hyden's profession and place of living, writing, "People are telling me that there IS a Steven Hyden in Minnesota that is a blogger or something, and that it can't be him. Also, it's possible that there's 2 Steven Hydens in Minnesota, and one is a blogger dude, and the other sucks off stray dogs and farm animals…? I have no idea."
Che went so far as to create a false Wikipedia page—which stated that Hyden was "charged with 2 counts of bestiality"—so that he could further his attack. When a follower, who played along with the ruse, messaged him about it, he acted as though this was new evidence to the case and captioned it, "Ok, wow. Now I am very confused."
When someone called out his defamation attempts in his DMs, Che not only refused to interact with the message in any constructive way but repeatedly misgendered the individual on the other side of the conversation. "You defamed the dude. You didn't criticize him, you made up a bunch of bullshit. If you had actually responded to pieces of the article and have counter arguments it would have been criticism. Fuck you," the commenter wrote, which Che responded to with, "What dude, maam?" The individual then called out Che for misgendering him, but Che continued to refer to him as "maam" despite the correction.
In the past, Che has made transphobic jokes and, when called out for them, encouraged targeted harassment on the writer who gave the critique. Despite this, Che is still a co-head writer on Saturday Night Live, and absolutely no one is laughing.